12 Nov 2019
European Digital Rights (EDRi) is an international not-for-profit association of 42 digital human rights organisations from across Europe and beyond. We defend and promote rights and freedoms in the digital environment, such as the right to privacy, personal data protection, freedom of expression, and access to information.
EDRi is looking for a talented and dedicated Senior Policy Advisor to join EDRi's team in Brussels. This is a unique opportunity to be part of a growing and well-respected NGO that is making a real difference in the defence and promotion of online rights and freedoms in Europe and beyond. The deadline to apply is 2 December 2019.
Key responsibilities:
As a Senior Policy Advisor, your main tasks will be to:
Monitor, analyse and report about human rights implications of EU digital policy developments;
Advocate for the protection of digital rights, particularly but not exclusively in the areas of artificial intelligence, data protection, privacy, net neutrality and copyright;
Provide policy-makers with expert, timely and accurate input;
Draft policy documents, such as briefings, position papers, amendments, advocacy one-pagers, letters, blogposts and EDRi-gram articles;
Provide EDRi members with information about EU's relevant legislative processes, coordinate working groups, help developing campaign messages and providing the public with information about EU's relevant legislative processes and EDRi's activities.
Represent EDRi at European and global events;
Organise and participate in expert meetings;
Maintain good relationships with policy-makers, stakeholders and the press;
Support and work closely with other staff members including policy, communications and campaigns colleagues and report to the Head of Policy and to the Executive Director;
Contribute to the policy strategy of the organisation;
Desired qualifications and experience:
Minimum 3 years of relevant experience in a similar role or EU institution;
A university degree in law, EU affairs, policy, human rights or related field or equivalent experience;
Demonstrable knowledge of, and interest in data protection, privacy and copyright, as well as other internet policy issues;
Knowledge and understanding of the EU, its institutions and its role in digital rights policies;
Experience in leading advocacy efforts and creating networks of influence;
Exceptional written and oral communications skills;
IT skills; experience using free software and free/open operation systems, WordPress and Nextcloud are an asset;
Strong multitasking abilities and ability to manage multiple deadlines;
Experience of working with and in small teams;
Experience of organising events and/or workshops;
Ability to work in English. Other European languages, especially French, is an advantage.
What EDRi offers:
A permanent, full-time contract;
Salary: 3 200 euros gross per month;
A dynamic, multicultural and enthusiastic team of experts based in Brussels;
The opportunity to foster the protection of fundamental rights in important legislative proposals;
A high degree of autonomy and flexibility;
An international and diverse network;
Networking opportunities.
Starting date: as soon as possible
How to apply:
To apply, please send a maximum one-page cover letter and a maximum two-page CV in English and in .pdf format to applications (at) edri (dot) org with "Senior Policy Advisor" in the subject line by 2 December 2019 (11.59 pm). Candidates will be expected to be available for interviews on the week of 11th December.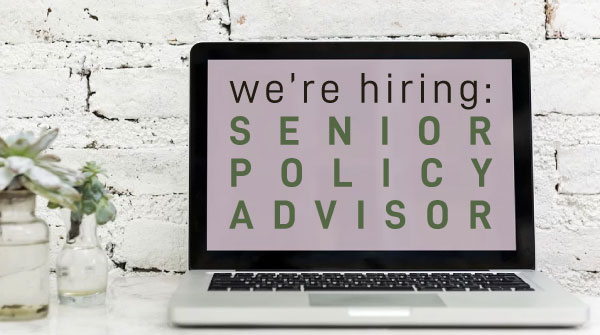 We are an equal opportunities employer with a strong commitment to transparency and inclusion. We strive to have a diverse and inclusive working environment and ideally, we would like to strive for a gender balance in the policy team. Therefore, we particularly encourage applications from individuals who identify as women. We also encourage individual members of groups at risk of racism or other forms of discrimination to apply for this post.
Please note that only shortlisted candidates will be contacted.