16 Apr 2019
European Digital Rights (EDRi) is an international not-for-profit association of 42 civil society organisations. We defend and promote human rights and freedoms in the digital environment, such as the right to privacy, freedom of expression, and access to information.
We are looking for an interim Executive Director to replace our current Executive Director during her maternity leave (6 months from mid-July 2019 to mid-January 2020).
The Executive Director provides overall leadership and management of the strategy, policy, resources, operations, and communications of EDRi. The Executive Director is responsible for the management of the organisation and all aspects of its operations. While the Interim Executive Director is not expected to be a specialist in specific operations (campaigns, fundraising, HR, administration, finance, etc.), s/he has a sufficient grasp of all domains to ensure that staff members can achieve their objectives and that they and the EDRi members can work well together to achieve the organisation's mission.
We are an equal opportunities employer with a strong commitment to transparency and inclusion. We strive to have a diverse and inclusive working environment. We encourage individual members of groups at risk of racism or other forms of discrimination to apply for this post.
Job title: Interim Executive Director
Start and end dates: 15 July 2019 – 15 January 2020
Reports to: Board of Directors, (human resources task force)
Line-manages: policy, advocacy, campaigning, communications, fundraising, and organisational support teams
Scope: staff members 10, annual budget of approx. 830k euro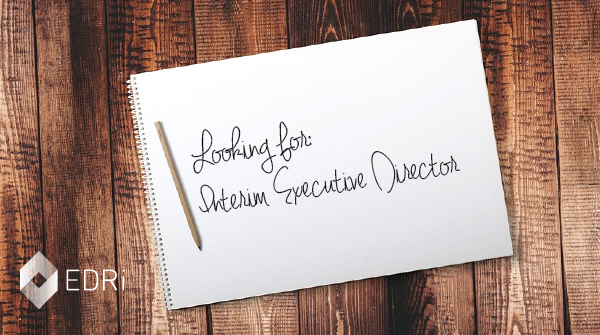 RESPONSIBILITIES
1. Leadership, organisation mission and strategy
steer the consultation phase of the strategic planning process
provide leadership and management for the organisation
implement the annual work plan and ensure rigorous evaluation
Start preparations for the 2020 general assembly
support the Board, and prepare quarterly financial and narrative reports
represent the organisation at events as necessary
support development of policy strategy and taking of tactical decisions
2. Financial sustainability and oversight
prepare the yearly budget, oversee expenditure
oversee and contribute to the raising of funds from foundations corporations and individual donors
maintain good relations with donors and oversee reporting to them
oversee fiscal management operating within the approved budget
ensure that sound book-keeping and accounting procedures are followed
ensure that the organisation complies with relevant legislation and grant contracts
3. Organisation operations
ensure the implementation of Board decisions
ensure that the Board is made aware of all matters requiring a Board decision
inform the Board of all developments of major significance to the organisation
oversee internal human resources policies and ensure staff retention
provide oversight of all staff and organise weekly meetings with staff
foster effective teamwork and establish a positive work environment
evaluate the individual objectives with staff members
undertake regular one to one meetings with all staff
sign contracts and other agreements on behalf of EDRi
give or refuse final approval for any unforeseen use of resources
QUALIFICATIONS
senior management experience preferably in a non-governmental organisation
solid, hands-on financial and budget management skills
strong organisational abilities, especially for planning, delegation and project management
ability to convey the vision of EDRi's strategic future to staff, Board, network and donors
ability to build trusted relationships with, and to collaborate with and oversee all staff
knowledge of EU policy-making processes
knowledge and/or experience in understanding the NGO sector
awareness and knowledge of the EU's political environment
knowledge of the human rights and digital rights field and affinity with EDRi's values and mission,
knowledge and/or experience in the field of human resources management
knowledge and/or experience in fundraising unique to nonprofit sector
knowledge and/or experience in conflict resolution
public speaking skills
ability to interface and engage EDRi's main stakeholders
Attitude
Passionate, idealistic, enduring, team player, diplomatic, discreet, patient, mission-driven, self-directed, and committed to knowledge-sharing and high-integrity leadership.
Technical
fluency in written and spoken English
strong written and verbal communication skills
budgeting (oversight, presenting, monitoring)
knowledge of free and open source operating systems and software are a plus
HOW TO APPLY
To apply please send a maximum one-page cover letter and a maximum two-page CV (only PDFs are accepted) by email to applications[at]edri.org. Closing date for applications is 30 April 2019. Interviews with selected candidates will take place around mid-May, with a start date of (ideally) 15 July.