EDRi network gathering in Vienna
EDRi will be gathering in Vienna to discuss strategies and a concrete action plan to strengthen the network. The sessions will address how to collaborate better together and how each organisation can continue to improve its work in the medium and long run in an effective/impactful manner.
When: On 23-25 June 2017
Where: IG Architektur, Gumpendorfer Straße 63B, 1060 Vienna
What: See the programme below!
All EDRi members and observers are welcome to participate in this event. If you haven't registered yet, or if you'd like to have more information on the event, please contact guillermo.peris[at]edri.org.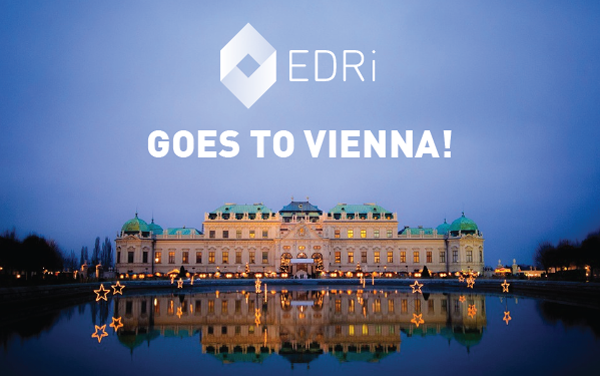 ---
Programme:
Friday 23 June (early arrival)
10h-18h: Open working space at the epicenter.works office (Annagasse 8/1/8, 1010 Vienna)
18h-21h: Drinks at "New York Bar" (Annagasse 8, 1010 Wien – same building)
Saturday 24 June
10:00-10:30 Welcome and introduction
10:30-13:00 Session: Discussion and finalisation of the network strategy paper
13:00-14:30 Lunch at Cafe Europa
14:30-15:00 Session: Follow-up of the network working group
15:00-16:00 Session: Collaboration platform project (Sebastian, Digitalcourage)
16:00-16:15 Coffee break
16:15-17:45 Session: Helping the Community Coordinator to help the Community (Bogdan, ApTI)
18:00-21:00 Dinner at Doan, Naschmarkt Stand 412-415
21:00- Party at Donautechno
Sunday 25 June
10:00-11:30 Session: Organising quality events (Bojan, SHARE)
11:30-13:00 Session: Clear and loud – improving the internal and external communications of your organisation (Thomas, epicenter.works)
13:00-14:00 Lunch break
14:00-14:45 Open discussion: Forging together the future of the EDRi Board. Intro on the recently formed Board and Governance WG (Jim, Open Rights Group)
14:45-15:00 Coffee break
15:00-16:30 Brainstorm: What needs to be fixed on the internet in the post-Snowden era? (Michiel Leenars, NLnet Foundation) – More information below
The event will bring together 12 EDRi member organisations from 10 countries.
Besides EDRi members and observers, Michiel Leenars, Director of Strategy from NLnet Foundation, was invited to participate at the event. EDRi members will have the opportunity to brainstorm on the future of the internet and give EDRi's input on the funding opportunities in the closing session with him on Sunday.
In a post-Snowden internet, if someone wants to spend millions on making the internet for future generations trustworthy, more open and decentralised, what concrete solution-oriented work to what problems/threats/weaknesses needs to be funded?
Michiel Leenars, NLnet Foundation
What if public funding could be used to actually contribute to large scale, infrastructural improvements, and thus start to chip away at some of the technical debt of the internet? Through NLnet Foundation a unique set of actors and stakeholders is leading the push from the technical community as well as civil society. At the moment, they are preparing the strategy for the European Commission for their upcoming spending on the 'future of the internet'. They seek EDRi's help in identifying key technological challenges and research priorities, in order to establish the right research and innovation agenda for the coming years.
Following up on the above-raised question, the session will address:
What are the problems/threats/weaknesses of the internet that should be considered in funding?
Is there any literature or relevant work (even just a blog article) that describes the problem(s) that would be solved more in depth?
Could you put a reasonable price tag/estimate of required hours to it?
Does it need collaboration of one or more unique parties, or can multiple actors work on candidate solutions in parallel?
Could you identify any organisations that should be notified when funding would become available?
What would be the success criteria if the projects you recommend would be selected for funding?
Is there anything standing in the way of mass deployment across the internet once the technology would be available, and if so, what should be done about it?
The location of the venue is at the right entrance at the corner.
For navigation through Vienna public transport it is possible to use the App of the "Wiener Linien": Mobile App is here and the Webinterface here.
There are more ways to get to the city centre from the airport, the best option is taking a Railjet, but City Airport Train is also possible. In Vienna, you can take one of these tickets.
For any additional information please contact guillermo.peris[at]edri.org.
For contact on the spot:
Thomas: 0043 6801 23 86 11
Guillermo: 0032 486 75 22 17
Location: IG Architektur, Gumpendorfer Straße 63B 1060 Vienna