27 Apr 2018
On 27 April 2018, EDRi and 14 other organisations sent a letter to the European Parliament's rapporteur on the European Electronic Communications Code (EECC), Ms. Pilar del Castillo. Ms. Del Castillo is the parliamentarian in overall charge of negotiating a political agreement on behalf of the European Parliament. We are concerned about how the current trilogue negotiations between the European Parliament, the European Commission, and the Council are going.
In the letter, we urge the European Parliament to defend its mandate and not to weaken the enforcement of EU net neutrality rules and reaffirm the role of national regulatory authorities and the Body of European Regulators for Electronic Communications (BEREC) in doing so in a coherent and coordinated manner.
You can read the letter here and below.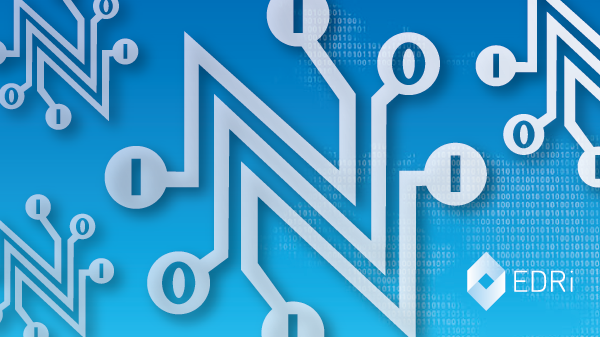 ---
27 April 2018
Re: European Electronic Communications Code trilogue negotiations on Article 5
Dear Ms. Del Castillo,
We, the undersigned organisations, are writing to you to express our profound concern about the way that the currently proposed trilogue agreement on Article 5 of the Electronic Communications Code would weaken the role of independent telecommunications regulatory authorities in Europe.
In particular, we are alarmed that the European Parliament delegation appears not to be strongly defending the Parliament's mandate. The Parliament's position is quite clear that NRAs should be responsible for "ensuring compliance with rules related to open internet access in accordance with Regulation (EU) 2015/2120" and for "ensuring consumer protection and end-user rights in the electronic communications sector within the remit of their competences under the sectorial regulation, and cooperating with relevant competent authorities wherever applicable". Any change to this approach can only serve to create legal uncertainty and the weakened enforcement of the Regulation previously approved by the Parliament.
It is entirely unacceptable for the Council to try to undermine an absolutely fundamental element of ensuring a competitive, innovative and open electronic communications market.
Caving in to the demands of the Council, driven by a very small number of Member States, will risk:
undermining the crucial independence of NRAs;
moving us towards a situation more similar to the United States, which facilitated short-sighted political decisions on net neutrality that undermined crucial independent, evidence- and expert- driven policies supporting the open Internet;
undermining coherent and coordinated enforcement of the rules outlined in Regulation (EU) 2015/2120.
According to Article 5(1) of Regulation (EU) 2015/2120, National Regulatory Authorities (NRAs) are the competent authorities to enforce open internet rules. Article 5(4) of this Regulation provides for the possibility for NRAs to conduct additional tasks. The European Electronic Communications Code must not – and cannot – contravene this Regulation, which is directly applicable. We urge the European Parliament to ensure that the European Electronic Communications Code clearly reaffirms the role of NRAs and BEREC in ensuring that the net neutrality rules are enforced efficiently and consistently.
We remain at your disposal for any further information.
We thank you for your time and consideration.
Kind regards,
European Digital Rights (EDRi), a coalition of 39 civil and human rights organisations
Access Now, International NGO, member of EDRi
AFUL, French speaking users of Libre and Free Software NGO
Alsace Réseau Neutre, French local non-profit Internet Access & Service Provider
Aquilenet, French local non-profit Internet Access & Service Provider
epicenter.works, member of EDRi
FAImaison, non-profit Internet Service & Access Provider based in Nantes, France
Fédération FDN, federation of local & non-profit ISPs
FFII France, a French NGO fighting against software patents
Franciliens.net, French local non-profit Internet Access & Service Provider
Frënn vun der Ënn, Luxembourg, NGO, defending privacy and human rights on the internet
Ilico, French local non-profit Internet Service Provider
Illyse, French local non-profit Internet Access Provider
La Quadrature du Net, French NGO defending rights and freedom on the Internet
Midway's Network, French local non-profit internet service provider based in Belfort
(Contribution by Maryant Fernández Pérez, EDRi)