21 Mar 2019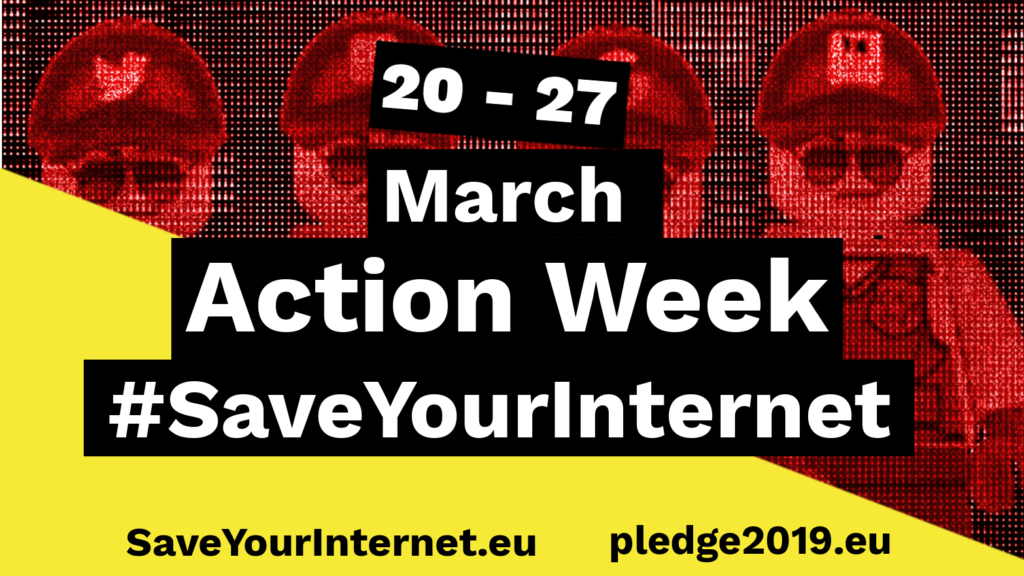 The final vote on the Copyright Directive in the European Parliament plenary will take place on 26 March. A key piece raising concerns in the proposal is Article 13. It contains a change of platforms' responsibility that will imminently lead to the implementation of upload filters on a vast number of internet platforms. The proposed text of Article 13 on which the Parliament will be voting is the worst we have seen so far.
Public outcry around Article 13 reached a historical peak with almost five million individuals signing a petition against it, and thousands calling, tweeting and emailing their Members of the European Parliament (MEPs). Despite the scale of the protests, legislators fail to address the problems and remove upload filters from the proposal.
Join the Action Week (20 March – 27 March) organised by the free internet community and spread the word about the #SaveYourInternet movement! Send Members of the European Parliament a strong message: "Side with citizens and say NO to upload filters!
NOW – Get active!
Kickstart the action week! Did you get your MEP to pledge opposition to the "Censorship Machine" during the plenary vote ? Did you reach out to a national news outlet to explain them why this is bad for the EU? Did you tell your best mate your meme game may be about to end? If you answered "No" to any of those questions… NOW IS THE TIME TO ACT.
21 March – Internet blackout day
Several websites are planning to shut down on this day. Wikimedia Germany is one of them. Is your website potentially hosting copyrighted content, and therefore affected by the upcoming copyright upload filter? Join the protest!
#Blackout21
23 March – Protests all over Europe
Thousands have marched the streets in the past weeks. The protests were not lastly influenced by European Commission's allegations of the #SaveYourInternet movement as a bots-driven one, purposely misleading communication from the EU Parliament, and the attempted rushing of the final vote weeks before originally scheduled. 23 March will be the general protest day – see a map here. Commit to EU's core democratic values and show what positive citizens' engagement looks like!
#Article13Demo #Artikel13Demo
19 to 27 March – Activists travel to meet their MEPs
We have launched a travel grant for activists willing to travel to Strasbourg and Brussels in order to discuss with their representatives. Do you want to take part in our final effort to get rid of mandatory upload filters? Join us! The deadline to apply is Friday 15 March.
#SYIOnTour
It is very important that we connect with our MEPs and make our concerns heard every day of the Action Week. Whether you can travel or make phone calls to get in touch with your representatives, or grow awareness in your local community – it all makes a huge difference. Build on the voices of internet luminaries, the UN Special Rapporteur on Freedom of Expression, civil society organisations, programmers, and academics who spoke against Article 13!
We need the stop the censorship machine and work together in order to create a better European Union! You can count on us! Can we count on you?
Read more
Save Your Internet Campaign website
https://saveyourinternet.eu/

Pledge 2019 Campaign Website
https://pledge2019.eu/en
Upload Filters: history and next steps (20.02.2019)
https://edri.org/upload-filters-status-of-the-copyright-discussions-and-next-steps