A collective project: EDRi celebrates turning 20 in the capital of the EU
On 21 March, we celebrated EDRi 20th anniversary in Brussels, the heart of the European Union. Close friends and supporters gathered at Bozar, the Center for Fine Arts, for a fun and dynamic evening celebrating the networks's collective work for far, current efforts and a hopeful future.
On 21 March, we celebrated EDRi 20th anniversary in Brussels, the heart of the European Union. Close friends and supporters gathered at Bozar, the Center for Fine Arts for a fun and dynamic evening celebrating the networks's collective work for far, current efforts and a hopeful future.
The celebration event started off with on-stage keynote speeches, panels and performances. This was followed by socialising and a curated interactive art exhibition.


The first part of the event was facilitated by a dynamic duo of MCs – Jennifer Baker, Brussels-based tech journalist, and Sarah Diedro Jordão, Communication strategist and co-chair of the Digital Freedom Fund. They brought the event together with a thread of jokes, interventions and moves.
Welcome and Keynote speeches
The legendary Anna Fielder, who has been the Chair of EDRI's Board for the last five years, reflected on EDRi reaching maturity – and the necessary strategic professionalism, and community rules and policies that come with this growth. Anna remarked on how the so-called "digital" is now an essential universal service, like energy or water, and subject to powerful political and commercial interests. In this context, having a strong, credible and authoritative civil society watchdog like EDRi is more important than ever.
The Executive Vice-President (EVP) of the European Commission, Margrethe Vestager, delivered the opening keynote speech. She congratulated EDRi for "two decades of hard and persistent advocacy work in defending and advancing digital rights in Europe (…) and for contributing to making [European's Commission's] proposals more robust, more targeted, more balanced and better enforced."
The EVP mentioned EDRi network's contribution to the General Data Protection Regulation (GDPR), the Digital Services Act (DSA), theDigital Markets Act (DMA) andthe AI Act legislations.
A wave of reactions went through the Bozar studio room when the EVP stated that the European Commission proposed 'to ban the use of remote biometric identification in public places'… but with 'very narrow exceptions limited for extreme cases.' in the AI Act. This was very positive news for EDRi's network and AI coalition partners who have long been advocating for banning all forms of remote biometric identification in public spaces, no exceptions.
Looking forward to the future, Margrethe Vestager noted that she has no doubt that "so much more will we be needing [EDRi's] advocacy work and watchdog role."
"Your successes in many key digital policies over the last years, like the GDPR or the DSA, are also a success for our society as a whole."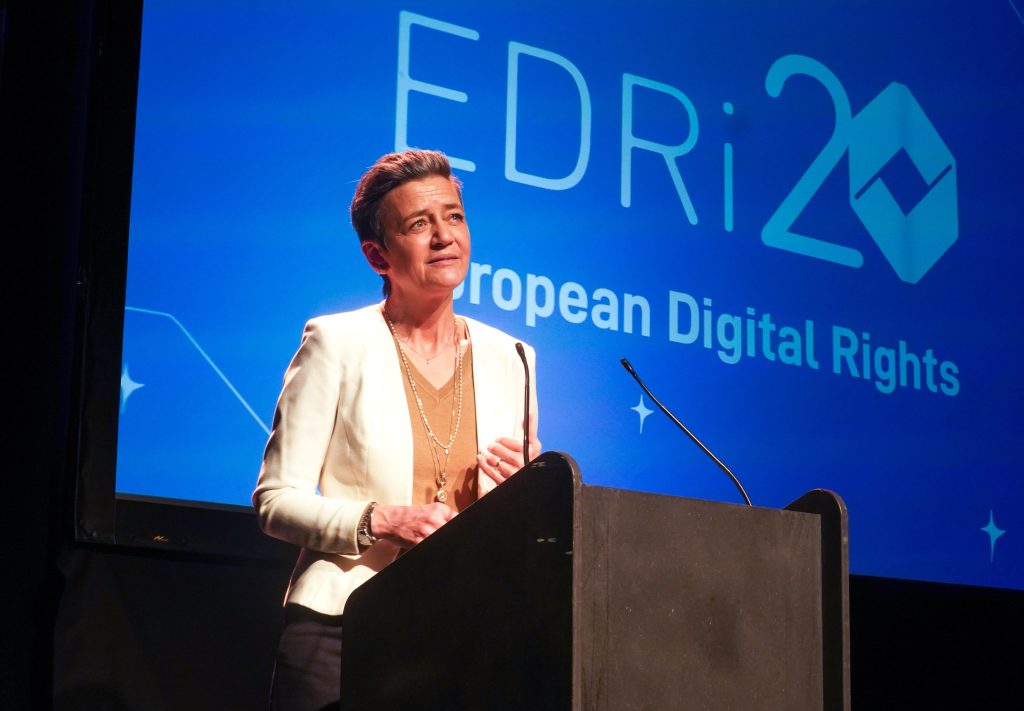 Photo provided by the European Commission
The Vice-President of EDRi, Thomas Lohninger, provided a response to the EVP on behalf of EDRi, covering both hopes and concerns of the network on net neutrality, platform regulation, the use of machine learning technologies and the confidentiality of communications. Thomas reminded us that "civil society is like the immune system of a democracy", and reiterated the offer from EDRi to meaningfully contribute to EU decision-making debates and deliberations.

The event continued with three rapid fireside chats on various aspects of the life of the organisation.
Fireside chat 1: The formative years
Gus Hosein, the Executive Director of Privacy International, led the first conversation with Joe MacNamee, EDRi's former Executive Director, and Sjoera Nas, who is one of EDRi's co-founder from The Netherlands. They talked about the early years of the organisation and the challenges that EDRi faced in the beginning of its journey.

Gus, Joe and Sjoera also paid tribute to the other founders and celebrated the network's first milestones, such as tens of thousands of signatures against data retention being delivered to the European Parliament in 2005.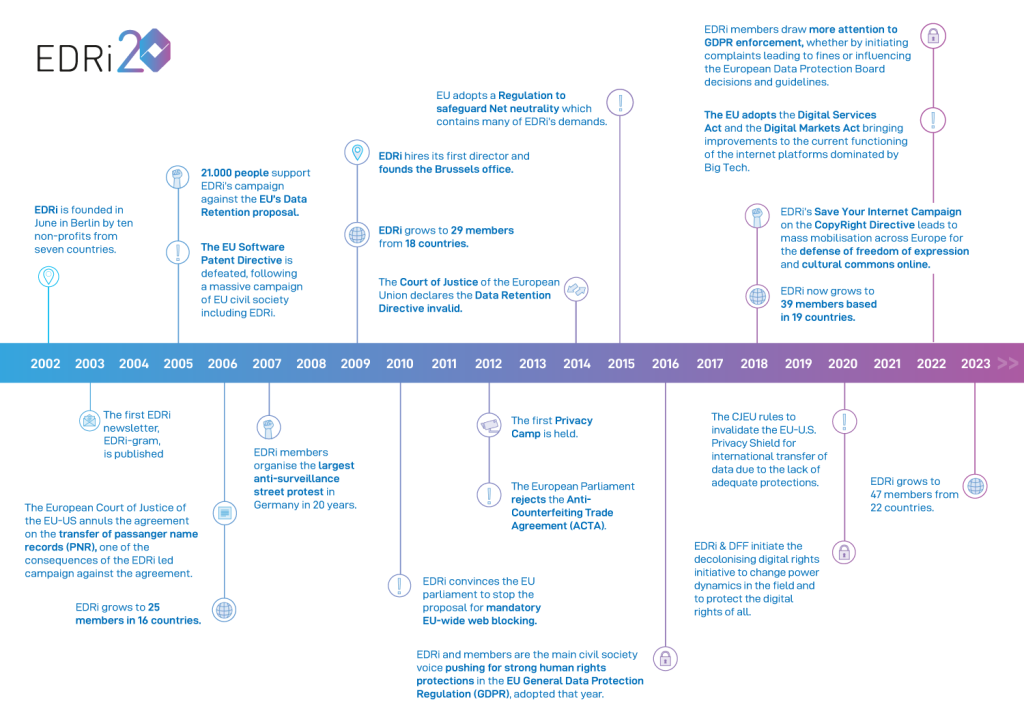 The opening of the EDRi office in Brussels in 2009 was also mentioned as an important step. The presence of an office consolidated the way the network organised.
EDRi's voice as a unique network of 'expert activists' emerged quite early with its action, for instance against the Anti-Counterfeiting Trade Agreement (ACTA)
The start of the biweekly newsletter EDRigram in 2003 was also significant. It ensures that the networks's voices get delivered to our supporters and allies, targets and critics. The newsletter is thriving till this day.
The first conversation ended with credit given to the current team and members, and pride in what EDRi is today, and what it can continue to be. Gus Hosein said, "We are so proud that what is left behind isn't just a body of change, or something approaching a legacy; it's a community of people, past, present, and future. That was what's most unimaginable when you start out."

Photo provided by the European Commission
Fireside chat 2: Current challenges
The second fireside chat was focused on the current state of play, looking at some of the biggest challenges facing us today, from reigning in the power of Big Tech, to holding governments accountable, and effectively engaging with the tsunami of EU legislation.

The conversation was led by Raegan MacDonald from the EDRi Board and included Kim van Sparrentak, MEP from the Group of the Greens/European Free Alliance, Birgit Sippel MEP from the Group of the Progressive Alliance of Socialists and Democrats, and Fanny Hidvégi, Europe Policy and Advocacy Director at Access Now.
Fanny Hidvégi reminded us that the risk-based approach to technology policies "minimises harms and violations" and "centers minimum compliance and mitigation."
"We should ground digital policies in rights and not risks."
Birgit Sippel reflected on the discrepancy of political will regarding interests that may undermine fundamental rights (e.g. the E-Evidence Regulation) versus the protection and expansion of rights (e.g. the ePrivacy Regulation). These files reflect how different interests play out in decision-making and how industry actors and internet market narratives prevail. The MEP expressed her satisfaction with EDRi and supporters who are actively putting pressure for policies that work in the best interest of people.
Kim van Sparrentak followed the same line of thought, expressing regret that in the AI Act negotiations and other digital policies the dominant trends in not to put human value over market value and that harms are considered 'collateral damage'. The Greens MEP praised our small group of activists and broader collective work such as Reclaim Your Face campaign and the AI Act civil society coalition, which are going against Big Tech companies and their huge lobbying budgets. Kim van Sparrentak insisted that putting humans at the center means banning the most harmful uses, ensuring human rights impact assessment and also means recognising the invisible labour supporting our on-device consumption.
The discussion ended on putting forward a bold and ambitious visions to support a more equitable, just and human-centered future: staying critical about who is making profits, being a hub for empowering people to be in power, new legislation that can capture all technological harms, and banning polarising algorithms based on clicks and interactions.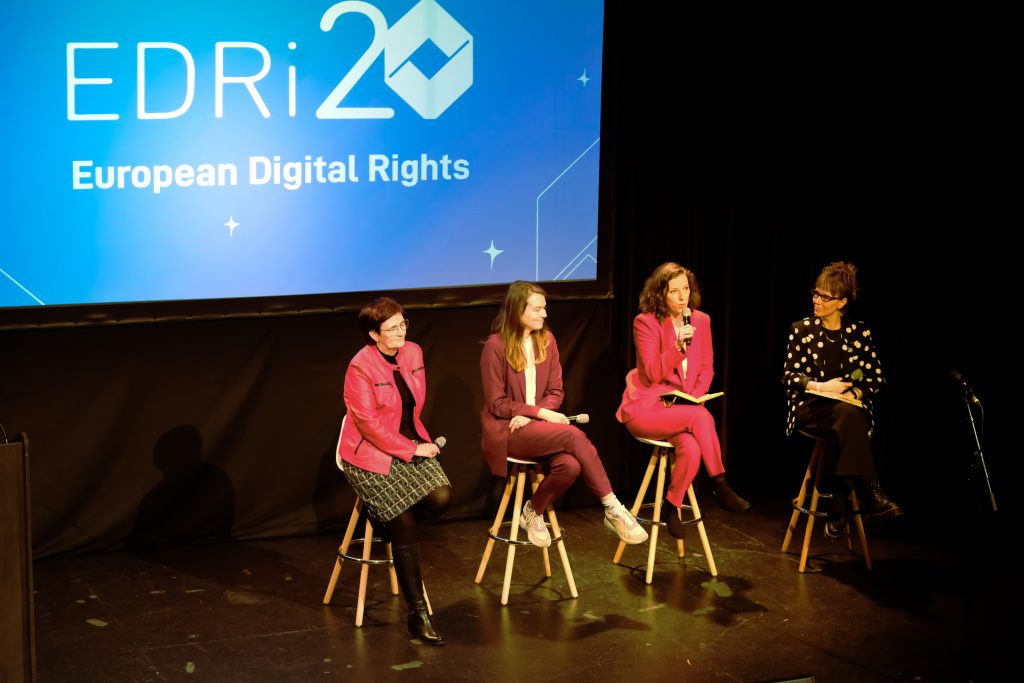 Photo by Camille Delbos
Fireside chat 3: Community and visions for the future
The last conversation, led by Sarah Chander, Senior Policy Advisor at EDRi, was about visions for the future of EDRi, and imaginations of how to build and expand the community in a changing field. These visions build on the process of decolonising the digital rights field , which is a collective process envisioned by Nani Jansen Reventlow, and co-led by EDRi and Digital Freedom Fund (DFF).

Eleftherios Chelioudakis from Homo Digitalis (Greece) explained that while investigating intrusive surveillance technology in the field of borders and migration, the perspective of his digital rights organisation was limited. The decolonising process allowed Homo Digitalis to build trust with social justice organisations and strategise together. This led them to revise their digital rights work so that they can better understand the marginalised communities that are at the forefront of these technologies.
Nadia Benaissa from Bits of Freedom (The Netherlands) pleaded for digital rights organisations to stand next to the people affected by technologies, such as in the case the Dutch child benefit scandal. She spoke of the journey of digital rights organisations from working on niche subjects to working on issues that affect everyone because, increasingly, digital is everywhere.
Katrin Fritsch, the Chair of epicenter.works (Austria) and Senior Project Manager at the Green Web Foundation, shared her visions for centering justice in digital rights work, for embedding our work in other justice movements like intersectional feminism and climate justice.
'We need a courageous and brave digital rights field standing in solidarity with many other social justice causes, 'coming from a place of love, love for justice'.
Photo provided by the European Commission
Closing keynote: Technosolutionism won't fix societal issues
We had the privilege of welcoming Meredith Whittaker, the President of the Signal Foundation, who delivered the closing keynote speech. The tech professional focused on the "recent spate of regulatory proposals and misguided tech fixes that offer false and surveillant solutions to complex social problems – solutions that always seem to lump the right to privacy in with malfeasance, and offer to address bad actions by eliminating privacy."
She positioned her analysis in the history of computation and concrete dangers of mass surveillance, especially in authoritarian times. Meredith Whittaker explained how the EU Child Sexual Abuse Regulation mandates practices that would be impossible to implement without weakening or eliminating end-to-end encryption. She warned against the dangers of client-side scanning and reminded the audience that in this context, as in others, "AI is not a silver bullet."
"EDRi is a model for coalition work that takes its goals seriously."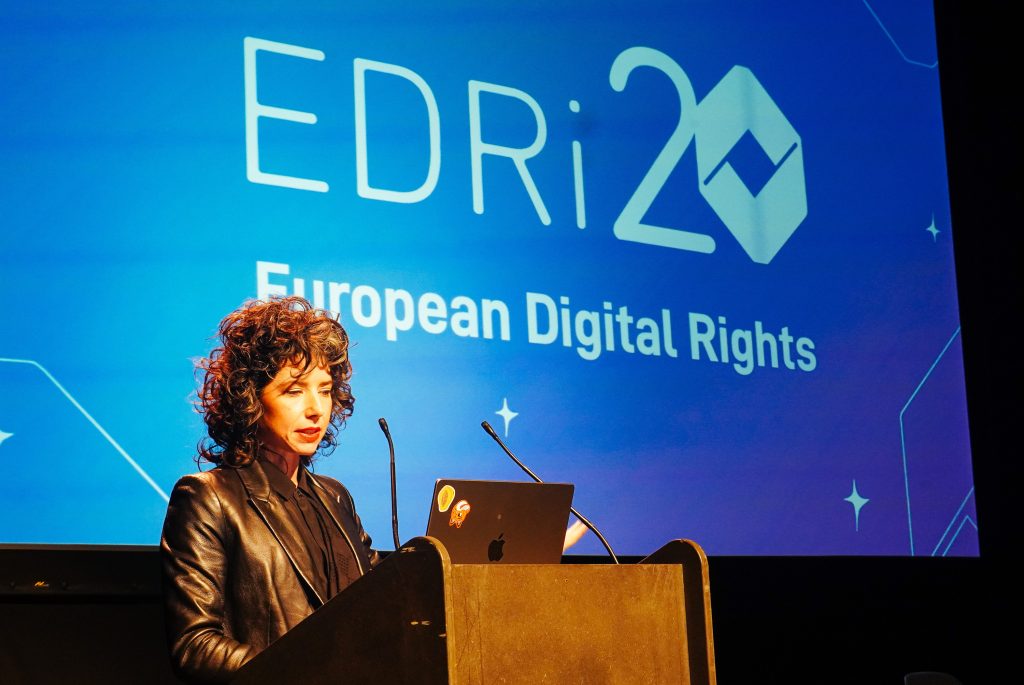 Photo provided by the European Commission
Digital rights x Art: Layers of transformation
Over the last 20 years, EDRi's many interventions have taken various forms – from campaigns to petitions and sometimes even works of art. The use of art to subvert, promote and accelerate social change is not new. Works of art that have emerged out of the intersection of activism and technology have served as a translation of our work, as mediums of expression and a way to move people.
To celebrate EDRi's legacy and envision our futures, we were really pleased to curate a mini art exhibition titled 'Layers of transformation: Art for digital rights'. In this exhibition, we displayed the 'Anatomy of an AI System' by Kate Crawford and Vladan Joler, which is a large-scale map and long-form essay investigating the human labor, data, and planetary resources required to build and operate an Amazon Echo. The exploded view diagram combines and visualises three central, extractive processes that are required to run a large-scale artificial intelligence system: material resources, human labor, and data.
Participants could engage with the 'Decol Game', a video game embodying the process of decolonising digital rights in Europe, created by Ahmed Isamaldin Mohamed Ahmed. The game's narrative, formed of fragments of thoughts and ideas, reflects the artist's engagement with the process and its participants. Rather than traditional levels and challenges, the game takes the form of an artistic narrative that encourages exploration. The game's characters embody strength and fragility, reflecting justice and rights defenders.
Another example of collaboration with artists was 'MyFACE', a performance and installation by Laura A Dima. It explores the relations between identity, AI and the weaponisation of biometric data. This artistic intervention kicked off around the beginning of the Reclaim Your Face campaign. The audience was be able to try the masks on themselves at the 'Face Dresser' installation featuring the Black Mirror, a screen connected to a camera and AI that will only turn on when it recognises Laura's face.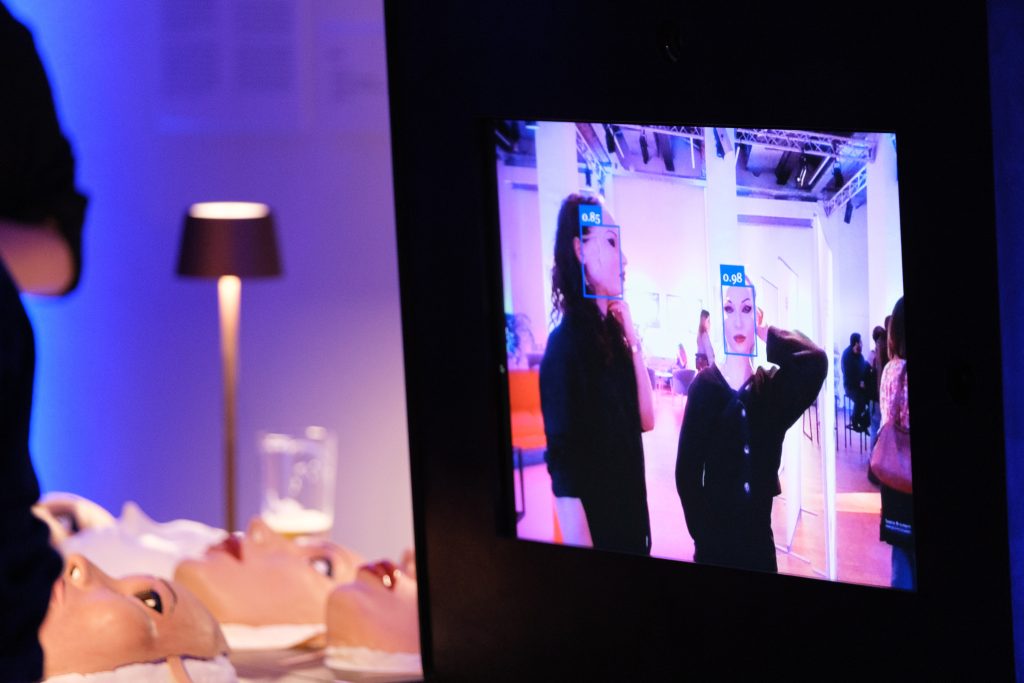 Photo by Camille Delbos
Other artistic interludes
The on-stage celebration was punctuated by fun and creative interludes. Romain Robert of noyb and Chloé Berthélémy of EDRi delivered a very special enactment of 'White Snow', a 'social media fairy tale' where AI machines takes over a confused Big tech leader. Chris Jones of Statewatch and Jillian York of the Electronic Frontier Foundation rendered their EDRiversary version of the 4 Non Blondes song 'What's up?'.
The party then moved to a more informal setting for an evening of socialising and dancing to the music sets of DJ Kiki and DJ Zouzibabe.
While it felt privileged to indulge and celebrate while the world is awash in crises, we wanted to fight against the pessimism and gloom by suitably marking this important milestone for our network. It was an occasion to recognise and honour the people behind EDRi – indiviuals and collectives, activists and academics alike.
A huge thank you to everyone for a beautiful evening of remembering the journey, celebrating our work and imagining a bright future for human rights in the digital age. Thanks also to everyone who has supported our work in any way in the past 20 years – and we hope you continue to do so in the future.