PROCEED WITH CAUTION: Flexibilities in the General Data Protection Regulation
We regret that much of the ambition of the original data protection package was lost, due to one of the biggest lobbying campaigns in European history. However, we congratulate the European Parliament — for saving the essence of European data protection legislation.[1]
On 14 April 2016, the European Parliament adopted two legal instruments that will regulate the fundamental right to data protection of individuals: the General Data Protection Regulation (GDPR) and the Law Enforcement Data Protection Directive (LEDP).
Despite the overall positive outcome of the GDPR, we regret that many of the initial high expectations for the Regulation were not realised. Once the final text was passed, and ahead of the preparation of guidelines for its implementation, we have published two documents where we analyse the numerous national flexibilities contained in the text  of the Regulation. The results can be found here (the full analysis of all the flexibilities) and here (short document with the most dangerous flexibilities).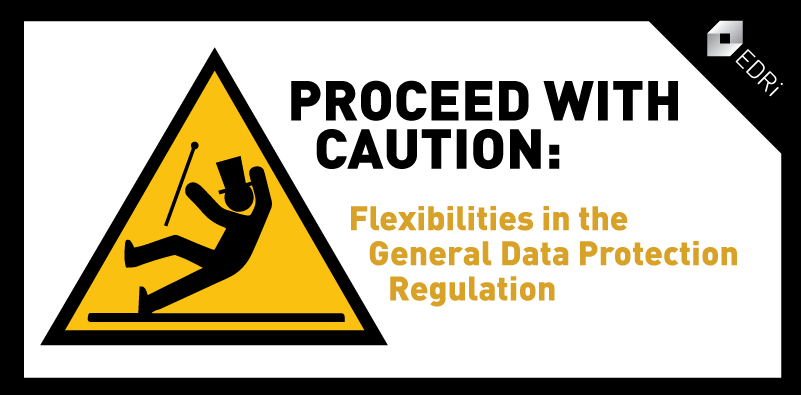 The analysis looks at the key pitfalls to be avoided in transposing these national flexibilities into Member State law. The task is huge, bearing in mind that there are almost as many provisions in which Member States can implement the Regulation differently than there are articles were in the preceding Data Protection Directive. Some of the flexibilities are harmless, but many others could be perceived by governments as opportunities to allow them to ignore essential elements of the Regulation.
We hope that this analysis can help national governments and data protection authorities to implement the GDPR in a way which protects the essence of the right to data protection by implementing the most privacy friendly interpretation of these flexibilities.
Although this analysis is a shared effort of several EDRi members and EDRi staff, we would like to give our heartfelt thanks to Chris Pounder for the initial analysis of flexibilities in the Regulation and Douwe Korff for his extensive assessment of the options available.
[1] Press Release: Vote on Data Protection and Passenger Name Record package (13.04.2016)
https://edri.org/press-release-data-protection-and-passenger-name-record-package-to-be-voted-on-tomorrow/