Campaign "Reclaim Your Face" calls for a Ban on Biometric Mass Surveillance
Civil society across Europe launches the "Reclaim Your Face" campaign, demanding that local and national authorities  listen to their communities about the serious risks of using facial recognition and other biometric technologies in public spaces. The newly formed coalition calls to ban biometric mass surveillance, in reaction to the rapid and secretive roll out of invasive and unlawful technologies by police forces and local authorities in many European countries.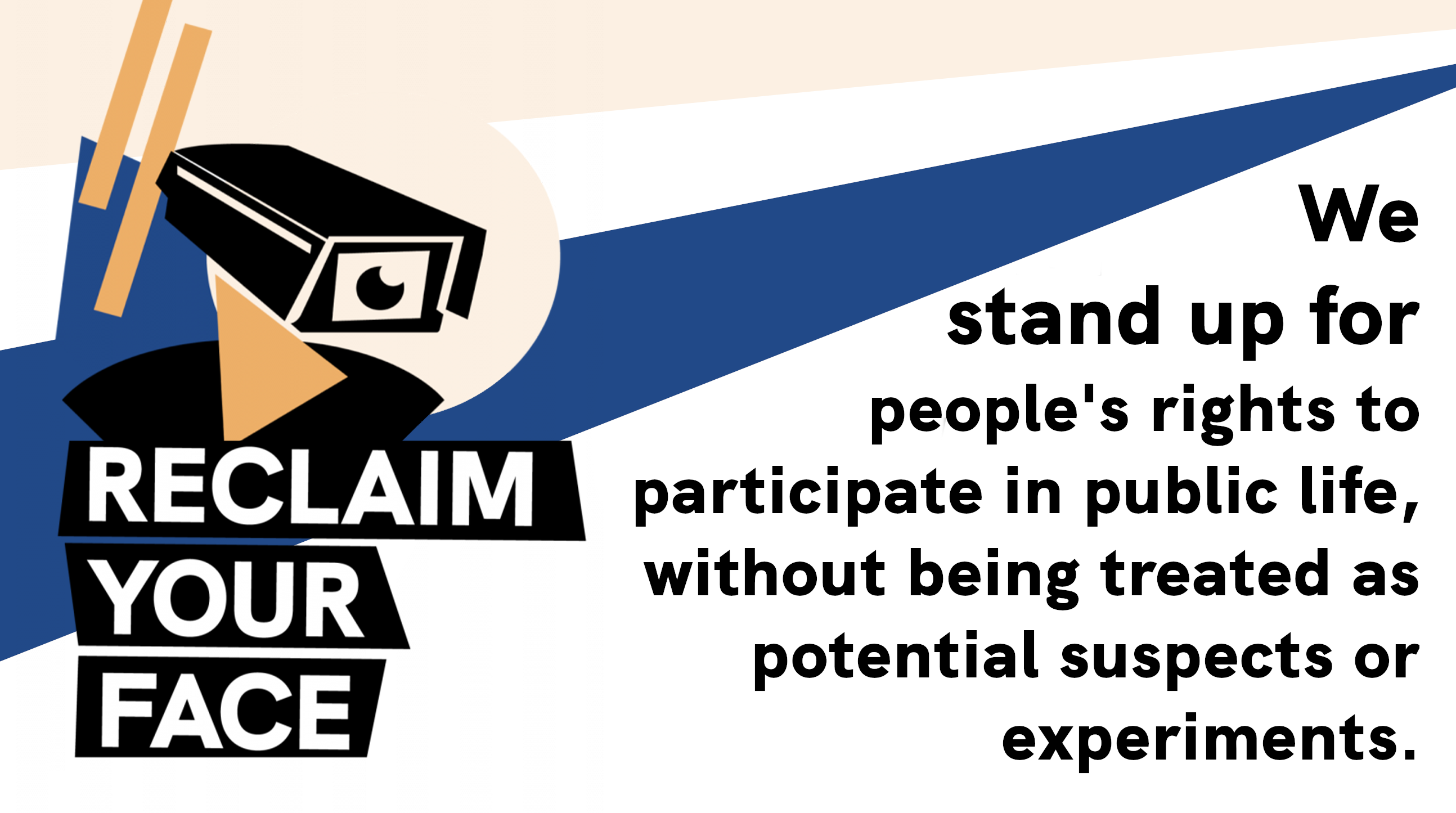 Public spaces are where we share experiences and join together. Meeting up with friends to hang out. Taking a walk in the park. Organising a community celebration. Holding political discussions. Protesting injustices. All of these activities are under threat as European local authorities, police forces and private companies roll out biometric technologies that track and target ordinary people in public spaces. The European Commission has said that all legislative options are still on the table: we urge them to draw lines at uses of biometrics which are clearly incompatible with our fundamental rights.
The launch of the "Reclaim Your Face" campaign by 12  human rights groups from across the EDRi network signals people's opposition to the way private companies and governments experiment with exploitative tools that reduce our bodies to mere data points. We are standing up for people's rights to participate in public life – without being treated as potential suspects or experimental test subjects.
We would never accept a person following us constantly, monitoring and assessing who we are, what we do, when and where we move.
Not only because our behaviour will automatically change because we know we are being watched, but we also risk to being considered a threat because the algorithm misjudges a gesture or a facial expression that we make. Some of us might be even considered a crime suspect because of the way we are dressed, because of the colour of our skin or because we simply attended a protest. What's worse, we won't even know we're being watched, who is watching, for what reason and for how long.
Facial recognition and other biometric technologies used for indiscriminate or arbitrarily-targeted surveillance in public spaces act just like that – turning every one of us into a potential suspect; watching and analysing us all of the time; seriously infringing upon our rights to privacy and data protection.
In a turbulent year marked by a global health crisis, we have watched as governments have abused their power to put limits on people's freedoms, and as companies have exploited the situation to gather ever more biometric data about us. The Reclaim Your Face coalition has risen up against the widespread abuse of our biometric data before and during the pandemic.
We are mobilising to challenge invasive biometric mass surveillance in our streets and communities, for example:
In Italy, Hermes Center collaborated on an investigation for Wired Italy exposing how the city of Como
had installed and tested for months a face recognition system with little transparency and without a clear legal framework. Documents obtained via FOI requests exposed the role of private companies, in
particular Huawei, in pushing for the deployment of FR technology. We proved the lack of adequate fundamental rights safeguards and that the municipality wrongfully conflated FR with the classic video
surveillance. Como spent public money on an unlawful system and the Italian DPA asked them to turn it off. English summary here.
In Greece in 2020, Homo Digitalis conducted legal actions related to biometric data processing activities of the Hellenic Police (HP). Specifically, in March 2020 the Greek watchdog filed a request for opinion to the Greek DPA regarding a smart policing contract of the HP. This contact aims at developing smart devices with integrated software enabling facial recognition and automated fingerprint identification of individuals during police stops. Moreover, in June 2020 Homo Digitalis filed 2 strategic complaints
before the Greek DPA against a central database of the HP, which stores fingerprints of all Greek passport's holders without a proper legal basis. Following these actions, the Greek DPA officially
started investigating both cases in August 2020.
In Serbia, after unsuccessful FOI requests, SHARE Foundation launched a crowdsourced community campaign in an effort to reveal information, identify and map smart surveillance cameras with facial recognition software that are being installed around Belgrade. The initiative has already started to raise
awareness and promote public debate regarding the consequences of biometric mass surveillance. Citizens are encouraged to take photos of cameras in their neighborhoods and supply them to the campaign's Twitter page with the cameras exact location or coordinates and the hashtag #hiljadekamera.
In the Netherlands, Bits of Freedom (BoF) built resistance tools and raised awareness about the creepiness of biometric mass-surveillance in public spaces. In the first project, Bits of Freedom showed how easy it is to build the perfect stalker tool with Amazon's freely accessible Rekognition tool
and a public livestream. More, Bits of Freedom supported students of the Digital Society School to build a tool that generates faces to print on facemasks to fool facial recognition systems that are trained to identify masked up faces.
In Czechia, as part of its Digital Freedom program, IuRe (Iuridicum Remedium) iscurrently mapping
biometric identification systems in the Czech Republic, including setting up their safeguards against misuse and data leakage. After finishing the legal study, IuRe will organize a seminar in the
Parliament of the Czech Republic, where it wants to clearly present the risks of biometric identification in public space to the lawmakers.
Over the coming weeks and months, we will be sharing more of the actions that are being taken on the ground by the coalition, to resist the spread of biometric mass surveillance across Europe.
To show your support for the campaign, join our call to local, national and European policymakers. We urge them to listen to the public, to reveal how they are using biometric surveillance, and to take action to ban biometric mass surveillance across Europe.
It's time to Reclaim Your Face!