Citizens' rights undermined by flawed CETA deal
On 15 February 2017, the European Parliament voted in favour of the Comprehensive Economic Trade Agreement (CETA). This concludes the process at the EU level. The EU Member States will now have to ratify the agreement, without having a right to make changes to the text. CETA creates significant risks for citizens' fundamental rights, especially with regard to privacy and data protection.
CETA raises serious questions to the protection of our online rights and freedoms. These concerns have been sadly ignored. We now turn to the EU Member States to stand up for the interest of their citizens by rejecting CETA.
said Maryant Fernández Pérez, Senior Policy Advisor at European Digital Rights (EDRi).
The Parliament approved the agreement despite EDRi's and other civil society organisations' calls to improve the agreement text. We raised concerns about the lack of transparency in the negotiation process, weakened protection of the personal data and privacy of European citizens, the possibility of corporations to challenge government decisions under the so-called Investment Court System, and the inclusion of intellectual property rights (IPR) obligations without focusing on promoting access to knowledge.
Despite not being yet ratified by the EU Member States, CETA is expected to already be provisionally applied as of Spring 2017, with some exceptions, meaning that parts of it will start having a practical impact, for example on data protection. If Member States don't stand up for citizens' rights by rejecting the agreement, CETA could become a blueprint for other trade agreements and increase growing public mistrust in trade policy. It is the time to better design trade agreements, in order to maintain a high level of protection for the EU citizens. This is possible only with better transparency and inclusion of public interest organisations.
It is crucial for national and local NGOs to make their arguments heard in the ratification process of CETA in each of the EU Member States.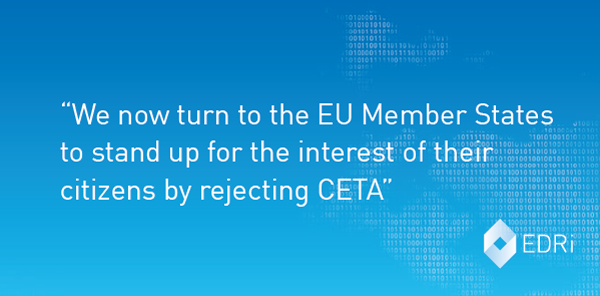 Read more:
Civil Society Letter asking MEPs to vote against CETA (13.02.2017)
https://edri.org/files/CETA/civilsocietyletter_cetaplenary_20170213.pdf
Despite large opposition, CETA limps forward in the European Parliament (24.01.2017)
https://edri.org/despite-large-opposition-ceta-limps-forward-european-parliament/
European and Canadian civil society groups call for rejection of CETA (28.11.2016)
https://edri.org/european-canadian-civil-society-groups-call-rejection-ceta/
CETA signature ignores Agreement's flaws (30.10.2016)
https://edri.org/ceta-signature-ignores-agreements-flaws/
CETA puts the protection of our privacy and personal data at risk (05.10.2016)
https://edri.org/ceta-puts-protection-privacy-and-personal-data-at-risk/
CETA's cross-boder data flows will be provisionally applied (07.10.2016)
https://www.vrijschrift.org/serendipity/index.php?/archives/206-CETAs-cross-border-data-flows-will-be-provisionally-applied.html
CETA will undermine EU Charter of Fundamental Rights (04.05.2016)
https://edri.org/ceta-will-undermine-eu-charter-of-fundamental-rights/