Civil society letter: Without reforms in US surveillance laws, the Privacy Shield must be suspended
A coalition of 17 global civil society organisations, including many EDRi members, wrote a letter to the European Commissioner for Justice and Consumers, Věra Jourová, to express the need for a reform of US surveillance laws. The coalition of civil rights group claim that Europe must suspend the data-transfer arrangement (the EU-US Privacy Shield) unless the US Congress pushes forward a meaningful reform of the existing regulatory framework related to data protection and privacy.
Commissioner Jourová is planning to be in Washington DC in March in order to discuss the EU-US Privacy Shield. The civil society organisations behind this letter, including EDRi, ask her to have a strong position during her visit so she can ensure the protection of the rights of non-US persons including Europeans.
In the letter we argue that there is the need for an urgent reform of US surveillance laws, especially of the Section 702 of the FISA Amendments Act. This piece of legislation has been the base to authorise warrantless surveillance programs like Upstream and Prism, as was revealed in the documents leaked by Edward Snowden. Although the current legislation expires in December 2017, the House Judiciary Committee has already began negotiating an extension to it.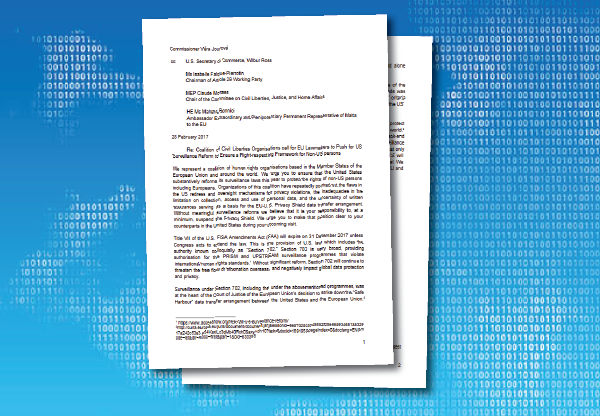 You can read the letter here: https://www.accessnow.org/cms/assets/uploads/2017/02/Section702CoalitionLetter1.pdf
Press release from Access Now:
https://www.accessnow.org/global-civil-society-groups-call-for-reform-of-us-surveillance-law-section-702/