Copyfail #8: Geo-blocking: Blocking access to cultural content online depending on your physical location
This article is the eighth in the series presenting Copyfails.
The EU is reforming its copyright rules. We want to introduce you to the main failures of the current copyright system, with suggestions on how to fix them. You can find all the Copyfails here.
How has it failed?
If I can watch a football match in Estonia, but not in Brussels, it is quite simply unfair.
– Andrus Ansip, European Commission Vice-President for the Digital Single Market at his European Parliament hearing
In an increasingly cosmopolitan Europe, where people travel a lot and move to other EU countries for work, citizens are finding barriers to the access to cultural goods, for example TV programs or news, that they were allowed to access online in their home country. 68% of content providers block users based on their geographical location. The European Commission has always claimed to promote the creation of a "Digital Single Market", but the digital single market is no closer today than it was ten years ago!
Legislation related to "Intellectual Property" is different in the 28 EU Member States. Licensing of copyrighted content is based on national markets. This leads into a situation where access to cultural content is restricted within territorial lines. Broadcasters, film producers and other content providers do not have enough incentives to licence their content abroad, to allow citizens to access it everywhere. This fragmentation allows them to keep different prices in different EU countries.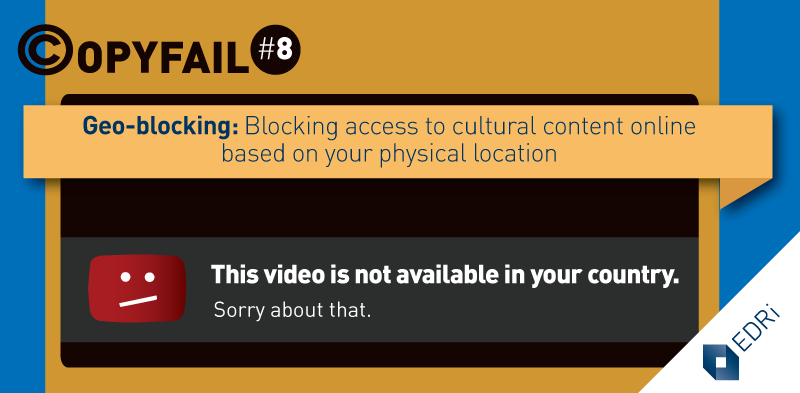 Why is this important?
The fragmentation of the EU copyright market greatly limits our choice for cultural content. It discriminates citizens based on their location, and undermines the credibility of the whole copyright system. To allow people to easily and legally access copyrighted contents, solutions like affordable streaming services which can be accessed equally across the EU are needed. Trying to draw geographical borders for digital content limits the opportunities to create new markets and services. For example, it took four years for Spotify to break into the market in thirteen EU countries after being available in the United States: Definitely not the best example of a functioning Digital Single Market for EU businesses, creators or citizens!
How to fix it?

68% of digital content providers geo-block in the EU (21.03.2016)
https://torrentfreak.com/68-of-digital-content-providers-geo-block-in-the-eu-160321/
Extending the Sat Cab Model to the Internet (26.10.2015)
http://www.beuc.eu/publications/beuc-x-2016-005_report_extending_the_satcab_model_to_the_internet.pdf
European Commission: Geo – blocking practices in e – commerce (18.03.2016)
http://ec.europa.eu/competition/antitrust/ecommerce_swd_en.pdf
Ready to use your free Spotify UK account in France? (16.03.2016)
http://www.create.ac.uk/blog/2016/03/16/ready-to-use-your-free-spotify-uk-account-in-france/
Internet piracy falls to record lows amid rise of Spotify and Netflix
http://www.telegraph.co.uk/technology/2016/07/04/internet-piracy-falls-to-record-lows-amid-rise-of-spotify-and-ne/?platform=hootsuite