Don't let Big Tech fool you: Small businesses don't want surveillance advertising
Tracking-based advertising has become all pervasive in the digital world. Amnesty Tech's new research shows that small businesses know very well how harmful these practices are to human rights but have little alternative.
Big Tech companies claim that regulating tracking-based advertising would harm small and medium-sized enterprises (SMEs). Google and Facebook (Meta) often style their lobbying efforts as being on behalf of the interests of SMEs, claiming they are simply looking out for the small businesses and consumers who use their advertising tools.
To micro-target people, this kind of advertising is based on monitoring people on and offline to develop hyper-specific profiles and provide them with advertisements tailored to match their inferred interests and traits. 
Many SMEs use tracking-based advertising to reach new audiences. But pervasive tracking of people's lives is having adverse effects on people's rights – including privacy, freedom of expression, and non-discrimination. Furthermore, this toxic practice has allowed Facebook and Google to dominate the internet. This means that many SMEs have no choice but to use these companies' services, as there is no meaningful alternative. 
Amnesty Tech wanted to find out from SMEs themselves – are they happy with the tracking-based advertising offered by Big Tech platforms?
The answer is overwhelming: SMEs don't like tracking-based ads. That is what a YouGov survey of 617 SME leaders in Germany and France has shown.
The poll commissioned by Amnesty International and Global Witness found that three out of four SME leaders believe that tracking-based ads undermine people's right to privacy and other human rights. 
More than two thirds of the businesses questioned feel that the dominance of Google and Facebook over the digital advertising market means they have no choice but to advertise with them.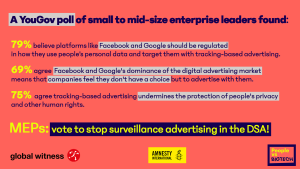 Additionally, almost eight out of ten SME leaders believe Big Tech platforms like Google and Facebook should face stricter regulation when it comes to the use of personal data for targeting ads to people.
These results clearly counter the lobby narrative of Big Tech, which defends their business model by claiming that it supports small businesses. On the contrary, the polling shows small business leaders in France and Germany are deeply wary of their ad tech practices – but don't see an alternative.
Furthermore, the French and German business owners think their own customers are uncomfortable being targeted with ads based on the use of their personal data. Their discomfort is consistent across many data categories: the SME leaders believe their customers to be uncomfortable being targeted using information about their health (67%), their sexual orientation (66%), their race or ethnicity (62%) or personal events in their life (62%).
This reinforces previous polling conducted by Global Witness, which found that the majority of people in France and Germany were opposed to their personal information being used to target them with ads online.
Tech companies should serve the communities who use their platform, rather than using their dominance to force them to choose between access to the digital world, and the enjoyment of their rights. The EU has a unique opportunity to reshape the rules of the internet by bringing in strong regulation on tracking-based advertising in the Digital Services Act (DSA). 
Amnesty's poll should give legislators pause over any assumption that businesses want tracking-based advertising at any cost. MEPs are voting in plenary on the DSA this week. This vote gives them the opportunity to include stronger rules on tracking-based ads in this piece of legislation. Amnesty Tech therefore urge legislators to listen to the voices of civil society and small businesses and end online advertising practices that rely on intrusive surveillance in the DSA.
The article was first published by Amnesty Tech here.
Image Credits: Amnesty Tech
(Contribution by: Nienke Palstra, Senior Campaigner from Global Witness, Claudia Prettner, Legal/Policy Adviser & Alia Al Ghussain, Campaigns and Communications Officer, from EDRi observer, Amnesty Tech)