EDRi 2.0: The European Digital Rights network turns 20
This year, EDRi turns 20, marking two decades of building a movement of NGOs, experts, advocates, technologists, academics and impacted communities. Together, we have been defending and advancing digital rights across Europe. Read about our 20-year impact below and join us in celebrating our anniversary.
Let's celebrate together EDRi's 20 years of impact and efforts to build a people-centered, democratic, digital society. Share your birthday wishes, favourite memes or positive visions for the future with us at brussels [at] edri [dot] org.
For the last 20 years, we built upon the core of EDRi – a passionate, resourceful and persistent civil society network. While strengthening the foundations of our community, we also added renewed campaigning and mobilisation capacities. Nowadays, the role of EDRi is ever more relevant and important as challenges to our freedoms and rights online and offline continue to arise and threaten our privacy, safety, dignity and agency. That's why at EDRi, together with broader social movements, we strive to challenge power imbalances to protect and promote the digital rights of everybody.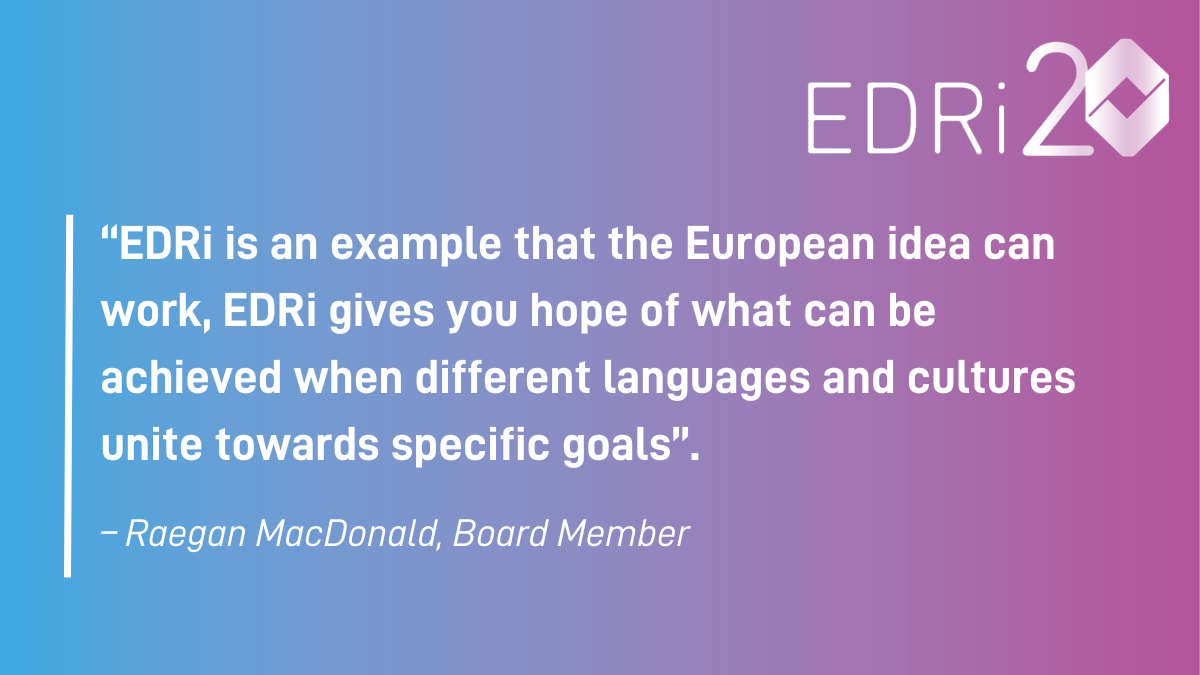 If you like EDRi and want to support our work, send us a donation. We need your help to keep protecting human rights and freedoms in the digital age.
How it started?
In June 2003, EDRi was formally established. Its founders – 10 non-governmental organisations (NGOs) from 7 countries – were visionary in anticipating the Brussels effect on regulating internet and digital technologies.
While the state of play in the early days of mass internet was different than the scale of today's digitalisation, the EDRi founders already knew that civil society must find its voice to counter surveillance, control and injustice.
What has EDRi's impact journey been ever since? How has the network grown and mobilised across the years? What's coming up for this mature collective?
EDRi's impact journey
The timeline of the EDRi network's victories shows the importance of EDRi's resourcefulness, network power and ability to coordinate actions and expert policy work to protect human rights in the digital age across the years.
EDRi contributed to squashing the Anti-Counterfeiting Trade Agreement (ACTA). The network used its resources, conducted research and analysis, and coordinated protests in over 200 cities across Europe in February 2012. EDRi's impact has been described as a "digital rights turning point".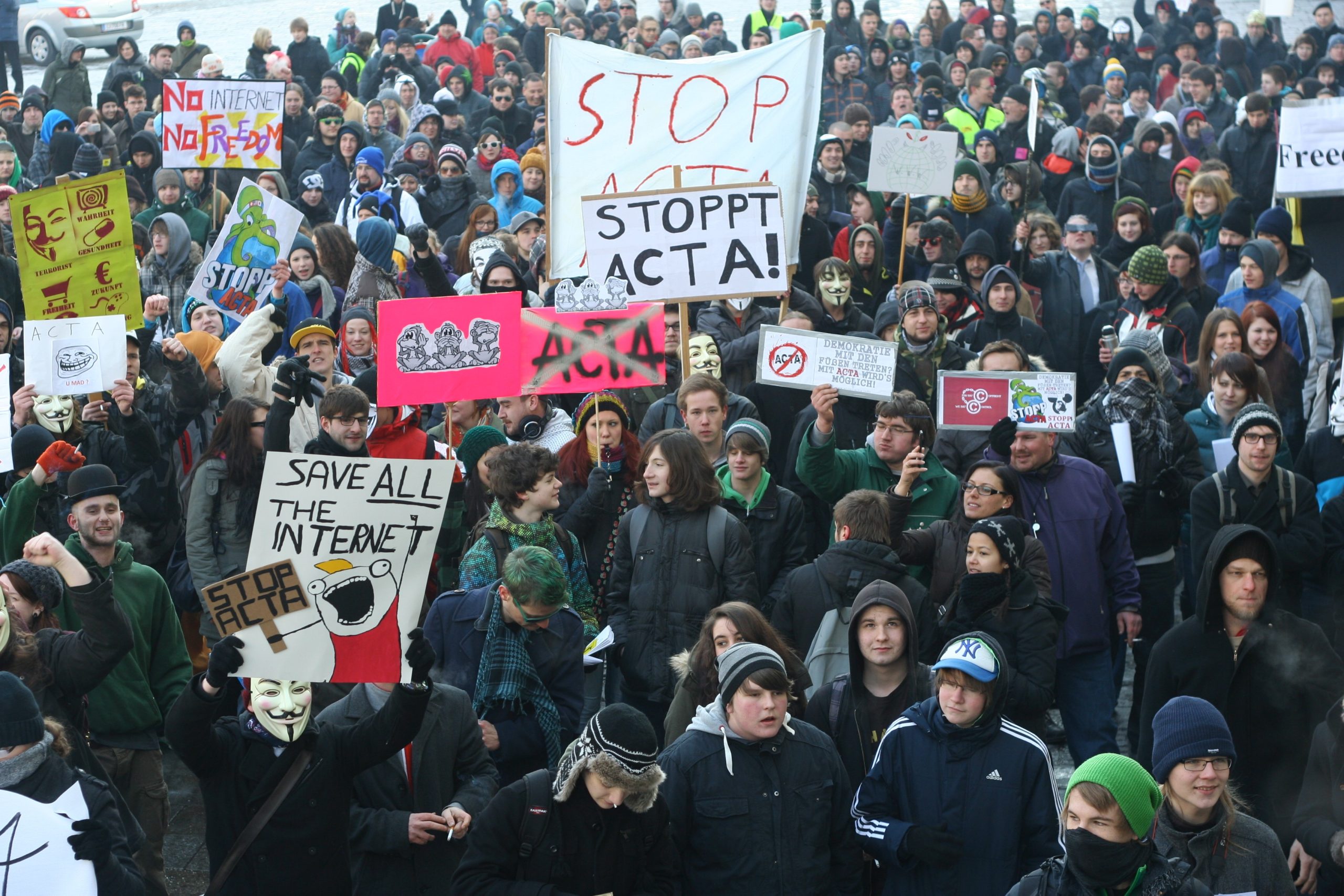 EDRi's work on the General Data Protection Regulation (GDPR) from 2012 to date highlights the importance of the long-term, targeted and persistent engagement to improve proposals from the European Commission, directly influence the wording of the legislation, and the ongoing engagement after legislation has been approved to support enforcement.
"EDRi's influence ran through deep policy wins over the last 10-15 years. I was struck by the way in which EDRi's fingerprints were all over the GDPR – both the secretariat and its members – it is clear EDRi is a place people went to in when navigating a complex space"
More recently, EDRi's work on the Digital Services Act (DSA) highlights the role of EDRi's expert policy work combined with campaigning efforts to ensure that adequate balances are achieved in EU legislation. The impact we had on the DSA shows the importance of EDRi's persistence and presence to protect and consolidate previous achievements and address gaps in existing legislation. An internal research commissioned on the occasion of the 20th anniversary points out to many more victories where the combination of collective policy expertise, public mobilisation, litigation and broad coalitions has been effective.
"For the DSA, EDRi's contribution to keeping the right balance of protection of rights and prevention of illegality was extremely important"
A never-ending battle
It is striking to notice that some of the earlier wins – on Passenger Name Records (PNR) or data retention, for instance – are now undermined by Member States looking to circumvent the rulings of the European Court of Justice or pass new restrictive legislation.
Those who lived through the crypto-wars must have a deja-vu feeling around the recent attempt by the European Commission to scan all our electronic communications, threatening end-to-end encryption. The effect of the Snowden revelations has faded away, and Europe's geo-political awakening means that security and criminalisation are centered at the expense of people's rights.
EDRi has been continuously tackling internet centralisation and Big Tech monopoly. Even though this has been a never-ending battle, we have celebrated important wins to counter the Big Tech business model via regulatory means or litigation.
Throughout the last 20 years, EDRi members have collectively recognised the importance of campaigning, coalition-building, coordinated communications and public mobilisation to achieve and sustain human rights wins. Externally, digital rights issues have become more relevant and mainstream. Political and social events such as compromised elections or the Cambridge Analytica scandal created public awareness.
These challenges show us that there is more work to do to reach wider audiences, promote a positive vision, connect with people's values and realities, convene diverse organisations and resources, and increase campaigning power. We cannot do that alone. We need your support.
Network growth and diversification
EDRi's membership has steadily and strategically grown over the years – from 10 founding members to 47 in 2022 – with a slow and steady increase in the total number of members, as well as in the total number of countries represented. Simply "growing" the network was never a specific objective in its own right, EDRi sought to ensure that it could speak effectively on behalf of Europe as a whole – requiring representation and coverage from across the EU and its neighbours.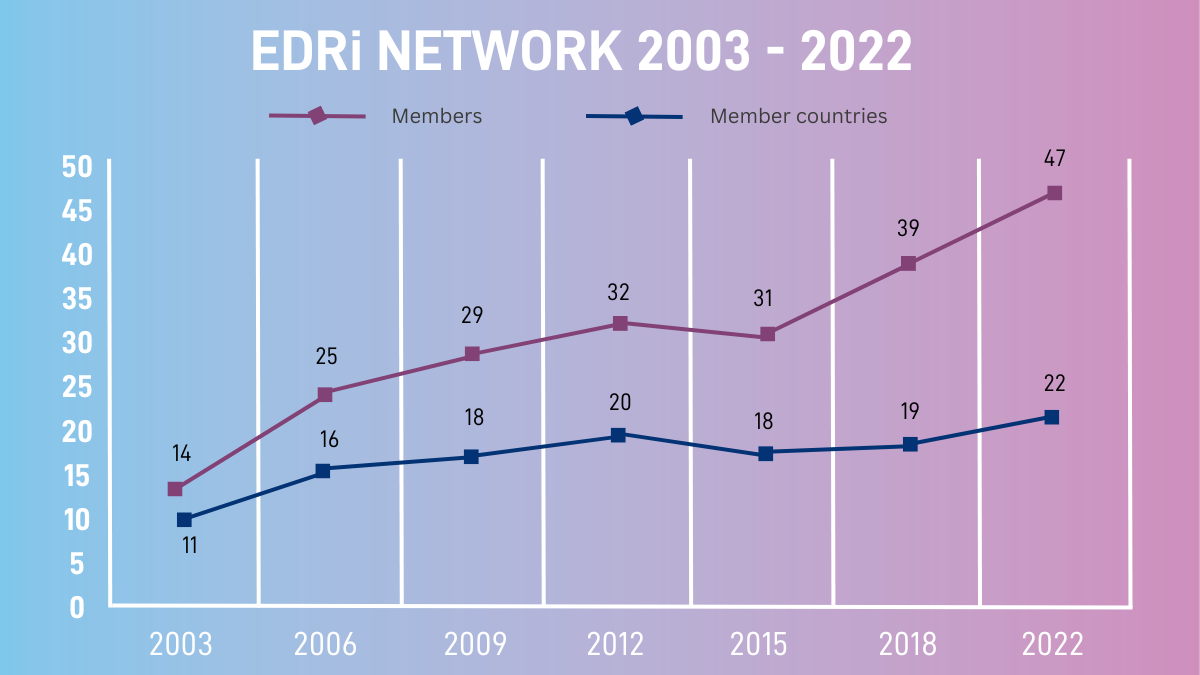 The ubiquitous digitisation has had consequences on how a range of human rights are experienced, contributing to a greater need for activism and advocacy on digital and human rights issues, as well an increase in organisations needing to look at the intersection of human rights and technology.
This has been a key driver for the diversification of the EDRi network. Starting with a core membership of mostly technical organisations, other profiles came on board: campaigners, advocates, lawyers, activists, and academics. This enabled the network to recognise and consider various forms of expertise and lived experiences.
As EDRi grew from a small group of digital rights organisations to a more professionalised and structured institution, the network underwent a range of changes to its operational structure and governance policies. Key achievements over the years have included:
As EDRi turns 20 and tech is ever present in our lives, we continue to focus on supporting our members, including financially, and to increase community engagement.
Key challenges and questions as EDRi works across a growing number of coalition members and partners, are how to work at the intersection of 'digital' with other movements, how to maintain the network expertise and how to build and expand on this expertise as opposed to replacing it.
It is crucial for EDRi to consider its role in fostering collaboration with other movements and to remain a thought leader in the digital rights space. This year, we will celebrate in Brussels and other European cities to honour our journey, reflect on learnings and prepare for the future. These questions – and the vision that EDRi puts forward will be at the core of these events. Share your birthday wishes and your vision for the digital rights field in Europe with us at brussels [at] edri [dot] org.