For the first time and with great solemnity, EDRi presents the first ever 4th edition of our annual awards.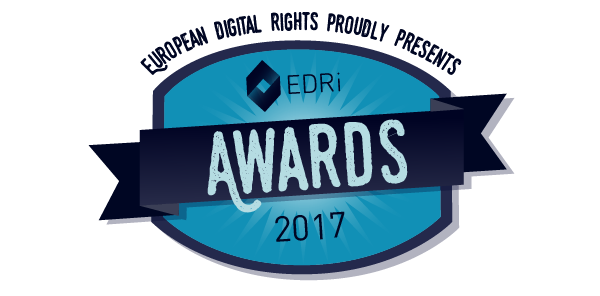 1. The "Humpty Dumpty Award" for the most silly "statistics"
IAB & their silly statistics, with the honourable exception of the real statistics buried deep in the spin.

2. The Mark Zuckerbrot award for WTF
This award goes to a Member of the European Parliament (MEP) who is down with the kids and up with the facts, who explained to us that Facebook's Mark "Zuckerbrot" "got the message" and now wants to regulate the morals of children online, just as the Audiovisual Media Services (AVMS) Directive demands. The same MEP has attacked EDRi publicly for opposing Google's lobbying for internet filtering, arguing that we are supporting Google because we oppose them. No, we don't understand either.
3. The cranial fracture facepalm award
Computer and Communications Industry Association's (CCIA) insistence to a journalist that they are "not working on e-Privacy", before immediately launching a lobbying campaign on e-Privacy and then paying a "consultant" for an "independent" study on e-Privacy.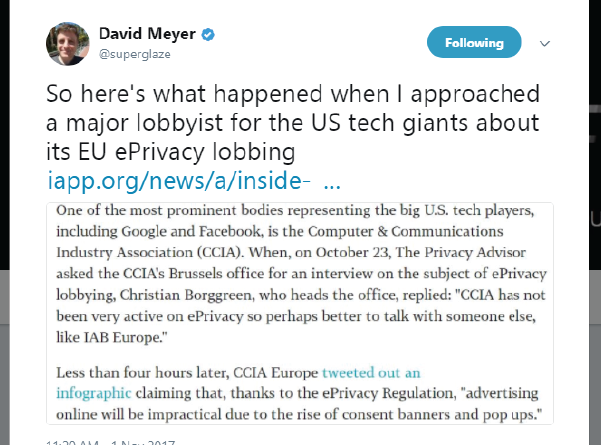 ---
Positive EDRi Awards
On a more serious note, we should also spare a thought for the wonderful people that are doing wonderful work at a difficult time.
4. The "Max Schrems" award
David Carroll for his fight against Cambridge Analytica;
The Court of Justice of the European Union (CJEU) itself, for prohibiting (again, having done so already in 2012), the untargeted mass storage of telecommunications data (in its ruling on Tele2) and its clear Opinion on the EU/Canada PNR Agreement. Sadly, to "protect us" from lawbreakers, the European Commission and EU Member States continue to break the law in relation to both of these activities, as we reported (read more here & here).
5. The heroes who keep us energised award

We cannot name everybody, including last year's awardees, but here are six top stars that are worth highlighting:

Tijn, Luca, Nina, Marlou and Joran
Who are they?
The students who organised the collection of 384 000 signatures to require an advisory referendum on the Dutch "dragnet" surveillance law. We need more people like them!
Finally, we want to recognise the amazing work that all of our members and other digital rights activists are doing in Europe and around the world.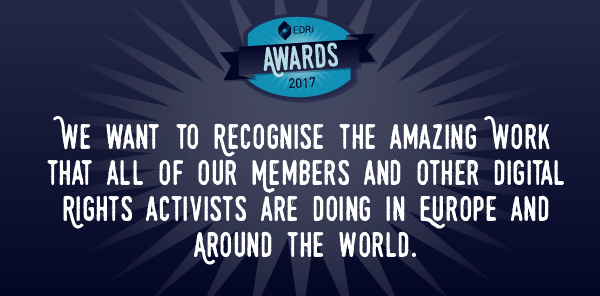 ---
Getting inspired, dig into our 2017 top reads
Notable publications of the year:
Did you like them? Please, check previous EDRi awards:
EDRi awards 2016
EDRi awards 2015
EDRi awards 2014
(Contribution by Joe McNamee and Maryant Fernández Pérez)