Mainstreaming digital rights in European policy-making – 10 years on
PRESS RELEASE
On Monday 4 March, EDRi celebrated its 10th anniversary at the European Parliament in Brussels. To mark the occasion, EDRi held a meeting with European Commission Vice-President, Viviane Reding. The Vice-President is responsible for the Justice, Fundamental Rights and Citizenship portfolio in the Commission.
"As EU Commissioner in charge of the Information Society and now as EU Commissioner for Justice, I have worked together with the European Digital Rights organisation for many years," she said. "Thanks to our joint efforts we have made sure that the internet could not be blocked and that data protection standards remain high in Europe. Today we are celebrating EDRi's 10th anniversary. Congratulations for 10 years of great work! I look forward to continuing our joint efforts for strong data protection rules in Europe. EDRi's continuous support is crucial to make sure that the fundamental right to data protection is properly protected in our European Union."
The theme of the meeting was "Mainstreaming digital rights in European policy-making – 10 years on". The topic is of central importance to both EDRi and its 35 member organisations and has been a key priority for Vice-President Reding during her current term of office. As a practical step to "mainstream" the European Charter for Fundamental Rights into the policy development of the Commission, Vice-President Reding launched the "Strategy for the effective implementation of the Charter of Fundamental Rights" by the European Union in 2010.
"EDRi's role is to insist on the protection of citizens' rights in European Union policy-making and implementation in the Member States," said Joe McNamee, Executive Director of EDRi. "Over the past ten years, we have established ourselves as a constructive, expert and demanding partner in the development of relevant policies. We look forward to building on this strong legacy as we head into the next decade of defence of human rights in the digital environment."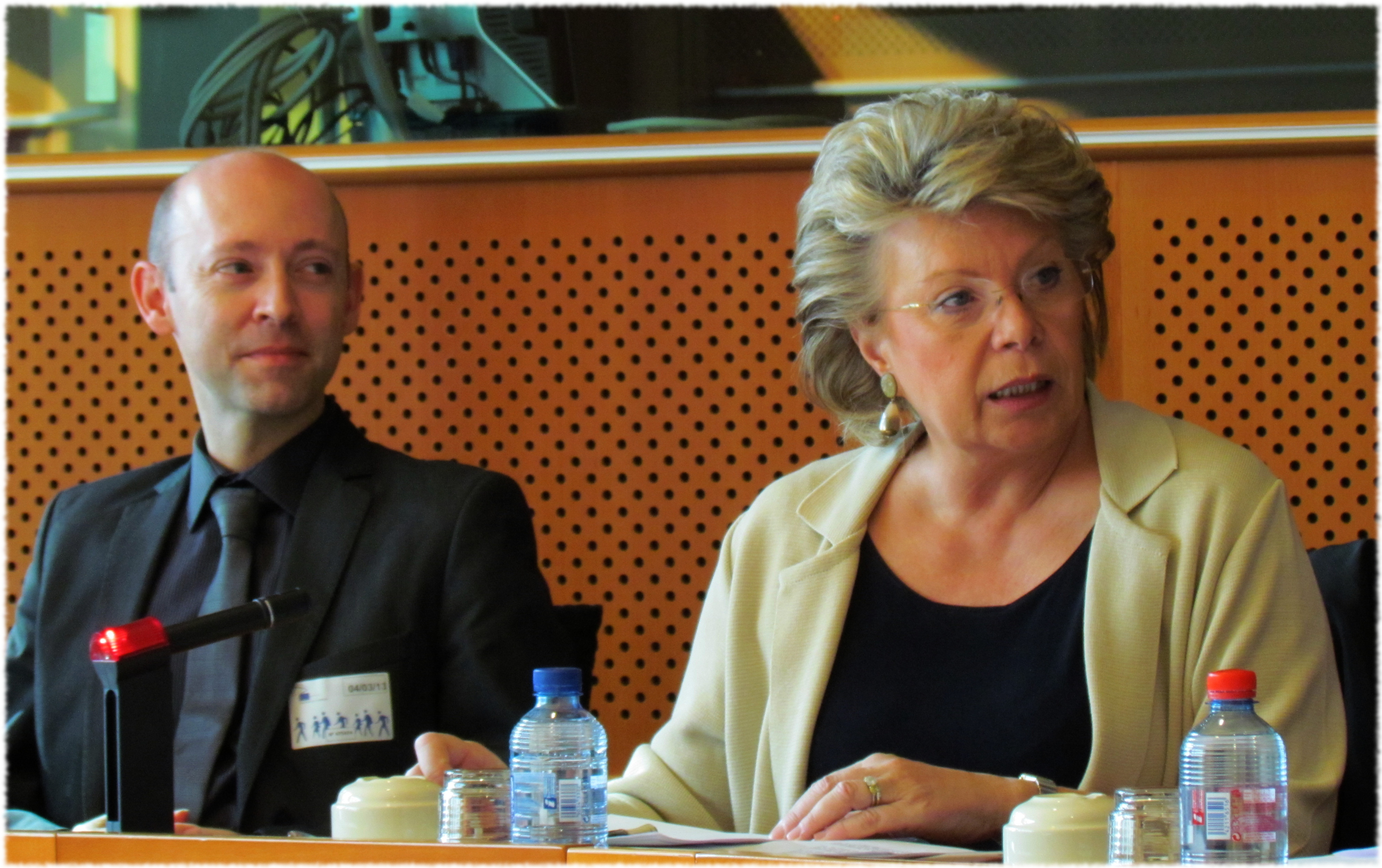 EDRi's President Andreas Krisch with Vice-President Viviane Reding
Original photo