ENAR and EDRi join forces for diligent and restorative solutions to illegal content online
The European Network Against Racism (ENAR) and European Digital Rights (EDRi) joined forces to draw up some core principles in the fight against illegal content online. Our position paper springs both from the perspective of victims of racism and that of free speech and privacy protection.
The European Commission has so far not been successful in tackling illegal content in a way that provides a redress mechanism for victims. In fact, the European Commission has been way too long focused on a "public relations regime" on how quickly and how many online posts have been deleted, while not having a diligent approach for addressing the deeper problems behind the removed content. Indeed, the European Commission has been continuously promoting rather superficial "solutions" that are not dealing with the problems faced by victims of illegal activity in a meaningful way.
At the same time, the European Commission's approach is undermining people's rights to privacy and freedom of expression by urging and pressuring internet giants to take over privatised law enforcement functions. As a consequence, ENAR and EDRi have agreed a joint position paper following our commitment to ensure fundamental rights for all.
Our joint position paper relies on four basic principles:
1. No place for arbitrary restrictions – Any measure that is implemented must be predictable and subject to real accountability.
2. Diligent review processes – Any measure must be implemented on the basis of neutral assessment, rather than being left entirely to private parties, particularly as they may have significant conflicts of interest.
3. Learning lessons – Any measure implemented must be subject to thorough evidence-gathering and review processes.
4. Different solutions for different problems – No superficial measure in relation to incitement to violence or hatred should be implemented without clear obligations on all relevant stakeholders to play their role in dealing with the content in a comprehensive manner. Illegal racist content inciting to violence or discrimination should be referred to competent and properly resourced law enforcement authorities for adequate sanctions if they meet the criminal threshold. States must also ensure that laws on racism and incitement to violence are based on solid evidence and respect international human rights law.
This paper follows cooperation between the two organisations over the past few years to bring the digital rights community and the anti-racist movement together in a more comprehensive way. The common initiative comes at a time where the European Commission is consulting stakeholders and individuals to provide their opinion on how to tackle illegal content online by 25 June 2018. EDRi has developed an answering guide for individuals that consider that the European Union should take a diligent, long-term approach that protects for the victims of illegal content, such as racism online, and victims of free speech restrictions.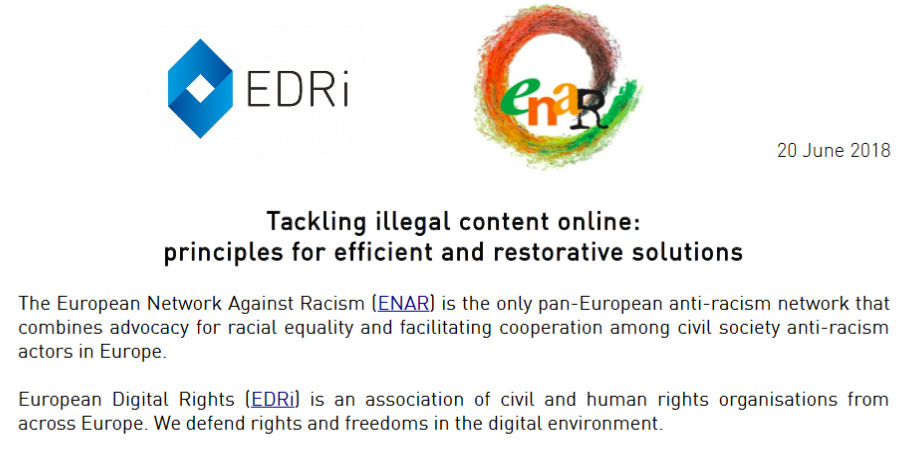 (Contribution by Maryant Fernández Pérez, EDRi Senior Policy Advisor)
Read more:
ENAR-EDRi Joint position paper: Tackling illegal content online – principles for efficient and restorative solutions (20.06.2018)
https://edri.org/files/enar-edri_illegalcontentposition_final_20180620.pdf
EDRi Answering guide to EU Commission's "illegal" content "consultation" (13.06.2018)
https://edri.org/answering-guide-eu-commission-illegal-content-consultation/
Commission's position on tackling illegal content online is contradictory and dangerous for free speech (28.09.2017)
https://edri.org/commissions-position-tackling-illegal-content-online-contradictory-dangerous-free-speech/
EU Commission's Recommendation: Let's put internet giants in charge of censoring Europe (28.09.2017)
https://edri.org/eu-commissions-recommendation-lets-put-internet-giants-in-charge-of-censoring-europe/