European fund for digital rights launched
The European movement to defend civil rights in the digital sphere is fighting for fundamental freedoms in the online environment.
Most European digital rights NGOs are either entirely made up of volunteers or only have small teams of professional staff. They are usually the first to track and fight emerging issues in the field of digital rights, and they are frequently the leading expert voices in their communities. However, they rarely have the possibility to participate in activities and joint campaigns with other NGOs. For smaller organisations, sources of funding are scarce and the scale of bureaucracy is often demanding beyond their capacity. This also affects the ability to address time-sensitive matters on an ad-hoc basis or form effective temporary coalitions on common issues.

In order to tackle such challenges, we are very happy to announce the launch of the European Digital Rights Fund. It will bring urgently needed support to the EDRi community. This small grants program, designed by the Renewable Freedom Foundation (RFF), operates on community-based decision-making from our peers in the digital rights network. It's based on an easy application process that allows for a quick and periodical distribution of funds.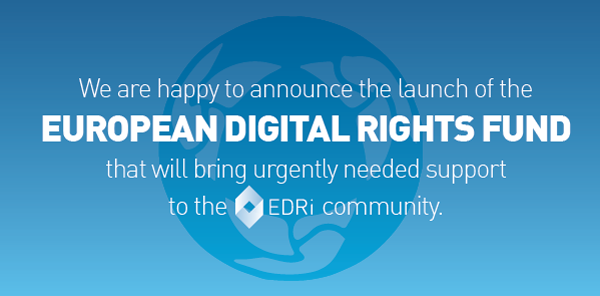 The programme allows for small yet significant projects to be undertaken by individuals or organisations. It encourages joint initiatives within the EDRi network, and to connect with potential allies in other civil rights movements.
Funding is caring: Small grants to support digital rights groups!
https://edri.org/small-grants-support-digital-rights-groups/
European Digital Rights Fund
https://digitalrights.fund/details
Renewable Freedom Foundation
https://renewablefreedom.org/
(Contribution by Guillermo Peris, EDRi)