European Parliament Culture Committee takes strong position against upload filtering
Today, 25 April 2017, the European Parliament Committee on Culture and Education (CULT) voted on the draft Audiovisual Media Services Directive (AVMSD). In a surprise move, the Committee voted to prohibit filtering of uploads by video-sharing platforms. This position, adopted by a majority of 17 to 9, will be the position of the Parliament in its upcoming negotiations with the EU Council, which aim to finalise the text.
A vote opposing upload filtering sends a strong signal, ahead of negotiations on the Copyright reform
said Joe McNamee, Executive Director of European Digital Rights. The European Commission proposes mandatory upload filtering in its draft Copyright Directive. "Now that the CULT Committee has wisely taken a position against mandatory filtering, which is a dangerous tool in the fight against incitement to hatred and violence, it would be absurd if they supported upload filtering for copyright reasons," McNamee continued.
The Committee clearly tried, in months of compromise negotiations, to find a common ground between expanding the policing obligations of video-sharing and social media platforms and the protection of citizens' fundamental rights. Unfortunately, the agreed text is far from perfect, so EDRi will keep working with the EU institutions, in the next stages of the process, to order to maximise protection for fundamental rights.
As amended by the CULT Committee, the AVMSD proposes that internet video-sharing platforms should take measures to protect children from (legal) content that could "impair their physical, mental or moral development". This is extremely broad and dangerous. Internet video-sharing platforms would also be required to protect the general public from "incitement undermining human dignity", incitement to terrorism, violence and hatred defined by reference to, among other traits and features, "political or any other opinion". Requiring companies to, for example, restrict how we express ourselves online to protect society from "incitement to hatred" on the basis of "any other opinion" falls below minimum standards of legal predictability required by the EU Charter of Fundamental Rights.
It might sound like a good idea to protect people from bad things. However, nobody actually knows what the video-sharing platforms are meant to be protecting us from, whether such measures would be counterproductive or not, or the scale of the problems that they are supposed to be fixing. It is unclear why the AVMSD included these measures, as there are other legal instruments that deal with the same issues, such as the Child Exploitation Directive, the Terrorism Directive, and the Europol Regulation. It is also unclear whether the proposed measures would actually protect anyone. What is known is that such measures pose a threat to our freedom of expression, by encouraging video-sharing platforms and social media companies to delete perfectly legal material.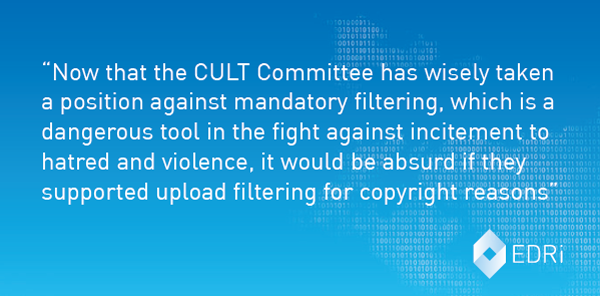 Read more:
AVMS Directive – censorship by coercive comedy confusion (19.04.2017)
https://edri.org/avms-directive-censorship-coercive-comedy-confusion/
German Social Media law – sharp criticism from leading legal expert (19.04.2017)
https://edri.org/german-social-media-law-sharp-criticism-from-leading-legal-expert/
EDRi position paper on the proposed revision of the Audio-Visual Media Services Directive
https://edri.org/files/AVMSD/edrianalysis_20160713.pdf
EDRi's proposals for amendments to the AVMSD (13.07.2016)
https://edri.org/files/AVMSD/edriamendmentproposals_20160713.pdf