Event summary: Encryption in the age of surveillance
The EDRi-organised event on encryption, surveillance, and privacy brought together key policymakers, academics, activists and members of the press to build a better understanding of why encryption is important for people and democracy.
On 26 September, at EDRi's event, we created a space for people with lived experiences of intrusive surveillance to share their stories with EU policymakers and national and international journalists. We heard from journalists, human rights defenders and privacy experts, who spoke about the decisive and protective role of encryption in allowing them to work, socialise, organise, express themselves, and care for others safely, without the fear of being put under arbitrary suspicion.
Together, with top experts in the field like Meredith Whittaker, President of the Signal Foundation; Dunja Mijatović, Commissioner for Human Rights, Council of Europe; Carmela Troncoso, Assistant Professor at EPFL and expert in security and privacy, we also discussed what is the historical context that current threats to encryption emerge and what can be done to build a truly safe online space for all.
Photos by Omar Havana
Here are our key takeaways:
The event developed in two parts, starting with three lighting talks and moving to an engaging discussion with all 60 participants.
While everyone took a slightly different perspective when speaking about the role of encryption and what's the current state of our digital security, we could see several commonalities in people's reflections and analysis.
1. It's impossible for technology to fix deep societal issues
For example, when looking at current threats to people's private communication, the speakers and participants pointed out to the dangerous measures put forward by the European Commission's proposal on the Child Sexual Abuse Regulation.
Carmela pointed out that the CSA Regulation mandates practices that would be impossible to implement without weakening or eliminating end-to-end encryption. She stressed that the tech, imagined by the policymakers who drafted the law proposal, does not exist and will never exist. In her lighting talk, she voiced the concerns of cybersecurity experts and technologists all around the world who have warned that you cannot safely or effectively circumvent encryption in this way.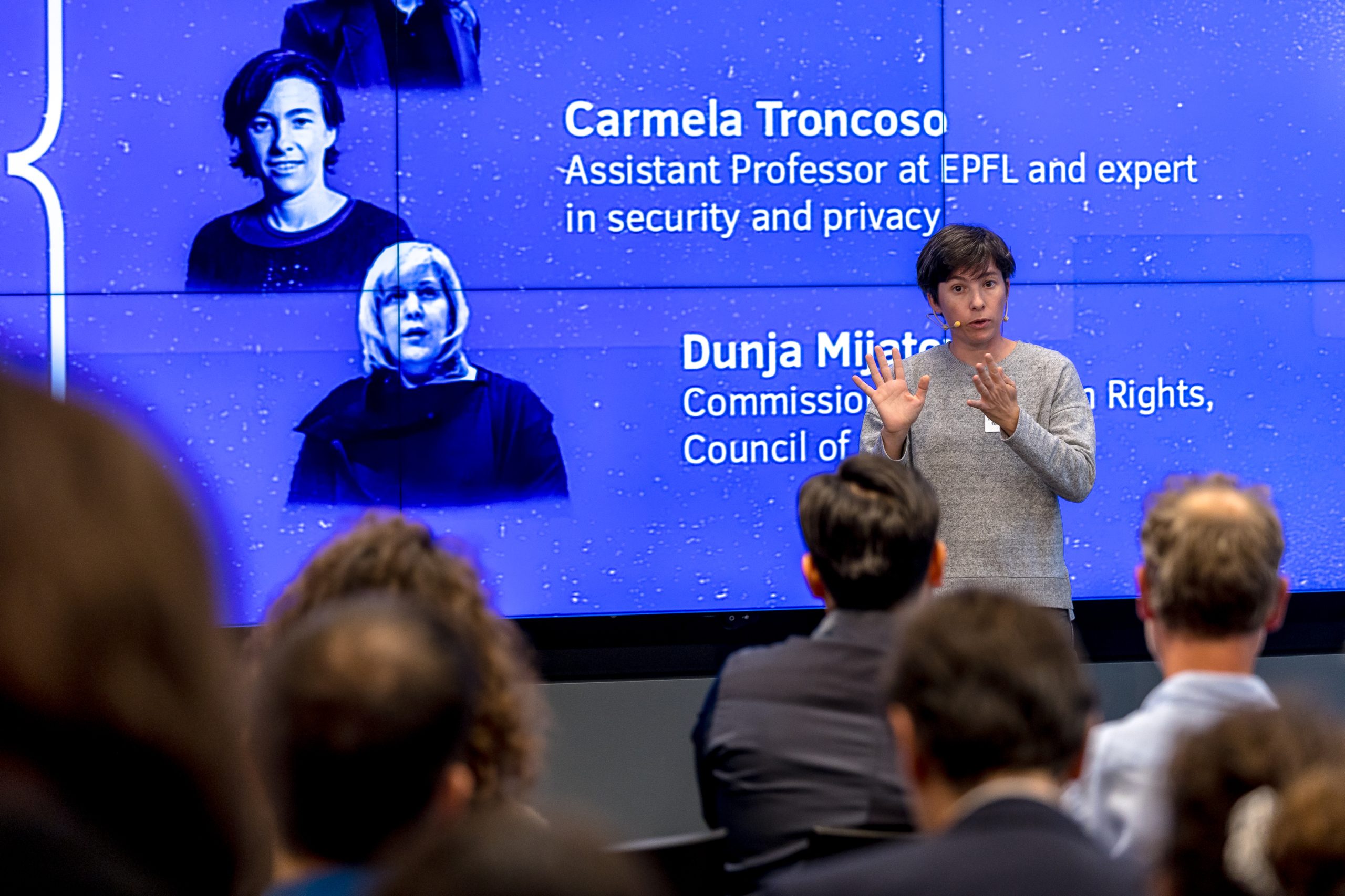 Carmela also noted that it's impossible for technology to fix deep societal issues. Instead of implementing sweeping surveillance measures, EU lawmakers need to focus on alternative, structural approaches to tackling the root of the horrific crime of child sexual abuse.

2. Encryption is an empowering tool that enables us to enjoy our basic rights
Commissioner Mijatović shared that end-to-end encryption is indispensable if we want to protect the security of communications for everyone online. She highlighted that the security of communications often means the security of people. From her experience working closely with human rights defenders across Council of Europe member states, the Commissioner has seen first-hand the benefits of and the necessity of ensuring their safety and that of their families, colleagues and networks, and their beneficiaries, namely the victims of human rights violations themselves.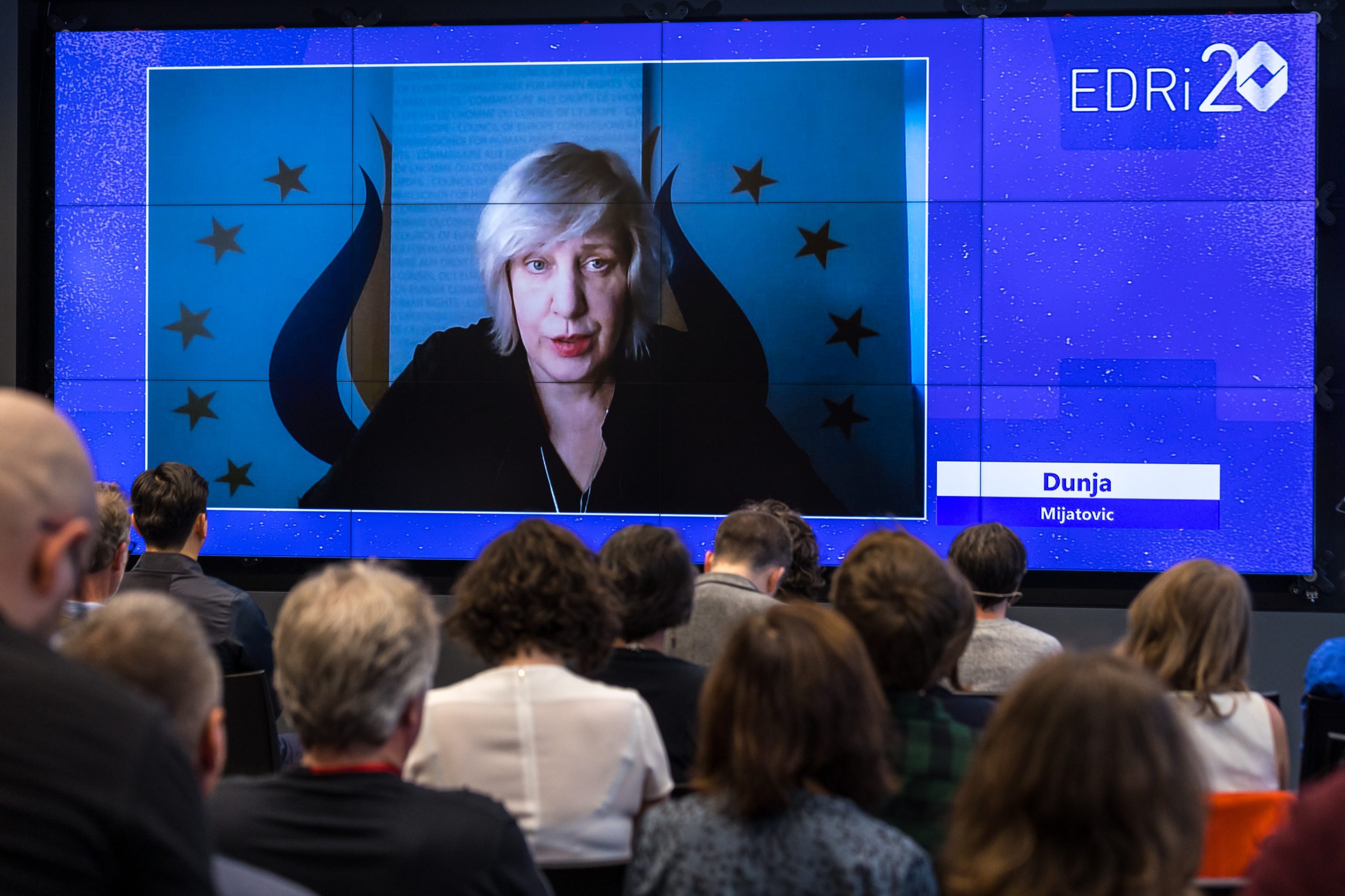 In relation to the draconian measures proposed by the CSA Regulation, the Commissioner said that:
"There must be no general and indiscriminate access to the content of personal communications, neither by state authorities nor by companies: this would undermine the very essence of digital security in terms of privacy protection and human rights safeguards."


Beatriz Ramalho Da Silva, Investigative Journalist at Lighthouse Reports, also pointed out that as journalists they have a duty of care towards their sources. Therefore, if communication is not encrypted, journalists can't ensure the safety of the people they speak to. Without encryption we would endanger the possibility of public accountability journalism.
"Throughout the course of reporting on deaths of asylum seekers trying to reach Melilla - I met a lot of people in person and kept in close contact with them. When I spoke to them I assured them that I would protect the information they gave me and their identities - if for some reason I were to know our communications were not encrypted I could not guarantee this, and people would not speak to me."
Now more than ever, we need YOUR support to keep building a people-centered, democratic society. Help us protect human rights and freedoms in the digital age through a monthly donation.
DONATE NOW!
3. Eroding people's digital safety brings more power and profit to states and tech companies
Meredith brought to our attention the latest revelations around the CSA Regulation showing that the parts of the European Commission, particularly Commissioner Johansson, have been promoting industry interests in the law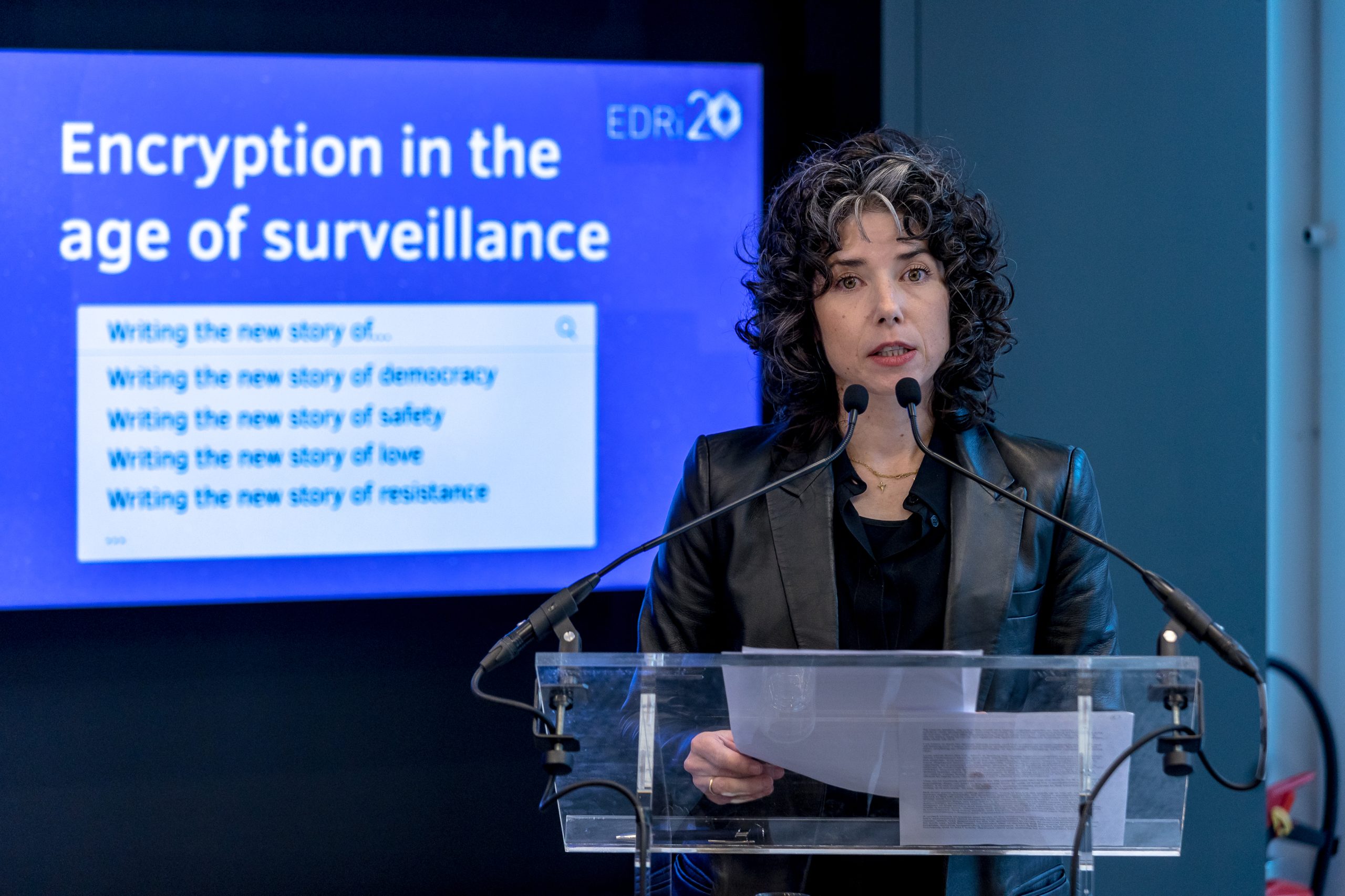 Additionally, Meredith mentioned that EUROPOL is already making the case for expanding scanning to the Commission, saying "there are other crime areas that would benefit from detection." According to meeting minutes, the response from commissioners was not horror, but what appears to be a note of strategic caution, telling EUROPOL that it, "needs to be realistic in terms of what could be expected, given the many sensitivities around the proposal."
When asked about the role of Signal in this power game, Meredith stressed that:
"Signal will not undermine or compromise the privacy and safety commitments they make to people in the EU, and everywhere else in the world. And we will never install a backdoor or otherwise undermine the encryption that keeps the people who use Signal safe. Instead, we would rather leave."
As an example of the criminalisation of the use of encryption, Noémie Levain, Legal Expert at EDRi's member in France La Quadrature du Net, spoke about the 8 December case, involving seven people put on trial in France for using encrypted tools.
"Using mainstream apps and digital security tools like Signal, Tor, Silence or Tails is being used as evidence of "clandestine behaviour" and used to demonstrate the plotting of a terrorist attack in an ongoing criminal case in France. It makes people laugh because it is as absurd as it sounds. But some of the accused were actually detained for several months partly on these grounds."
Another activist Bart Staszewski, LGBTI+ activist, Founder and Chairman of Basta Foundation, shared his personal story of being surveilled by the state and how this intrusion into his privacy impacted the struggle he is fighting for.
"I don't trust Polish politicians, we have no LGBTQI rights in Poland. That's why the right to privacy is essential, we absolutely need encryption to protect ourselves."
So what? Why is it important to hear these stories now?
Given the grave consequences for the lives of many, and especially the most marginalised, it is crucial that everyone's privacy is ensured.
Yet, the CSA Regulation that is currently being discussed could undermine encryption and enable mass surveillance. As the European Parliament is about to vote on this draft law, it has the unique opportunity to safeguard the trust we have in secure and confidential communications by rejecting it.
That's why it's essential that the messages of people with lived experiences and experts reach the political debate.
You can help us protect our digital security. Join the movement of 200,000 individual supporters, 450 scientists and academics, and 134 human rights NGOs in urging the European Parliament to do better for children, and everyone else.
Sign up as a campaign supporter & we'll reach out to you!
Sign up!