#5 Freedom not to be labelled: How to fight profiling
This is the fifth blogpost of our series dedicated to privacy, security and freedoms. In the next weeks, we will explain how your freedoms are under threat, and what you can do to fight back.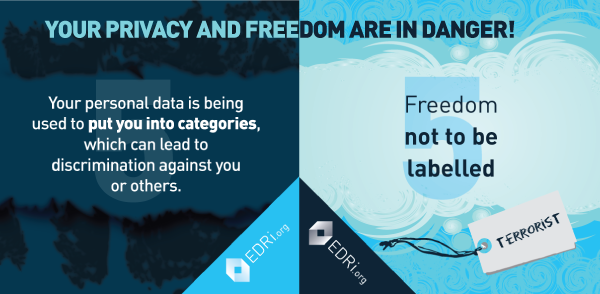 Profiling: What is it and how does it work?
Algorithms gather data from your social media activities, emails, browsing history and so on. Now that the Internet of Things is becoming more and more used, it adds its share to the amount of information collected and stored. As a result of all this data available about your personality, preferences and activities, you can be more and more easily labelled and placed in categories.
These categories may or may not be correct. You might end up "mislabelled" and put into a wrong category. For example, according to a French government website, you might be in the process of being radicalised if you change your eating habits, leave full-time education or stop your sporting activities and stop watching TV. Of course, you might just be a student writing your thesis.
Research has shown that for example a person's ethnic group, sexual orientation, religion or relationship status can be surprisingly accurately guessed from simply assessing their Facebook "likes". These insights are possible, even though many users avoid clicking on links that would obviously reveal these details.
Based on this "labelling", decisions can be taken about you: if you will be selected for a job interview, or picked for a special security screening at the airport. Or you could be offered either a discount or higher prices for a service or a product.
How to claim back your freedom not to be labelled
If you believe that a profiling measure has produced legal effects or significantly affected you (credit worthiness, reliability, conduct) you can contact Data Protection Authorities (DPA) to exercise your rights, such as the right to object to automatic decision-making and the right access to the information collected about you. Unfortunately, not all the DPAs have a user-friendly approach, and issuing a request can be fairly complex in some countries, such as Belgium. However, in other countries like France, the authorities offer a template-based model to simplify the complaint system for their citizens. The new General Data Protection Regulation (GDPR), which is due to become binding law in all EU Member States in 2018, will strengthen and clarify both these rights and the ability of national data protection authorities to implement them.


Random Agent Spoofer is an add-on for Firefox browser. It hinders browser fingerprinting – collecting information that allows to identify you – by allowing you to automatically choose random browser profiles.


Self-Destructing Cookies is an add-on that removes the general purpose cookies when they are no longer used by open browser tabs. Also, it detects and removes the tracking cookies as soon as they are spotted.


$heriff allows you to know differential pricing in real time.
In the webseries "Do Not Track", produced by ARTE TV in collaboration – with Mozilla, you can discover more about profiling, for example how much data you provide when "liking" things on Facebook, and how that affects not only you but also your friends and relatives. Watch the third episode, "Like mining" here: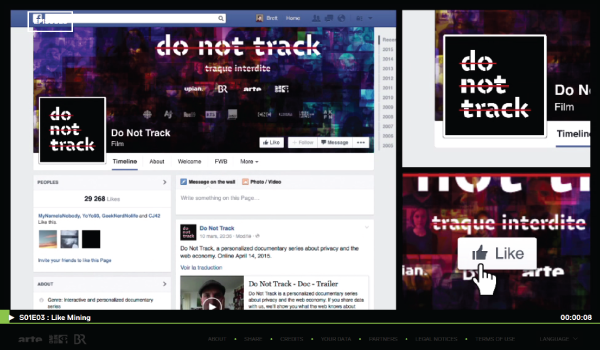 What can politicians do to safeguard your freedoms online?
The rules on online privacy in the EU (ePrivacy Directive) will be soon updated. This law deals with privacy and confidentiality of communications for the entire EU, and it affects tracking and other issues related to your freedoms online. Are politicians ready to fight for your protection?
Read our previous blogposts here, and stay tuned to our next blogposts to know more about your freedoms online, and how they are threatened!
---
Read more:
6 times it's more expensive to be a woman (12.04.2016)
http://www.marketwatch.com/story/5-things-women-pay-more-for-than-men-2014-01-17
Need a Reservation? That Could Depend On How Big You Are on Twitter (Really) (30.09.2010)
http://adage.com/article/digitalnext/marketing-las-vegas-palms-hotel-klout-scores/146189/
Is social profiling discrimination? (03.05.2012)
https://www.washingtonpost.com/blogs/innovations/post/is-social-profiling-the-new-racism/2012/05/03/gIQAXQQDzT_blog.html
The dangers of high-tech profiling, using Big Data (07.08.2014)
http://www.nytimes.com/roomfordebate/2014/08/06/is-big-data-spreading-inequality/the-dangers-of-high-tech-profiling-using-big-data
Do Not Track: Episode 3 – Like Mining
https://donottrack-doc.com/en/episode/3