#3 Freedom to make mistakes: How to defend yourself from abuses
This is the third blogpost of our series dedicated to privacy, security and freedoms. In the next weeks, we will explain how your freedoms are under threat, and what you can do to fight back.


Public availability of sensitive information: What is that and how it works?
In the online environment we constantly feed companies and institutions with our personal information. In most cases, we are not in control of the use of that information. The information we consciously provide can be combined with other pieces of information and create completely new information that we did not even know could be created. This can cause risks for our freedoms, also offline.
Nowadays a big part of our social interaction happens online, in social media like Facebook, Snapchat and Twitter. Apart from the information you post or send via these services, they can also collect other information from your devices, such as location data, battery levels, and the list of apps you have installed in your phone. By combining all this data, it is easy to connect this information to you even even if you used a pseudonym. Being anonymous online is far more difficult than it seems.
And the internet does not forget. Think about it: anything you post online now (or that you posted years ago!) could be later tracked back to you, by anyone who happens to get access to it. An old online communication that you thought was private could come up in a job interview, and affect your chances to get employed. The threats are even greater in countries where freedom of expression and freedom of assembly are not respected. In the worst cases, the information about you could be used to damage your financial or even personal security.
How to claim back your freedom to make mistakes
When you post something online, you need to be sure to use the best available tools to protect yourself from others snooping on your private life. One of the best ways to reduce risks is the use of encryption messaging apps and add-ons that can protect your privacy.


Install TOR and use it to browse the web anonymously and easily: TOR is used by activists and journalists all around the world. The technology is both easy to use and it is regularly updated by experts.


Install Signal. Recommended by whistleblower Edward Snowden as one of the best available apps, this application allows you to chat securely. All the communications are encrypted end-to-end by default, including group chats and attachments. This means that nobody but the person to whom you send the message will be able to read its contents. Sometimes it is a pain to change to a different technology. However, the more people that use Signal, the more people will use Signal! Privacy and security needs leaders to set an example… Try Signal, it's as easy as any other instant message app! Ask the five people with whom you are in contact the most regularly to start using it, too, and you'll be able to chat with them, with no risk to your privacy and security.
John is also dealing with the risks of re-identification in this video, prepared by our member Association for Technology and Internet (ApTI) – Romania: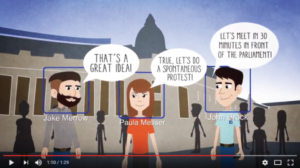 What can politicians do to safeguard your freedoms online?
The rules on online privacy in the EU (ePrivacy Directive) will be soon updated. This law is dealing with privacy and confidentiality of communications for the entire EU, and it affects tracking and other issues related to your freedoms online. Are politicians ready to fight for your protection?

Read our previous blogposts here, and stay tuned to our next blogposts to know more about your freedoms online, and how they are threatened!
Read more:
Facebook researchers are trying to predict when you and your spouse will break up (28.10.2013)
http://www.theverge.com/2013/10/28/5038830/facebook-researchers-predict-relationship-failure
Ever liked a film on Facebook? You've given the security services a key to your soul (13.01.2015)
http://www.theguardian.com/commentisfree/2015/jan/13/facebook-likes-security-services-psychological-profile-facebook-research
In insurance Big Data could lower rates for optimistic tweeters (23.10.2016)
http://www.reuters.com/article/us-insurers-bigdata-consumers-idUSKCN12N05R
Quiz: Can we guess your age and income, based solely on the apps on your phone? (03.03.2016)
https://www.washingtonpost.com/news/the-intersect/wp/2016/03/03/quiz-can-we-guess-your-age-and-income-based-solely-on-the-apps-on-your-phone/#