Germany: Fighting the anti-whistleblower provision
EDRi observer Gesellschaft für Freiheitsrechte's (GFF) most recent Constitutional Court case in Germany concerns an anti-whistleblowing provision threatening the freedom of the press. Part-time journalists and bloggers, as well as the legal or IT experts on which journalists rely, now risk a prison sentence of up to three years for handling "leaked" data.

GFF is a civil rights NGO specialising in constitutional litigation, in particular in the area of digital rights. This most recent case was brought by GFF together with Reporters without Borders Germany and the digital rights blog netzpolitik.org. Among the individual plaintiffs are a number of investigative journalists who have been involved in revealing the Panama Papers, Russian Olympic doping, secret service activities, and others who are regularly provided with leaks. Among the plaintiffs are also several IT and legal experts who are often called upon by journalists to help assess leaked data, including GFF's director Ulf Buermeyer.
New legislation makes journalists vulnerable to prosecution
Bundled with the controversial new German Data Retention Framework, which was signed into law in December 2015, the German parliament also passed a largely unnoticed addition to the Criminal Code that outlaws handling "stolen" data (so-called "Datenhehlerei"). In addition to the criminal liability, journalists are also no longer protected against search and seizure.
Prohibiting the trade in stolen data may make sense for stolen credit card information or login credentials. The new law, however, is so broadly worded that it also encompasses information "leaked" by whistleblowers, which is an obvious threat to the freedom of the press that systematically relies on such information. For example, under the new law, the documents leaked by Edward Snowden arguably can no longer be legally used on German soil.
While it may be doubtful whether any journalists or experts will actually be prosecuted, the law's greatest threat is its chilling effect: sources and experts will have to think twice whether to forward leaked data or help sift through them.
GFF's litigation for protecting freedom of the press
In December 2016, GFF and its partners brought a challenge against this law before the German Federal Constitutional Court in Karlsruhe, on the grounds that it is incompatible with the freedom of the press and with the principle of clarity of criminal provisions. Plaintiffs are represented by Humboldt University professor Katharina de la Durantaye and digital rights expert and attorney Nikolaos Gazeas.
In bringing the case, GFF is cooperating with the German section of Reporters without Borders and with netzpolitik.org who both supported the case with a financial contribution. Moreover, for the first time, GFF cooperated with a legal clinic in preparing its case. Students of the Humboldt Law Clinic Internet Law supported the case with research and by developing plaintiff profiles. In collaborating with the Clinic, GFF seeks to get students involved in issues of constitutional litigation as well as freedom of the press issues early on – a model adopted, among others, by American Civil Liberties Union (ACLU) and EDRi member Electronic Frontier Foundation (EFF) to remarkable success.
This is GFF's third case pending at the Constitutional Court in Karlsruhe. The two earlier cases concern the strategic mass surveillance by Germany's foreign intelligence service (a case brought in cooperation with Amnesty International) and an unduly strict Freedom of Information Act in Rhineland-Palatinate (with FragdenStaat.de). The latter case ties in with GFF's support of lawsuits against rejections of freedom of information requests (Transparenzklagen.de).
In addition to the ongoing litigation, GFF is currently preparing a case against the monitoring of traffic and warrantless spying on telecommunications abroad by the German foreign intelligence service.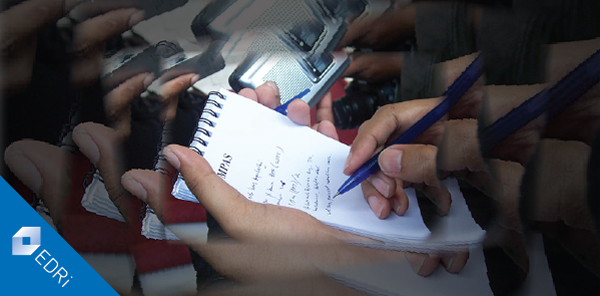 Gesellschaft für Freiheitsrechte (GFF)
https://www.freiheitsrechte.org/
GFF and its partners challenge anti-whistleblowing provision on handling "stolen" data (19.10.2017)
https://freiheitsrechte.org/whistleblowing/
EDRi: GFF launches its strategic litigation for civil rights (16.11.2016)
https://edri.org/gff-launches-strategic-litigation-civil-rights/
(Contribution by Nora Markard and Ulf Buermeyer, EDRi observer Gesellschaft für Freiheitsrechte, Germany)