Hate speech online: Lessons for protecting free expression
On 21 October, David Kaye – UN Special Rapporteur on the promotion and protection of the right to freedom of opinion and expression – released the preliminary findings of his sixth report on information and communication technology. They include tangible suggestions to internet companies and states whose current efforts to control hate speech online are failing to comply with the fundamental principles of human rights. The EU Commission should consider Kaye's recommendations when creating new rules for the internet and – most importantly – when drafting the Digital Services Act (DSA).
The "Report of the Special Rapporteur to the General Assembly on online hate speech" (docx) draws on international legal instruments on civil, political and non-discrimination rights to show how human rights law already provides a robust framework for tackling hate speech online. The report offers an incisive critique of platform business models which, supported by States, profit from the spread of "hateful content" whilst violating free expression by wantonly deleting legal content. Instead, Kaye offers a blueprint for tackling hate speech in a way which empowers citizens, protects online freedom, and puts the burden of proof on States, not users. Whilst the report outlines a general approach, the European Commission should incorporate Kaye's advice when developing the proposed Digital Services Act (DSA) and other related legislation and non-legal initiatives, to ensure that the regulation of hate speech does not inadvertently violate citizens' digital rights.
Harmful content removal: under international law, there is a better way
Sexism, racism and other forms of hate speech (which Kaye defines as "incitement to discrimination, hostility or violence") in the online environment are quite rightly areas of attention for global digital policy and law makers. But the report offers a much-needed reminder that restricting freedom of expression online through deleting content is not just an ineffective solution, but in fact threatens a multitude of rights and freedoms that are vital for the functioning of democratic societies. Freedom of expression is, as Kaye states, "fundamental to the enjoyment of all human rights". If curtailed, it can open the door for repressive States to systematically suppress their citizens. Kaye gives the example of blasphemy laws: profanity, whilst offensive, must be protected – otherwise it can be used to punish and silence citizens that do not conform to a particular religion. And others such as journalist Glenn Greenwald have already pointed out in the past how "hate speech" legislation is used in the EU to suppress left-wing viewpoints.
Fundamental rules for restricting freedom of expression online
The report is clear that restrictions of online speech "must be exceptional, subject to narrow conditions and strict oversight", with the burden of proof "on the authority restricting speech to justify the restriction". Any restriction is thus subject to three criteria under human rights law:
Firstly under the legality criteria, Kaye uses human rights law to show that any regulation of hate speech online (as offline) must be genuinely unlawful, not just offensive or harmful. It must be regulated in a way that does not give "excessive discretion" to governments or private actors, and gives independent routes of appeal to impacted individuals. Conversely, the current situation gives de facto regulatory power to internet companies by allowing (and even pressuring) them to act as the arbiters of what does and does not constitute free speech. Coupled with error-prone automated filters and short takedown periods incentivising over-removal of content, this is a free speech crisis in motion.
Secondly on the question of legitimacy, the report outlines the requirement for online hate speech laws and policies to be treated in the same way as any other speech. This means ensuring that freedom of expression is restricted only for legitimate interests, and not curtailed for "illegitimate purposes" like suppressing criticism of States. Potential illegal suppression is enabled by overly broad definitions of hate speech, which can act as a catch-all for content that States find offensive, despite being legal. A lack of strict definitions in the counter-terrorism policy field has already had a strong impact on freedom of expression in Spain, for example. "National security" was proven to be abusively invoked to justify measures interfering in human rights, and used as a pretext to adopt vague and arbitrary limitations.
Lastly, necessity and proportionality are violated by current moderation practices including "nearly immediate takedown" requirements and automatic filters which clumsily censor legal content, becoming collateral damage in a war against hate speech. This violates rights to due process and redress, and unnecessarily puts the burden of justifying content on users. Worryingly, Kaye continues that "such filters disproportionately harm historically under-represented communities."
A rational approach to tackling hate speech online
The report offers a wide range of solutions for tackling hate speech whilst avoiding content deletion or internet shutdowns. Guided by human rights documents including the so-called "Ruggie Principles" (the 2011 UN Guiding Principles on Business and Human Rights), the report emphasises that internet companies need to exercise a greater degree of human rights due diligence. This includes transparent review processes, human rights impact assessments, clear routes of appeal and human, rather than algorithmic, decision-making. Crucially, Kaye calls on internet platforms to "de-monetiz[e] harmful content" in order to counteract the business models that profit from viral, provocative, harmful content. He stresses that the biggest internet companies must bear the cost of developing solutions, and share them with smaller companies to ensure that fair competition is protected.
The report is also clear that States must take more responsibility, working in collaboration with the public to put in place clear laws and standards for internet companies, educational measures, and remedies (both judicial and non-judicial) in line with international human rights law. In particular, they must take care when developing intermediary liability laws to ensure that internet companies are not forced to delete legal content.
The report gives powerful lessons for the future DSA and other related policy initiatives. In the protection of fundamental human rights, we must limit content deletion (especially automated) and avoid measures that make internet companies de facto regulators: they are not – and nor would we want them to be – human rights decision-makers. We must take the burden of proof away from citizens, and create transparent routes for redress. Finally, we must remember that the human rights rules of the offline world apply just as strongly online.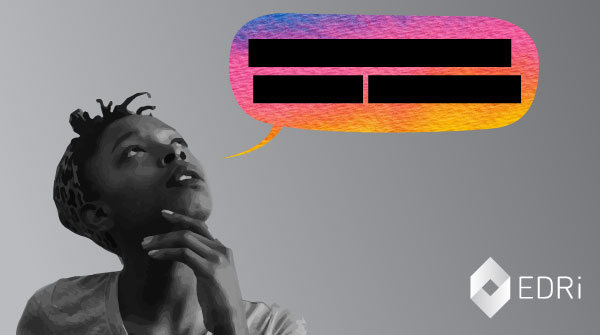 Report of the Special Rapporteur on the promotion and protection of the freedom of opinion and expression, A/74/486 (Advanced unedited report)
https://www.ohchr.org/EN/Issues/FreedomOpinion/Pages/Annual.aspx
E-Commerce review: Opening Pandora's box? (20.06.2019)
https://edri.org/e-commerce-review-1-pandoras-box/
In Europe, Hate Speech Laws are Often Used to Suppress and Punish Left-Wing Viewpoints (29.08.2017)
https://theintercept.com/2017/08/29/in-europe-hate-speech-laws-are-often-used-to-suppress-and-punish-left-wing-viewpoints/
EU copyright dialogues: The next battleground to prevent upload filters (18.10.2019)
https://edri.org/eu-copyright-dialogues-the-next-battleground-to-prevent-upload-filters/
Spain: Tweet… if you dare: How counter-terrorism laws restrict freedom of expression in Spain (13.03.2018)
https://www.amnesty.org/en/documents/eur41/7924/2018/en/
CCBE Recommendations on the protection of fundamental rights in the context of 'national security' 2019
https://www.ccbe.eu/fileadmin/speciality_distribution/public/documents/SURVEILLANCE/SVL_Guides_recommendations/EN_SVL_20190329_CCBE-Recommendations-on-the-protection-of-fundamental-rights-in-the-context-of-national-security.pdf
(Contribution by Ella Jakubowska, EDRi intern)