Member in the Spotlight: Digitalcourage
Digitalcourage play an important role in the general rise of awareness for privacy in Germany. Every year they organise the influential Big Brother Awards which have lead to actual changes ad positive impact on fundamental rights.
This is the nineteenth article of the series "EDRi member in the Spotlight" in which our members have the opportunity to introduce themselves and their work in depth.
Today we introduce our member from Germany – Digitalcourage.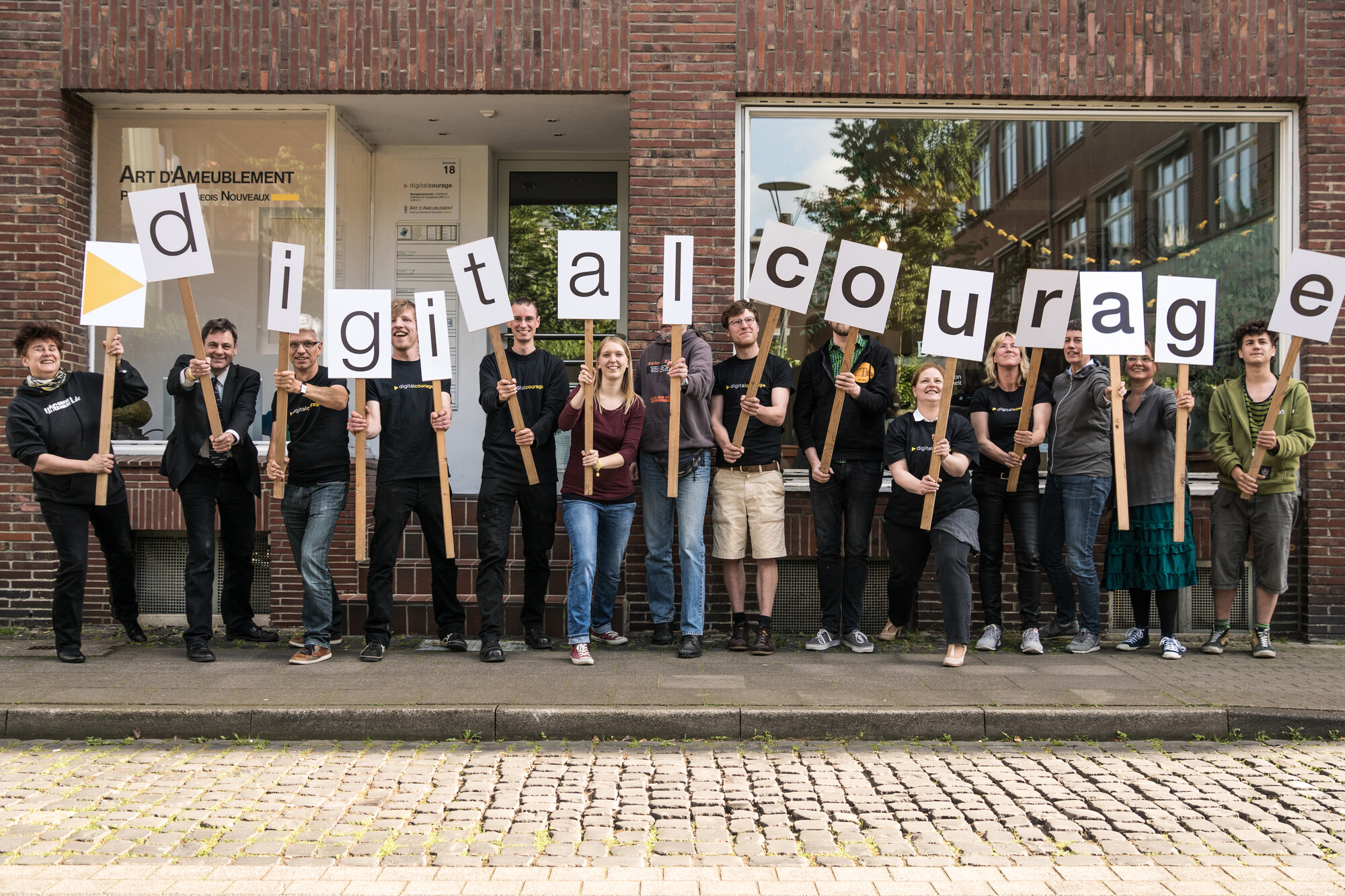 1. Who are you and what is your organisation's goal and mission?
Digitalcourage advocates for fundamental rights, privacy and protecting personal data. We want to shape technology and politics with a focus on human dignity.
We do not want our democracy to be "datafied" and sold out. We work against a society that turns people into targets for marketing, regards them as dispensable in times of a shrinking state, and places them under suspicion as potential terrorists. We stand for a living democracy.
Digitalcourage informs through publicity, speeches, events and congenial interventions. We especially like interventions with a charming twist: Distributing self-made "parking tickets" to draw attention to traffic surveillance, or asking the community to send us pictures of surveillance cameras in inappropriate places.
Every year we organise the German Big Brother Awards. We contribute our expertise to the political process – sometimes without being invited.
We are based in Bielefeld, Germany with more than 3000 supporting members. Our earlier name until November 2012 was FoeBuD (don't ask what that stood for).
2. How did it all begin, and how did your organisation develop its work?
Digitalcourage co-founders Rena Tangens and padeluun established a gallery in Bielefeld in 1984. The gallery hosted the Chaos Computer Club as an exhibit in 1985, and a local group of enthusiasts for then-current forms of computer communication, hacking and social or philosophical matters was gradually formed. An association with charity status was founded in 1987.
In 2000 we started to organise the German Big Brother Awards.
Our efforts consist of:
Supporting political engagement: We run online services for the community, including an instance of the collaborative text editor Cryptpad, a censor-free DNS nameserver and a Tor exit node to support the well-known network for anonymous surfing.
Our online shop has multiple roles: We use it to publish our output in printed form, sometimes to distribute materials for free events or for friendly organisations, but of course it also features a collection of interesting books, gadgets and merchandise.
Building networks of activists: We organise an annual gathering of German activists (Aktivcongress) and contribute substantially to the organisation of the annual European barcamp Freedom not Fear (first organised by EDRi observer AK Vorrat).
Self-defence and education: We provide information, recommendations and practical advice for digital self-defence to make people's digital lives more private and free. Some of these resources are specifically made for young people.
Of course we are also active in fields like campaigns, interventions and advocacy; participation in congresses and conventions; legal action in the public interest; support for feminism and non-discriminatory spaces.
3. The biggest opportunity created by advancements in information and communication technology is …
… digital empowerment! Before personal computers became affordable, computers were large mainframes and considered to be instruments of oppression. Then, our own personal computer became an instrument of liberation, self-empowerment and exchange with others. People started building decentralised and independent communication networks. Now, unfortunately, this development is going backwards again in a sense: Data and therefore power is becoming more and more centralised again.
4. The biggest threat created by advancements in information and communication technology is …
… the growing power and monopolisation of tech companies. Some may become more powerful than states, but without democratic legitimacy. They contribute to a system of surveillance capitalism, in which every move and every feature of a person is to be collected, classified and utilised.
5. Which are the biggest victories/successes/achievements of your organisation?
We believe that through our continuing work over the last decades, we have had an important role in the general rise of awareness for privacy in Germany.
The German Big Brother Awards have become very influential. They have sometimes led to actual changes, but also created broad awareness for privacy as a fundamental right. And we believe they have a preventative effect. We were "early warners" on issues including credit scoring, customer loyalty cards, colour copies containing identifying dots from the photocopier, and many more.
Some Big Brother Awards started noteworthy campaigns. The 2003 award to major retail conglomerate, Metro AG, about their experimental "Future Store" was furthered as part of our "Stop RFID" campaign. We were able to prove that Metro had lied to their customers about the their use of RFID in customer cards and eventually forced them to withdraw these cards.
An effective tool we have used are complaints to the Federal Constitutional Court in Germany. This led to the abolition of laws on the central German employee wage register (ELENA) and on communications data retention.
One successful aspect of our work is that we like to cooperate and enable other activists to grow. That thought led to us organising activist meetings in Germany (Aktivcongress) and Europe (Freedom not Fear). We have been a central part of broad coalitions behind large-scale rallies such as Freiheit statt Angst ("Freedom not Fear", which brought some 50,000 people out at its peak in 2008) and unteilbar ("indivisible", where almost 250,000 stood up against the far right in 2018).
6. If your organisation could now change one thing in your country, what would that be?
Less resignation, more courage. For example we would like to see a German initiative for a European search index, instead of politicians moaning about Google. On an individual level we promote digital self-defence as a medicine against resigned inactivity.
7. What is the biggest challenge your organisation is currently facing in your country?
The pandemic is currently limiting many opportunities for political activity and visibility for civil society. At the same time, legislative activities that restrict freedoms are continuing or even escalating. In contrast, other political players have increased their ability to abuse values such as freedom of speech and personal liberties in the last few years.
8. How can one get in touch with you if they want to help as a volunteer, or donate to support your work?
If you like our work and would like to support us, feel free to write us an e‑mail. We'll be happy to answer in English. More information about our work, how to become a member or donate here.