More Copyfails or meaningful improvements?
The EU will soon be reforming its copyright rules. The European Commission is planning to present its proposal on 21 September 2016. To succeed in updating the copyright rules in a way that respects the needs of both the users and creators of cultural goods, we believe both European citizens and policy makers should better understand how the current system has failed, and how those problems could be fixed.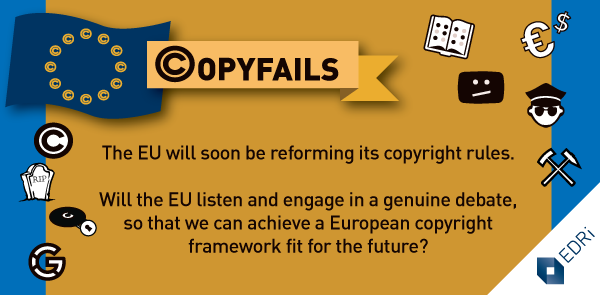 Over the last few months, we have been publishing weekly topical blogposts on key failures of the current European Union copyright framework, suggesting how they could be eliminated. You can find all the Copyfails here.
The EU missed the chance to fix many of the Copyfails in 2001 when the main norm regulating copyright in Europe was passed. The internet was in its early stages – there was no YouTube, Facebook, WordPress – and its possibilities were not yet evident. Fifteen years later, we are still stuck with the outdated rules that are not adapted to the digital era.
If the EU really means to achieve a "more modern, more European copyright" and a real digital single market, as the Commission has claimed, EU policy makers cannot act as if the current chaos of unclear and varying rules around Europe did not exist. The Commission cannot spend time, money and effort making cosmetic changes to a fundamentally unfit system, putting "lipstick on a pig". They are under huge lobbying pressure from big industries that have profited from these failures in the past. Now, however, leadership is needed.
Libraries, researchers, artists, educators, academics and civil society have shown in a very concrete way how and why the framework is not working for them, and for the society in general. The EU should not let corporations, claiming to defend the interests of European culture and creators, but defending most of all their own private financial interests, decide how the copyright system in the EU will look like after the reform.
In our Copyfails series we highlighted the nine main problems that need to be tackled if the EU wants to have a real copyright reform. Will the EU listen and engage in a genuine debate, so that we can achieve a European copyright framework fit for the future? Or will we end up with rules that only benefit a narrow range of stakeholders? We'll get the answer to this question shortly after the summer, first from the European Commission and then, in the subsequent months, from the EU Member States and European Parliament.
Read more:
Copyfails: Time to #fixcopyright! (23.05.2016)
https://edri.org/copyfails/
Copyright reform: Restoring the facade of a decrepit building (16.12.2015)
https://edri.org/copyright-reform-restoring-the-facadeof-a-decrepit-building/
Communia: Best Case Scenarios for Copyright (06.06.2016)
http://www.communia-association.org/2016/06/06/bcs-copyright/