My Data Done Right launched: check your data!
On 25 October 2018 EDRi member Bits of Freedom launched My Data Done Right – a website that gives you more control over your data. From now on you can easily ask organisations what data they have about you, and ask them to correct, delete or transfer your data.
On 25 May 2018, new privacy rules entered into force in Europe. Based on these rules you have several rights that help you to get more control over your data. However, these rights can only have effect if people can easily exercise them. That is why Bits of Freedom developed My Data Done Right.
Generate and keep track of your requests
With My Data Done Right, you can easily create an access, correction or removal request, or a request to transfer your data. You no longer have to search for the contact details in privacy statements. This information on more than 1000 organisations is already collected on the website. You don't have to prepare the request yourself either, but it is automatically generated based on your input. You only have to send it.
My Data Done Right also contains a few other useful options. You can receive a reminder about your request by email or in your calendar, so that you don't forget the request you've sent. At the moment, you can generate requests in English and Dutch. Soon there will also be an option to share your experiences with us through a short questionnaire.
Cooperation across Europe
The launch is a starting point for the further development of My Data Done Right. We plan to continue expanding the database with organisations, but also to make My Data Done Right available for all people in the European Union.
Together with other digital rights organisations and volunteers, Bits of Freedom will work on versions of My Data Done Right for other EU countries and grow our database to include many more organisations to which you can address your requests. Do you want to help? Please contact Bits of Freedom!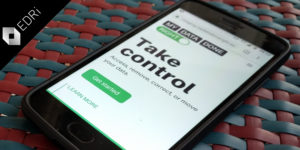 My Data Done Right
https://www.mydatadoneright.eu/
GDPR Today: Stats, news and tools to make data protection a reality (25.10.2018)
https://edri.org/the-gdpr-today-stats-news-and-tools-to-make-data-protection-a-reality/
Press Release: GDPR: A new philosophy of respect (24.05.2018)
https://edri.org/press-release-gdpr-philosophy-respect/
A Digestible Guide to Individual's Rights under GDPR (29.05.2018)
https://edri.org/a-guide-individuals-rights-under-gdpr/
(Contribution by David Korteweg , EDRi member Bits of Freedom, the Netherlands)