EU Consultation on future internet regulation – have your say!
The European Commission has launched a consultation on the role of "Internet platforms" – which it basically defines as pretty much any online services you can think of!
The consultation is of crucial importance because it will help define the rules that govern how you use the Internet. It will be crucial for new rules on important issues such as online law enforcement, online privacy, open data and copyright.
The right to hyperlink, the right to privacy, the right not to have your uploads deleted by YouTube or Facebook. These are just some of the issues at stake.
It is your internet. These are your rights. This is your one chance.
In order to make things easier, EDRi has created an "answering guide" – an online tool with the European Commission's questions and our analysis to guide your answers. The guide can be found here: http://edri.limequery.org/index.php/346935/lang-en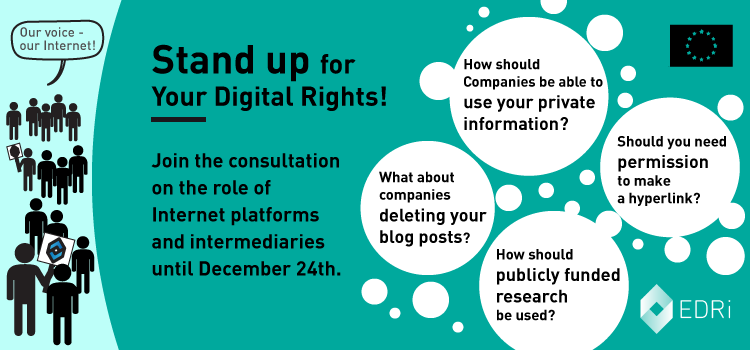 Key things to remember:
You don't have to answer every question (apart from the mandatory questions on the first page)
We have colour-coded the questions (green for general, red for data protection, etc. So, if data protection is the only issue that you're interested in, just click through the guide and answer the questions tagged as "data protection".
The consultation is very long. You have the option to save your answers and continue later.
Please submit your responses by one minute to midnight on 24 December. If you want to submit after that date, you can submit up till 31 December on the Commission's website – https://ec.europa.eu/eusurvey/runner/Platforms/