Press Release: Vote on Data Protection and Passenger Name Record package
The European Parliament looks set to adopt two proposals on data protection and a proposal on the profiling of air passengers (PNR, Passenger Name Records) tomorrow, 14 April.
The two data protection proposals seek to protect our fundamental right to privacy. The General Data Protection Regulation (GDPR) covers the protection of personal data across all sectors of industry while the Law Enforcement Data Protection Directive covers processing of personal data by law enforcement authorities.
We regret that much of the ambition of the original data protection package was lost, due to one of the biggest lobbying campaigns in European history. However, we congratulate the European Parliament and, in particular, the successful Luxembourg Presidency of the EU last year, for saving the essence of European data protection legislation.
said Joe McNamee, Executive Director of European Digital Rights.
While EDRi has consistently supported strong data protection in the LEDP Directive and the GDPR, we have consistently opposed the EU PNR Directive and bilateral, PNR agreements.
"The PNR Directive is a disgrace. It is absurd that we are being told that these huge databases are hugely valuable to law enforcement, yet we are also told that Member States rejected mandatory sharing of this allegedly valuable data. It is shocking that, less than two years after the European Court overturned a Directive on needless storage of data of innocent citizens, the European Union seems hell bent on adopting another Directive which does almost exactly the same thing".
said Joe McNamee.
EDRi delivered (ironic) certificates to the leaders of the EPP, Socialists & Democrats and European Conservatives and Reformists to commemorate their support for this mass surveillance measure:
Original certificates:
Manfred Weber (EPP group)
Gianni Pittella (S&D group)
Syed Kamall (ECR group)
English versions:
Manfred Weber
Gianni Pittella
Syed Kamall
Pictures of the certificates being delivered to the EP mailboxes: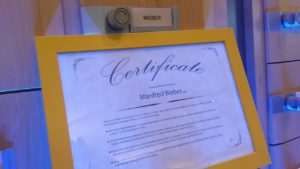 https://edri.org/files/PNR2015/Pittella-certificate.jpg
https://edri.org/files/PNR2015/Weber-certificate.jpg
https://edri.org/files/PNR2015/Kamall-certificate.jpg
For further information, please see:
GDPR
https://protectmydata.eu
https://edri.org/gdpr-document-pool/
LEPD
https://policingprivacy.eu
PNR
https://edri.org/faq-pnr/
https://edri.org/surveillance-of-air-passengers-letter-to-parliamentarians/