Joint Press Release: EU Terrorism Regulation – an EU election tactic
The European Commission's apparently endless stream of "solutions" to stop the spread of online terrorist content has today been complemented by yet another regulatory measure.
The European Commission's apparently endless stream of "solutions" to stop the spread of online terrorist content has today been complemented by yet another measure, a draft Regulation.
Despite a pile of existing tools and expired implementation deadlines, the European Commission has hurriedly published, under the pressure of Germany and France, a new Regulation that addresses (yet again) deleting or disabling access to terrorist content by online companies. The alleged urgency and importance of this proposal need to be seen in the context of the upcoming European elections and terrorism as a leading election topic in recent years.
"Eight months away from the EU elections, it is regrettable that the Commission proposes (yet again) new legislation with minimal regard for effectiveness or for fundamental rights – the pillars of our democracy,"
said Maryant Fernández Pérez, Senior Policy Advisor at European Digital Rights (EDRi).
"The Commission has an obligation under the Terrorism Directive to assess its impact on human rights by 2021. Instead of analysing the impact of existing initiatives, the Commission has proposed yet more ill-defined measures," she added.
The proposal contains three main measures to address alleged "terrorist" content.
First, it creates orders issued by (undefined) national authorities to remove or disable access to illegal terrorist content within an hour.
Second, competent authorities can choose to make referrals of terrorist-related potential breaches of companies' terms of service that would be subject to the voluntary consideration of the companies themselves.
Third, it legislates on (undefined) proactive measures that can lead to an authority requesting a general monitoring obligation.
This means that for the first time, the Commission is proposing the possibility of an explicit derogation from Article 15 of the e-commerce Directive which prevents governments from requiring internet companies to monitor everything we say and publish online.
"The Commission's proposal fails to provide any meaningful evidence on how this regulation will prevent the dissemination of alleged terrorist content online while it puts fundamental rights such as freedom of expression and privacy at risk"
said Fanny Hidvegi, European Policy Manager at Access Now.
"The EU Commission should not make the usual mistake of rushing legislation under the political pressure of Member States and the upcoming European elections.", she added.
The proposed Regulation follows the release of a Communication on removal of online illegal content in 2017, a similar Recommendation  in March 2018, pressure on the Commission from Germany and France in April 2018 and the September 2018 deadline for the implementation of the Terrorism Directive that already covers blocking and removals of terrorist content.
Further, the proposed Regulation builds on the internationally criticised EU's headlong rush to implement one-size-fits-all automated content filters to somehow solve diverse types of illegal content online. This is a topic that will not only, it appears, serve as a fruitful platform for European election candidates, but also as a normalisation discourse on the privatisation of law enforcement in the hands of internet giants.
European Digital Rights (EDRi) and Access Now will follow closely the development of the file in the upcoming period and work to create a sustainable approach to tackling the spread of online terrorist content that does not keep watering down people's existing rights and freedoms.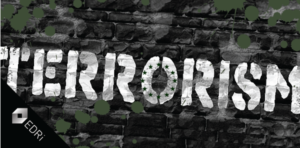 Read more:
Proposal for a Regulation of the European Parliament and of the Council on preventing the dissemination of terrorist content online
https://ec.europa.eu/commission/sites/beta-political/files/soteu2018-preventing-terrorist-content-online-regulation-640_en.pdf
LEAK: France & Germany demand more censorship from internet companies [07.06.2018]
https://edri.org/leak-france-germany-demand-more-censorship-from-internet-companies/
Commission's position on tackling illegal content online is contradictory and dangerous for free speech [28.09.2017]
https://edri.org/commissions-position-tackling-illegal-content-online-contradictory-dangerous-free-speech/
EU Commission's Recommendation: Let's put internet giants in charge of censoring Europe [1.03.2018]
https://edri.org/eu-commissions-recommendation-lets-put-internet-giants-in-charge-of-censoring-europe/
Terrorism Directive – Document Pool
https://edri.org/terrorism-directive-document-pool/