We promised to recruit digital rights-friendly MEPs – we delivered
WePromise.eu was an innovative campaign that sought to bring digital rights to the agenda of the European elections. It gathered wide support from throughout the political spectrum as well as from civil society and citizens, exceeding all expectations.
With 434 candidates having signed up to the Charter of digital rights – including two top EU candidates Ska Keller and Guy Verhofstadt, former Ministers, a former Prime Minister and former President of the European Council – the list is long and impressive. Digital rights-friendly candidates from more than 20 Member States are being sent to the European Parliament. The campaign has put digital rights on the agenda of the European elections like never before.
And never has this been more important. The European Parliament is taking more and more decisions that have a direct impact on our rights and freedoms. In the coming five years, it will be faced with crucial decisions on privacy, surveillance, transparency, copyright and the protection of the open internet.
It's great to see that so many candidates and citizens consider their digital civil rights worth defending, and were ready to commit to the principles of the Charter," said Joe McNamee, Executive Director of European Digital Rights. "It is now up to us all to make sure that the elected Members of European Parliament will stand behind their promise and spread these values among their colleagues," he continued.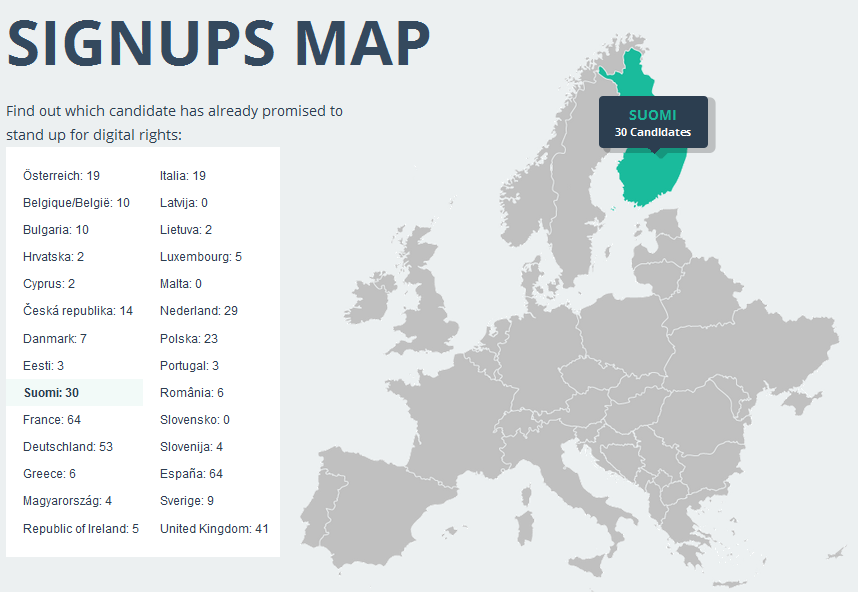 The idea of the WePromise.eu was simple: Candidates promised to support a Charter of ten digital rights principles. Citizens promised to vote – for candidates who had, by election day, signed the Charter. The campaign was initiated by European Digital Rights (EDRi), a network of 36 civil rights organisations, and run in cooperation with international activist group GoVeto. It had the support of fifteen other organisations including Wikimedia Germany, Reporters without Borders and the German national consumer protection association VZBV.
Notes for editors:
EDRi – European Digital Rights
Kirsten Fiedler
Tel.: 00 32 2 274 25 70
www.edri.org
@EDRi_org
Videos:
Joe McNamee introduces WePromise.eu campaign: https://www.youtube.com/watch?v=O8av7GNBBX4
Support videos of candidates and civil society: https://www.youtube.com/channel/UCuRTm-zJDj8mPzMbzo3MTiA
Social media:
Facebook: https://www.facebook.com/WePromise2014
Twitter: https://twitter.com/wepromiseEU #WePromiseEU
Google+: https://plus.google.com/+WepromiseEu/posts