ReclaimYourFace activates the public and civil society to ban biometric mass surveillance
The EDRi network and partners launched the first phase of the Reclaim Your Face campaign, which focuses on raising awareness and investigating and challenging abusive uses of facial recognition and other biometric tech at a local and national level, in November 2020. The coalition has achieved several wins in the two months since. However much remains to be done in the movement to reclaim our faces and ban biometric mass surveillance in Europe!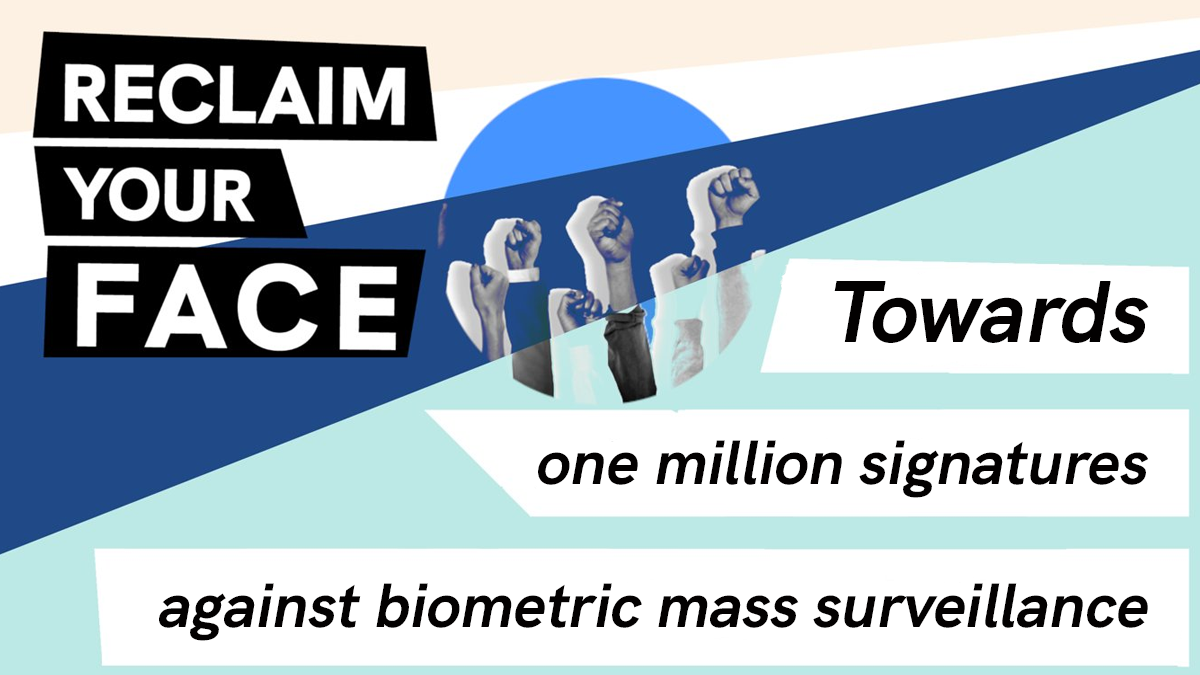 A European Citizens' Initiative, or "ECI", is a type of petition which enables European citizens to join together to formally petition the European Commission to propose a new EU legal act – in our case, to call for a new law to ban biometric mass surveillance.
On 7 January 2021, the Commission accepted the ECI put forward by the Reclaim Your Face coalition. This is significant because many politicians and analysts said that banning biometric mass surveillance would not fall within the EU's "competences", meaning that the European Commission could not act on this huge threat to people's human rights. By accepting our ECI, however, the Commission is recognising that protecting people and communities from the mass surveillance of their biometric data is something that the EU has the power to act upon. By getting our ECI accepted, we have opened up the conditions for real, legal change.
Whilst this is already a big achievement, the hard work is only beginning. Opening for signatures in mid-February 2021, we will have just 12 months to secure over 1 million signatures for our ECI petition! This action will drive the second phase of the campaign, which will consolidate and bring together our national actions into a targeted, EU-wide demand.
Coalition and partnership building
The expansion of our coalition since the launch of the campaign gives us confidence that, if we can continue to secure the necessary resources, we will be able to achieve this ambitious goal.
Having launched the campaign with 12 civil society groups, the coalition is now made up of over 30 organisations (of which more than half are from outside the EDRi network), with more applying to join us every week – and increasingly, from beyond the digital rights space. This has rapidly become a substantial part of our work: it takes time to genuinely listen, learn and act on this basis. It's given us the opportunity to better understand how surveillance feels for minoritised communities, and to discover new ideas and methods for how we can all collaborate to strengthen one another's work.
This is part of our campaign mission to create genuinely collaborative partnerships to bridge between the digital rights world and other human rights and social justice issues, in order to center the voices of those that will be the most harmed under constant biometric mass surveillance. This is because marginalised and racialised communities already bear the biggest burden of surveillance – and we need anti-racist activists, LGBTQI+ communities, migration organisations, and everyone else whose voices are usually sidelined in political debates, to take their place at the front.
One way in which we are facilitating this is through a newly-forming "Digital Dignity" coalition. This programme has started to bring together human rights and social justice advocates and activists representing almost 20 organisations from across Europe to discuss, learn about and jointly contest the harmful and disproportionate surveillance of our communities. Whilst this coalition is just beginning, it has already contributed to strengthening our 62-organisation call for artificial intelligence red lines.
First wins for our local and national action
Our initial petition has received almost 14,000 signatures from supporters across Europe and beyond, and was translated into 4 languages in addition to English (Italian, Serbian, Greek and Czech). Additionally, 20 wonderful individuals have already volunteered their time to further strengthen the campaign. While this initial petition will soon be superseded by our ECI, it's allowed us to put pressure on the EU already, and to hear inspiring comments from our supporters such as: "[t]hanks so much for your work. It is a spark in a dark night" and "[n]o democracy without privacy!"
Our national Reclaim Your Face chapters have been busy investigating, exposing and ending even more examples of biometric mass surveillance; writing to mayors to call on them to end these abusive practices; collaborating with journalists as well as national partners working across human rights and social justice; and organising public events to raise awareness.
Already, the campaign is having a big impact in many European countries, for example Homo Digitalis triggering data protection investigations in Greece and Bits of Freedom supporting statements by national authorities against biometric mass surveillance in the Netherlands. In Italy, Czechia, Germany, Serbia and France, we have seen a series of successes thanks to court cases, exposés and more, thanks to the hard work of the whole coalition.
Politically, we're seeing the impact of our work as the European Greens group has called on the Commission for a ban on biometric mass surveillance, and other debates and reports across the political spectrum increasingly call for moratoriums at both a national and an EU-wide level. By considering a moratorium (temporary ban) on biometric mass surveillance technologies, politicians are accepting that biometric surveillance is a big problem – and by buying themselves more time to assess the situation, one possible outcome that they must consider is a permanent ban. Our research has shown that on human rights grounds, this is the only option – and we hope that our leaders will agree!
Furthermore, the Reclaim Your Face campaign has been well promoted in European and national media. Members of the Reclaim Your Face coalition have been featured along side politicians and data protection officials to highlight the issues on which we are campaigning, in a broad range of news programmes, documentaries, websites, podcasts and radio shows across Belgium, Germany, Greece, Spain, the Netherlands, Italy, France, the Czech Republic, Serbia and more!
What's next?
As we move into the second, pan-European, phase of Reclaim Your Face with the launch of our ECI petition in February, we will set up supporting efforts throughout the year. This will include publishing new legal and research reports on biometric mass surveillance in Europe; revealing the powerful results of our investigations; launching artistic partnerships; holding national debates in the context of elections; enabling new partners to join the campaign and exploring biometric mass surveillance from new angles. We expect to see biometric mass surveillance remain high on the EU's agenda in 2021 and beyond – and rest assured that we will be raising our voices to make sure that this is so.
What can you do?
What are you waiting for? Sign up to be the first to know when our ECI petition launches, to volunteer your time to help the cause, and donate to fund the fight, all at https://ReclaimYourFace.eu. Together we will reclaim faces and public spaces across Europe!