Funding is caring: Small grants to support digital rights groups!
We are more than happy to announce the launch of the "European Digital Rights Fund" that will bring urgently needed support to the EDRi community. This small grants programme, designed by the Renewable Freedom Foundation (RFF), is based on peer-led decisions from our digital rights community based on an easy application process that allows for a quick distribution of funds.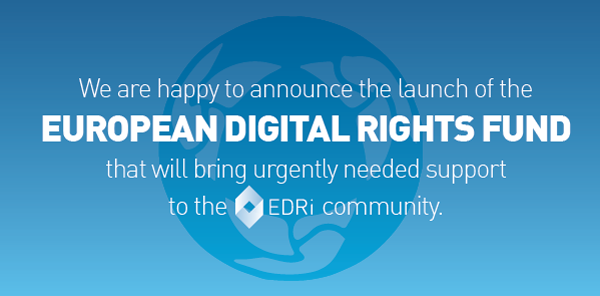 What is it for?
The programme allows for small, yet important projects to be undertaken by individuals or organisations. It encourages joint initiatives within the EDRi network, and to create ever-more important connections between other civil rights movements. The grants are designed to enable groups to quickly address and investigate upcoming issues and to plan and prepare larger initiatives, without having to spend precious time with tedious bureaucratic processes.
In the current design, it will offer two types of funding: small grants and micro grants. On the one hand, small grants are capped at 5 000 euro – with additional funding, this could be raised to 10 000 euro or beyond. They will enable, for example, workshops and meetings with other civil society organisations, project planning, and the inception and execution of small projects. On the other hand, micro grants, below 2 000 euro, serve to address immediate needs, such as travel for all-volunteer organisations, flyers for quick campaigns, the replacement or initial purchase of essential equipment.
Who can participate?
All EDRi members and observers are eligible to suggest activities, as well as able to vote on their approval. Proposals can be submitted by EDRi members and observers, but we also encourage participants to pick up and submit ideas on behalf of and together with third parties. Grant recipients can also be third parties, but an application has to come from and be supported by an existing member or observer.
How does it work?
To quickly address emerging issues and distribute small amounts rapidly, submissions are evaluated on a rolling basis, and independent from each other. The available total budget is split into monthly budgets, with leftover funds moving to the next month(s).
Currently, for grants below 2 000 euro (micro grants) the EDRi members, observers and the board have up to fourteen days to cast a vote against a proposal. If the proposal gets five rejections during this period, it is immediately rejected. After the voting period is over, if the proposal has not received the minimum number of rejections, it will be accepted. The rejections will be discussed on the mailing list, where every proposal has its own thread, and the proposals can be re-submitted later.
For grants from 2 000 to 5 000 euro (small grants) due to funding limitations, all proposals will be collected over a two-month period and then each participant will be allowed to select their two favourite proposals during a voting period of two weeks. The two proposals with the most votes will be accepted. The first voting period for small grants will be held between 15 and 31 March.
At this point, there is no plan to impose any limits on how often a proposal can be refined and resubmitted.
Your input matters!
The downside of a minimum reaction time of fourteen days is that urgent matters cannot be addressed. We suggest participants contact RFF for small "emergency grants" and activities that are too confidential to share with the whole group. The current method of decision making can later be adapted if necessary, and together we can develop solutions for any potential restrictions and additional guidelines during the course of the programme.
European Digital Rights Fund
https://digitalrights.fund/
Renewable Freedom Foundation (RFF)
https://renewablefreedom.org/
EDRi members
https://edri.org/members/