Terrorism Directive: Document pool
I am convinced that the only effective way to tackle terrorism is firmly rooted in the respect of fundamental and human rights.
– EU Security Union Commissioner Sir Julian King, 14 November 2016.
---
The European Commission proposed the Draft Directive on Combating Terrorism (the "Terrorism Directive") in December 2015. Since then, the legislative process to adopt it has been fast-tracked, which has reduced the space for meaningful public participation, transparency and accountability.
On 17 November 2016, the Council of the European Union, the European Parliament and the European Commission concluded the so-called "trilogue". This means that a political agreement was reached among the very few people representing the three institutions. Next, both the Council and the Parliament had to formally adopt the Directive. Amendments were possible, in theory. Indeed, there were some amendments tabled at the European Parliament. However, their adoption in practice was close to impossible. The Parliament formally adopted the provisional agreement as its "first reading position" on 16 February 2017. The Council formally adopted the Directive on 7 March 2017. EU Member States will have to give meaning to vague and unclear wording when implementing the Directive.
If the implementation is not done carefully, abuses to freedom of expression and privacy will be made in your Member State!
EDRi doesn't give up and keeps pushing for a human rights agenda. In this document pool, you will find the relevant information, documents and analyses on the Terrorism Directive. We've been updating this document pool as the process advanced. Last update: 13 February 2018.
EDRi's analysis and recommendations
Legislative documents
EDRi's blogposts and press releases
Other
---
EDRi's analyses and recommendations
---
Legislative Texts
More information in PRELEX (EU Database on preparatory acts), OEIL (European Parliament's Legislative Observatory) and IPEX (Interparliamentary Exchange Platform).
---
EDRi's blogposts and press releases
---
Other
---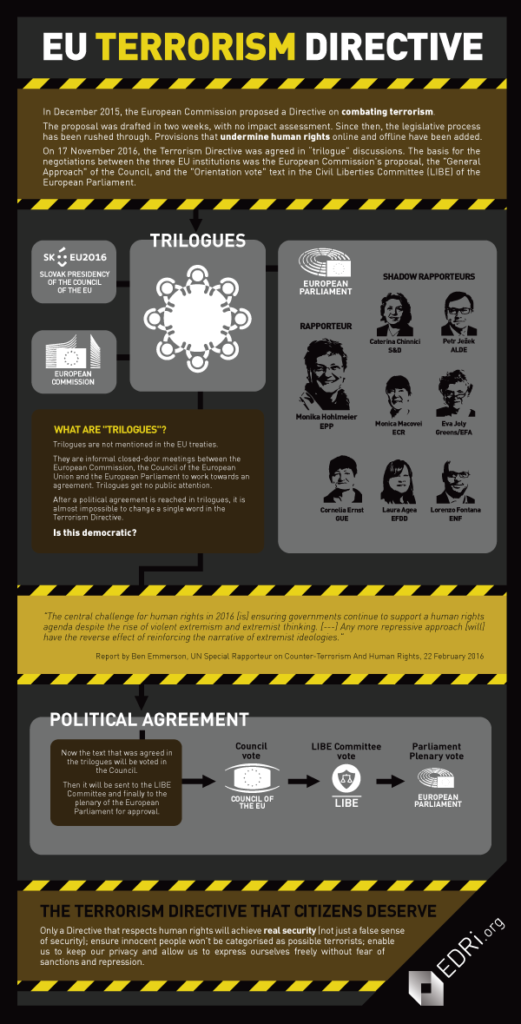 (Click image to see the full sized infographics, or download the PDF here.)