Towards a digital Europe we want: the European Democracy Action Plan
On 14 September, EDRi submitted its response to the European Democracy Action Plan (EDAP) consultation. The EDAP, echoing the existing EU Action Plan on Human Rights and Democracy, focuses on preserving European democracies. The EDAP intends to address numerous challenges such as shrinking civic space, electoral interference, disinformation and the difficulties faced by journalists.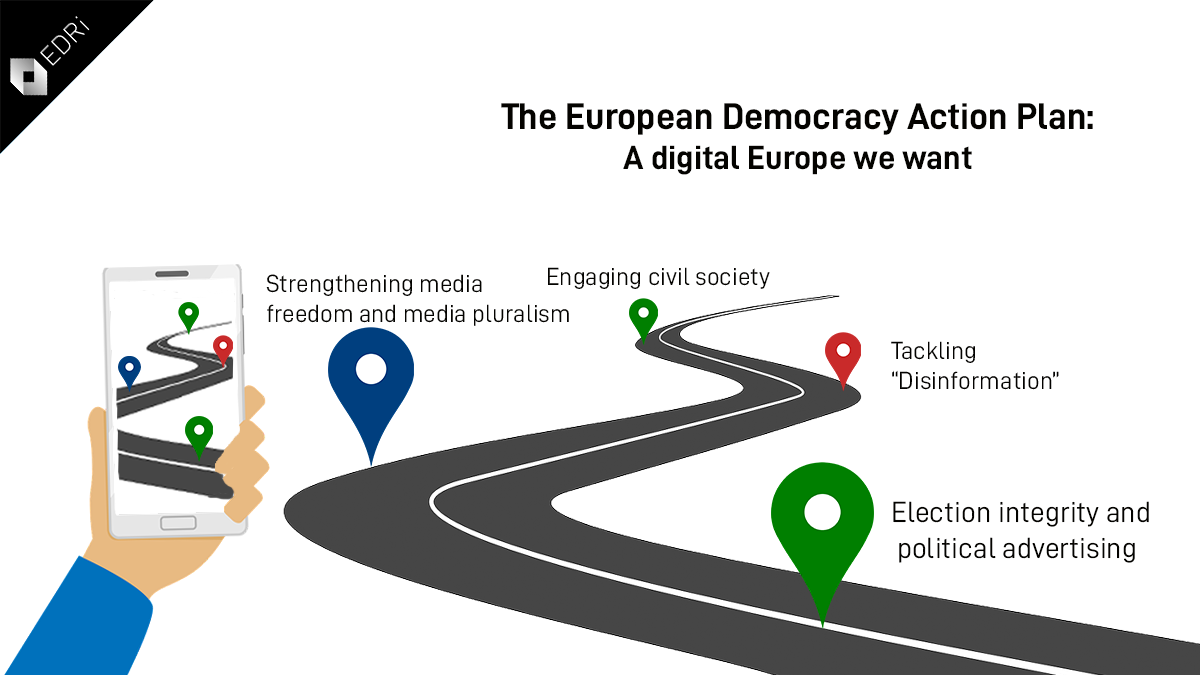 EDRi contributed to a joint comprehensive response with 46 civil society organisations. The response touched on a number of digital rights issues that impact both Europe and the world.
The EDAP public consultation touched on 4 aspects:
1. Election integrity and political advertising: In our response we advocate for the disclosure of rules (transparency) of advertising, strictly limiting micro-targeting of political content and transparency about the campaign finances of political parties, among other issues. We also advocate for the adoption of a strong ePrivacy Regulation, tackling gatekeepers and micro-targeting in the Digital Services Act, better enforcement of the GDPR and strengthening competition law.
2. Strengthening media freedom and media pluralism: We highlight our members work to protect journalists. Daphne Caruana Galizia (Malta, 2017) and Ján Kuciak (Slovakia, 2018) were both killed in EU Member States because of their work as journalists. Female journalists are particularly likely to be threatened and harassed online. Similarly journalists who expose crimes committed by State actors are particularly at risk. Julian Assange (Wikileaks) is one such example, who could still be extradited to the US. We also touched on the use of strategic lawsuits by companies and powerful actors against public participation (SLAPPS). SLAPPS are used to silence journalists, human rights defenders, activists, NGOs and opposition groups.
3. Disinformation: The definition of what is and what is not disinformation is highly problematic. A multi-stakeholder review including civil society voices and research is needed. EDRi has previously provided feedback on the definition of disinformation in its position paper "Informing the disinformation debate" (which will soon be revised). In our consultation response we advised that the definition should be narrowed down to content that causes demonstrable and significant public harm. This would permit satire and parody, which are both speech acts that can be intentionally misleading or false but are protected by the freedom of expression. To tackle this highly complex issue, we advocate for systemic problems such as data protection and privacy abuses, to be addressed immediately. This can be done by strongly enforcing the General Data Protection Regulation (GDPR) and adopting a strong ePrivacy Regulation. The DSA should include changes that help dismantle the toxic business models of big tech and competition law must be properly enforced. Rather than focusing on the existence of problematic content, we suggest addressing the fact that it is capable of reaching thousands and millions of users at once and in a strategic way. Business models employed by dominant platforms that rely on content going viral and user engagement, triggered by the collection of massive amounts of personal data is an issue that must be adequately addressed. Hurried responses to "clean" the internet of what some actors perceive as disinformation, could quickly become oppressive and problematic to our freedom of speech.
4. Shrinking civic space: Big tech has and employs a lot more money and resources to protect their business interests over the interests of its users. Civil society must be further and deeply engaged with by European policy makers in order to prioritise the needs of the people and planet over profit.
References:
Joint statement: 5 demands for an ambitious EDAP
https://epd.eu/2020/09/14/joint-statement-on-the-european-democracy-action-plan/
EDP statement on ad transparency
https://epd.eu/2020/09/08/pressreleaseadstransparency/
EDRi paper position paper on DSA
https://edri.org/wp-content/uploads/2020/04/DSA_EDRiPositionPaper.pdf