Unclear "net neutrality" proposal returns to European Parliament – civil society groups call for action

Following the conclusion of an unclear compromise on net neutrality and mobile phone roaming charges earlier this year, the Telecoms Single Market Regulation proposal has finally been submitted to the European Parliament for final approval.
Net neutrality is the principle that all Internet traffic should be treated equally by Internet access providers. By ensuring equal access to the full, unfettered Internet, net neutrality enables freedom of expression and of information online.
In the last week of October, the Parliament will be asked to vote on a text that contains positive principles prohibiting most – but not all – discrimination on the network. Several forms of discriminatory, restrictive behaviour could find refuge in the vagueness of the text. This is "policy-making-lite": decision-making with key decisions removed.
"The European Parliament has a very simple choice," said Joe McNamee, Executive Director of European Digital Rights. "Either it accepts amendments to give a real and predictable meaning to the text, or leave it to national regulators to decide if, how and when Europeans will get net neutrality," he added.
For example:
The institutions agreed that "specialised services" (that are treated in a non-neutral way) would only be allowed if special treatment is "necessary", but then agreed to define "necessary" as not necessarily meaning "necessary".
While supporting "neutrality", the text authorises different types of traffic to be treated differently. In practice, this could mean that encrypted data from especially smaller, less-established content providers may be communicated more slowly because encryption makes it difficult to tell that the data is, in fact, video data.
Part of the text appears to support the use of download limits to discriminate against some online services (blocking them when the download limit is reached) while another part clearly says that no content should be blocked.
"Together with our coalition partners, we are urging all European citizens to take action now via https://savetheinternet.eu to help bringing these last missing pieces to the attention of the European Parliament," continued Joe McNamee.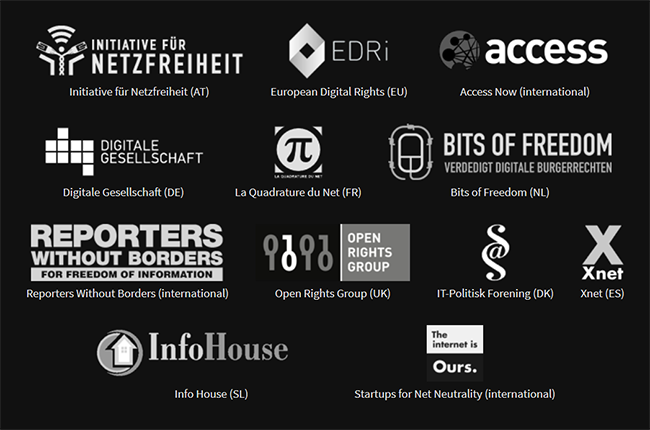 Background
In September 2013, the European Commission produced a "not" neutrality proposal.
In April 2014, the European Parliament voted for a strong, clear text which defended the neutrality of the Internet, for the good of free speech, competition and innovation.
In June 2015, after months of total intransigence from the EU Council, that opposed net neutrality, a "compromise" was found through the adoption of unclear and unpredictable language.
Read more
Net Neutrality: Primary document pool
https://edri.org/net-neutrality-primary-document-source/
Net Neutrality: Document pool II
https://edri.org/net-neutrality-document-pool-2/