Welcoming our new Executive Director Claire Fernandez!
EDRi is happy to announce that we found a new Executive Director! Claire Fernandez will join the organisation on 19 November 2018, and will be in charge of the leadership, mission and strategy of the organisation, its financial sustainability and oversight, and the daily management of the operations.
Claire's joining of the organisation is part of a wider leadership change and transition in our Brussels office team. Since February 2013, Claire has worked as the Deputy Director of the European Network Against Racism (ENAR). EDRi and ENAR partnered up earlier this year to draw up some core principles in the fight against illegal content online.
Prior to her role in ENAR, she worked as an independent human rights consultant, leading the Open Society Foundations' campaign on the reform of the European Court of Human Rights and revising the Council of Europe Commissioner for Human Rights' Report on the human rights of Roma. Previously, Claire Fernandez was an adviser to the Council of Europe Commissioner for Human Rights. From 2008 to 2010, she represented the Organization for Security and Cooperation in Europe (OSCE) in Bosnia and Kosovo, advising local authorities on good governance and minorities' rights. She holds a Master degree in Human Rights from the Robert Schuman University in Strasbourg, France.
I am grateful for the opportunity to work with this impressive network and staff on digital rights, which are now increasingly recognised as the cornerstone of human rights, rule of law and democracy.
said Claire.
The Brussels office staff, the EDRi board and the EDRi members warmly welcome Claire. We all look forward to working with her!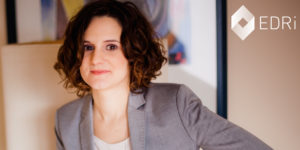 Read more:
Upcoming EDRi leadership change: A message from Joe and Kirsten (29.03.2018)
https://edri.org/upcoming-edri-leadership-change-message-joe-kirsten/