Who, What, Why? Your guide to all things ECI! #ReclaimYourFace
Calling all digital rights heroes: EDRi needs your support! As part of the Reclaim Your Face campaign, we are running a European Citizens' Initiative (ECI) to ban biometric mass surveillance practices in the EU. To be successful, we need to collect 1 million signatures. Read more to find out how we keep ECI data safe, and how your signature can make a big difference.
If you're an avid EDRi-gram reader, or an existing supporter of our joint Reclaim Your Face campaign, then you'll no doubt already know about our European Citizens' Initiative (ECI) to ban biometric mass surveillance!
However, maybe you've not signed it yet because you've got some questions about what is the point of an ECI, and what happens to your data when you sign? Or perhaps you've signed it already, but you'd like more information to let your friends and family know about our ECI. Or maybe this is your first time hearing about it, and you just want to know more!
Have no fear – the Reclaim Your Face team is here to answer all your #WhyECI questions! And once you've read this, you can even sign the ECI directly at the bottom of this page.
What is an ECI all about?
An ECI, or "European Citizens' Initiative" is the only officially recognised process for EU citizens to speak up about the things that matter to them and to have this be legally binding on the European Commission (as long as certain conditions are met).
In order to launch an ECI, a group of citizens can come together and propose a new law that is within the 'competence' of the EU (meaning that it's an area for which the EU has the legal authority to create rules).
Once a proposed ECI is accepted, the organisers have 12 months (or in our case, due to COVID-19 extensions, 17.5 months) to gather at least 1 million signatures from EU citizens. It's important that the ECI also reaches the minimum number of required signatures in at least 7 EU member states in order to make sure that the ECI is representative. The threshold for each country is directly related to the number of Members of the European Parliament (MEPs) that represent that country. See our visualisation of how close we are to reaching the threshold in each country!
If an ECI is successful, then there are several ways that you are guaranteed that your topic will get a top spot on the EU agenda:
The European Commission must meet with you to discuss your proposal;

The European Commission must then issue what's called a "Communication" to explain what action they are taking (or not taking) on the basis of your ECI. A Communication is an official EU instrument, also known as "soft law";

The European Parliament may also debate the proposal and issue their own response.
You can watch our policy advisor, Ella, explain more here: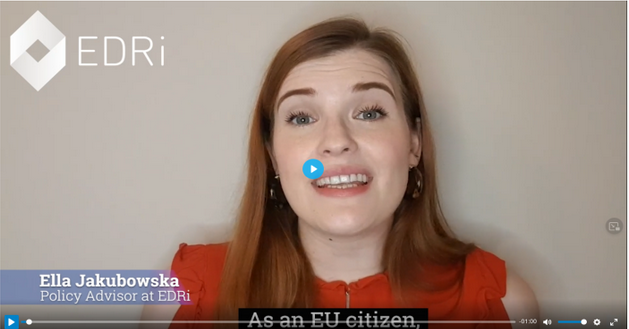 Please note that by clicking on this video, it will open an external link to the video on YouTube. YouTube engages in extensive data collection and processing practices that are governed by their own terms of service.
Sign the European Citizens' Initiative (ECI)
If you're an EU citizen, you can help us change EU laws by signing the official #ReclaimYourFace initiative to ban biometric mass surveillance practices:
This ECI is open to all EU citizens, even if you currently live outside the EU (although there are special rules for Germany). Unfortunately if you are not an EU national, the EU's official rules say that you cannot sign. Check https://reclaimyourface.eu other ways than non-EU citizens can help the cause.
Note to German citizens: It is possible to sign our ECI petition if you live outside the EU, but German rules mean that for German citizens specifically, your signature will only be valid if you are registered with your current permanent residence at the relevant German diplomatic representation. If you are not registered, then unfortunately your signature will not be counted. You can read more information about the rules. This rule does not apply to citizens of any other EU country.
Legally, if we reach 1 million signatures (with minimum thresholds met in at least 7 EU countries) then the European Commission must meet with us to discuss our proposal for a new law. They must then issue a formal communication (a piece of EU soft law) explaining why they are or are not acting on our proposal, and they may also ask the European Parliament to open a debate on the topic. For these reasons, a European Citizens' Initiative (ECI) is a powerful tool for getting our topic onto the EU agenda and showing wide public support for banning biometric mass surveillance practices.
Learn more about the campaign to ban biometric mass surveillance practices at our official website
Reclaim Your Face