Xnet: Petition on net neutrality guideline violation in Spain
In November 2015, the "Telecommunications Single Market Regulation", which includes provisions on net neutrality, was adopted. In August 2016, the Body of European Regulators for Electronic Communications (BEREC) published its guidelines on the implementation of the net neutrality rules.

Since then, the Spanish EDRi member Xnet has been deeply concerned about the lack of transparency in the implementation of the Regulation in their country. As an exception in Europe, in Spain the National Regulation Authority (NRA), the National Committee for the Markets and Competition (CNMC) it is not responsible for overseeing the correct implementation of net neutrality. In fact, the CNMC is only responsible for resolving conflicts between operators about net neutrality. The body responsible for the implementation of the Regulation is not an independent body. This is worrisome since the largest telecommunication companies have a close relationship with the government. The institution in charge of supervising the implementation of the net neutrality rules is the Secretariat of State for the Information Society and the Digital Agenda, which seems to be failing, so far, to do it correctly. This is an eminently predictable problem, which is why the EU has traditionally insisted on national regulatory authorities being independent of government.
The situation is worrisome as:
Zero-rating is increasingly becoming a common practice and it is deeply restricting fair access to the internet;
Transparency requirements on the connection speeds advertised in the contracts to the public are not respected;
Transparency requirements on traffic management practices of providers and their implementation are not respected;
The obligation of setting up a complaint channel is not met.
The mere fact that the Ministry of Energy has not opened a complaint channel as required by the Regulation makes it a bureaucratic nightmare to notify the authorities about net neutrality infringements. Xnet has been trying to get in contact with the Ministry, so far without success. This is why Xnet has turned to the European institution through a petition "Violation of the Net Neutrality Guidelines in Spain". The European Parliament's Petitions Committee received the petition with the number 0210/2018.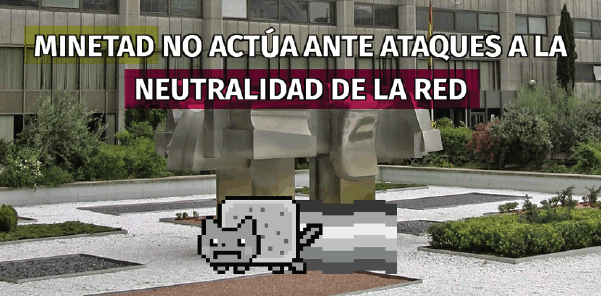 Inaction of Ministry of Energy, Tourism and the Digital Agenda with regard to its obligation to apply necessary net neutrality rules guaranteeing a free and open internet (16.11.2017)
https://xnet-x.net/en/inaction-minetad-defend-net-neutrality/
Net Neutrality (only in Spanish)
https://xnet-x.net/eje/neutralidad-de-la-red/
(Contribution by Simona Levi, EDRi member Xnet, Spain)