CopyCamp 2020
At CopyCamp, copyright is discussed in an interesting, substantive, and engaging way. It is an event on law, but it's not a law conference. For 8 years, CopyCamp opens space to share experiences in an international, interdisciplinary group of artists, experts, scientists, and social activists and show how law related to copyright is important to everyone.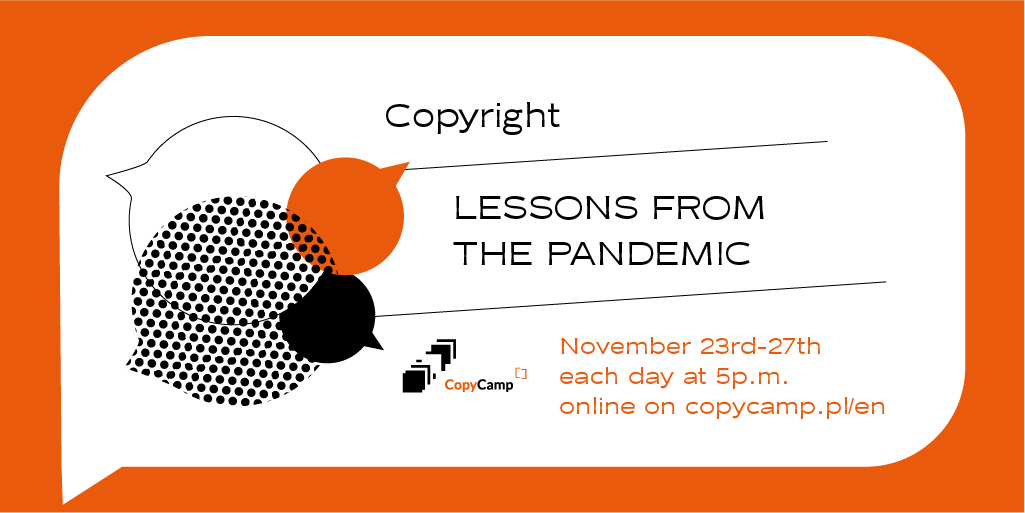 Copyright – Lessons from the Pandemic
This year, the pandemic has reinforced the role of the digital world in our lives. Copyright is one of those regulations, which have a strong effect on methods of communication and capability of the Internet, and therefore on the shape of society and culture. Do we know what is allowed today, what is forbidden, and what will change in the coming months? Can we say, that today's law is responded to our needs?
Copyright on the Internet is a hot topic also because up to June 2021 EU member states are obligated to adopt the Directive on Copyright in the Digital Single Market to national law systems. Part of this year CopyCamp edition will focus on the implementation of the directive.
CopyCamp will be held only online for the very first time.
Every day between November 23rd and 27th, 2020, three speakers will present 10-12 minutes long presentations after that will held a Q&A session. Polish and English will be the languages of the event.
Program
🔸Nov 23th (Monday), 5 pm (CET)
Pandemic: Regulatory Framework and Practices
▪Lisa Macklem – Lessons From the Pandemic: Best Practices Travel Well
▪Teresa Nobre – Copyright and Remote Teaching during the Pandemic
▪Susan Isiko Štrba – Lessons from COVID-19 for Online Teaching in Africa with focus on Intellectual property
🔸Nov 24th (Tuesday), 5 pm (CET)
Lockdown: twórcy i użytkownicy w nowej rzeczywistości
(Session in Polish only)
▪Marek Hojda – Branża muzyczna w czasie pandemii
▪Paulina Richter – "Jesteś twórcą-masz prawo" – kampania edukacyjna Polskiego Wydawnictwa Muzycznego
▪Kamil Śliwowski – Jak otwarte zasoby zarabiają na siebie?
🔸Nov 25th (Wednesday), 5 pm (CET)
Content Filtering and other Internet Disputes
▪Julia Reda – Article 17: What is it Really Good for?
▪Bernd Justin Jütte & Giulia Priora – Teaching Exceptions for Exceptional Circumstances – Learning from the pandemic for a proper implementation of Article 5 DSM Directive
▪Edyta Bednarczyk – German Golden Mean
🔸Nov 26th (Thursday), 5 pm (CET)
Directive 2019/790 – Implementation and Interpretation
▪Julija Kalpokienė – Machine vs Author: TDM for Commercial Use
▪Alkistis Kympari – From Orphan to out-of-Commerce Works: Framing Digital Access in Pandemic terms
🔸Nov 27th (Friday), 5 pm (CET)
Game of Money: Copyright in the Gaming Industry
▪Luca Guidobaldi – Platform Wars: Who will win the "Battle Royale"?
▪Marta Musidłowska – The Witcher in Bronowice, or Copyright in the Face to Easter-Eggs in Computer Games
More info on https://copycamp.pl/en/