#PrivacyCamp22: Livestream starting at 9:00 CET, 25 January 2022
The 10th edition of Privacy Camp invites for a forward-looking retrospective on the last decade of digital rights. This edition aims at building on the lessons of the past and at collectively articulating strategic ways forward for the advancement of human rights in the digital society. Registrations for special 10 year anniversary edition of #PrivacyCamp22 are now open. Follow the livestream.
Parallel sessions at the event will take place in 2 rooms: Alice & Bob. This year, the Privacy Camp conference will also be live-streamed. So, in case you did not register or you struggle to connect to the room, you can follow the livestream here.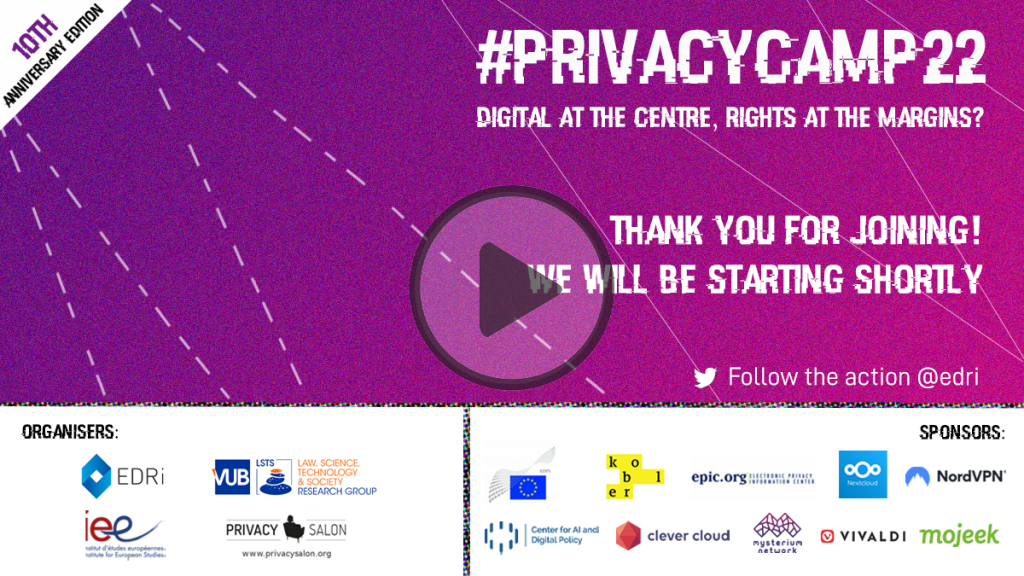 The sessions will be recorded and shared following the event. So in case you miss a session, you can watch them later.
—
#PrivacyCamp22 will be live and online on 25 January 2022, from 9.00 – 17.30 CET!
Check out the programme schedule so you can plan the different sessions you'd like to attend.
About the event
Emerging intersections within the realms of regulating digitalisation as well as within other broader social justice movements point that – while some issues remain timeless – the power struggles ahead might happen on new terrain(s).
How can we adapt to these new terrains, while drawing on a decade's worth of lessons? How can we organise with broader groups of people and other communities? What are the points of reflection we must focus on, to address the wider impact of the digital rights' fight?
Concretely, we want to explore ideas for (1) putting rights at the centre of digital policies, and (2) bringing marginalised perspectives to the core of digital rights discussions.
1. Putting rights at the centre of digital policies
Too often, rights are an after-thought of digital policies. In the past decade we have seen again and again decision-makers decide first, and think about the impact on digital rights later. How can this be changed, to have future policy decisions getting rights right from the start, notably in relation to automated decision-making, the platform economy, data protection and privacy of communications, and the surveillance infrastructure?
2. Bringing marginalised perspectives at the core of digital rights discussions
The digital rights agenda was never neutral. It has been shaped over the years by a predominantly reactive approach to digital policy debates. Importantly, it also has its own dynamics dependent on a rather specific set of priorities. This means that some perspectives on digital rights, notably those coming from the point of view of marginalised people and communities, have been themselves marginalised. What are the voices and issues that have been left out, heard less, or simply not amplified enough?
For further information, see #PrivacyCamp website.