Registrations for #PrivacyCamp23 now open
Sign up by 18th January 2022 to secure your spot to EDRi's flagship event, bringing together activists, academia and decision-makers around the topic of digital rights.
After two years of virtual editions, Privacy Camp 2023 will take place on Wednesday 25th January as an offline gathering in Brussels, with the possibility of following an online stream of sessions online.
Whether you want to attend physically or follow the stream online, you will need to register in order to receive the practical instructions. In either case, participation is free.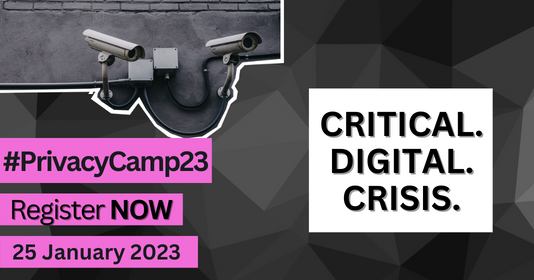 As we put 10 years of Privacy Camp behind, and with the 11th edition approaching, it is clearer than ever that our main mission continues to guarantee the safeguard of human rights in today's vigorously changing world.
In 2023, the Privacy Camp invites you to participate in, and foster, a discussion about the a world that finds itself in a constant state of crisis, and in which the digital is, itself, critical.
How do digital technologies feed into and foster the multiple crises we inhabit? What do we need to consider when approaching the digital as a critical resource that we should nurture, so to promote and protect rights and freedoms? What does it mean to regulate digital technologies and infrastructures in times of crises?
Join us in answering critical questions during the 11th edition of Privacy Camp. We rely on you.
A draft programme will be published in the coming days so you can start planning the different sessions you'd like to attend.
For any questions or concerns, do not hesitate to reach out at .
Privacy Camp is jointly organised by European Digital Rights (EDRi), the Research Group on Law, Science, Technology & Society (LSTS) at Vrije Universiteit Brussel (VUB), the Institute for European Studies at Université Saint-Louis – Bruxelles (IEE at USL-B), and Privacy Salon.
In 2023, Privacy Camp's Content Committee are: Andreea Belu (EDRi), Gloria González Fuster (LSTS, VUB) and Rocco Bellanova (LSTS, VUB)
Privacy Camp 2023 will take place on 25 January 2023 in a hybrid format (in Brussels with online broadcast).
For inquiries about the programme and/or to support the event organisation as a volunteer, please contact Andreea Belu at andreea.belu(at)edri(dot)org.