SaveYourInternet.eu
Growing bigger and bigger in 2018, the SaveYourInternet.eu campaign managed by the EDRi network has become the main platform for concerned citizens wanting to contact EU policy makers about the proposed implementation of upload filters in the European Union.
Hundreds of thousands of EU citizens have taken action: people took the streets, picked up their phone to call their representatives and engaged decision makers on social media.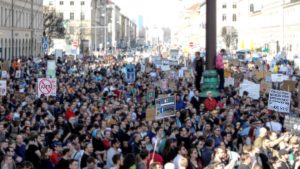 Pledge2019
Pledge2019.eu allowed voters from all EU Member States to call their representatives free of charge and convince them to pledge to reject the upload filters included in the Article 13 (now Art. 17) of the controversial proposal for the EU Copyright Directive. Coordinated by EDRi member epicenter.works, the action mobilised over………. to make ….. calls – a total of more than hrs of conversation.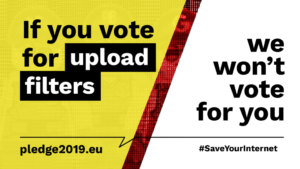 Dark day for the internet, bright future for people mobilisation
After an initial success in which the European Parliament rejected the proposed upload filters, in the end the European Commission, the EU Council and the European Parliament reached an agreement to proceed with the (in)famous Article 13.
While a dark day for the internet, showed that people mobilisation can have an impact in EU laws.
EDRi is proud to have been part of the fight.