27 Feb 2018
Policy-makers are working on the largest internet filter we've ever seen. An algorithm will decide which of your uploads will be seen by the rest of the world and which won't. This is how the internet filter will rob you of your freedom of expression.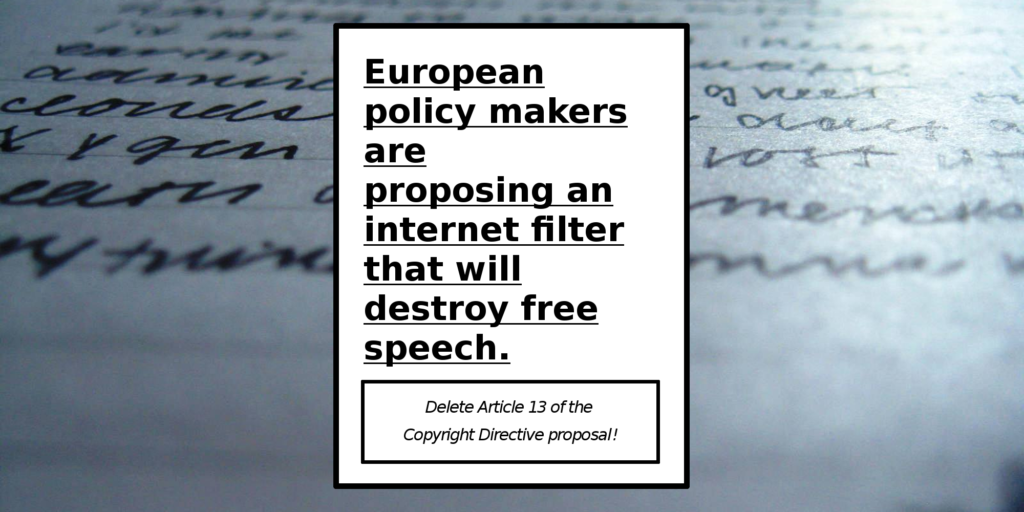 Filters don't work
First of all: filters are really bad at recognising content. There are tons of examples: a professor had an educational video blocked, footage from NASA's Mars-landing was accidentally blacklisted, and ten thousands of videos documenting war crimes in Syria were deleted. All by YouTube's "copyright filter".
You can't fight copyright violations with filters
The internet filter has been proposed in order to tackle copyright violations. But copyright is too complex for this wrecking ball-style solution. For instance: sometimes it's perfectly legal to use copyrighted material in a citation or a work of parody, and sometimes it isn't. Often the grey area is so grey and there's so much of it, that a case has to be brought to court so a judge can rule on the matter. You wouldn't like an internet filter to in charge of complicated decisions like this.
Filters are prone to function creep
In the long run, this isn't even about copyright. If it's up to policy-makers, the internet filter can be used to stop controversial videos from being shared, or to silence undesirable political opinions. An example: Spain has an internet filter to combat illegal gambling sites. That very same filter was employed to disrupt the Catalan referendum.
If we don't take action now, policy-makers will agree to regulation that severely impacts our free speech!
What can you do?
The following weeks are crucial. Tweet or e-mail your representatives that are part of the European Parliament's Committee on Legal Affairs (JURI). On 20-21 June they will be deciding on the upload filter. Use the hashtag #CensorshipMachine or #filterfail and let your representatives know you're against the internet filter (Article 13)! You can find the Members of the European Parliament (MEPs) relevant to you here:

We've written some tweets to inspire you, but feel free to compose your own!
.@MEP Stand up for our freedom of expression online. Please oppose the #censorshipmachine in the #copyright Directive proposal.
.@MEP Stand up for our privacy online. Please oppose the #censorshipmachine in the #copyright Directive proposal."
.@MEP Show that you care about culture and free speech: oppose the #censorshipmachine in the #copyright Directive proposal."
.@MEP Internet filters don't work. Please delete article 13 of the #copyright Directive proposal! #filterfail
We have already tweeted at MEPs in their own language, check it out.
https://edri.org/lets-stop-the-censorship-machine/
Time to stop the #CensorshipMachine: NOW! – Members of the Committee on Legal Affairs (JURI)
https://edri.org/contact-ep-juri/#JURI
Contact your representatives in the Legal Affairs (JURI) Committee of the European Parliament
https://edri.org/files/copyright/copyright_contact_juri.pdf