Action Week against Upload Filters
We are in a crucial moment in the fight against upload filters. On 12 September the Plenary of the EP will be voting on new versions of the texts, and we need to make clear that upload filters have no place there.

After the citizens'
victory
last 5 July, the European Parliament (EP) has had time to keep debating on how to find common ground in the copyright Directive proposal. The mass mobilisation against upload filters made a huge impact before the summer, but the EP needs to hear from you again.
In order to point at all the different collectives that could be affected by bad legislation, we are participating in the Copyright Action Week along with the rest of signatories of the coalition Copyright for Creativity (C4C). Every day, starting on 4 September and ending on 11 September , each of these collectives will ask their  audiences to contact their parliamentarians. The day dedicated to Digital and Human Rights is 4th of September.
Using the revamped Save Your Internet website, you can now see who voted what in each country and then address them directly (tweet, call or email them) in many of the EU official languages (English, Slovenian, Spanish, Romanian…).
It is essential to make clear that, unlike the smear campaign from rightsholders claimed, those thousands of active citizens acting against upload filters are not "bots" in the hands of big tech corporations. Raise your voice again to bring upload filters down!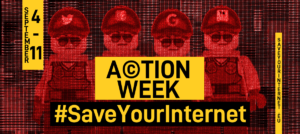 Read more:
EP Plenary on the Copyright Directive – Who voted what? [23.07.2018]
https://edri.org/who-voted-what-in-the-ep-plenary-on-the-copyright-directive/
Press Release: EU Parliamentarians support an open, democratic debate on Copyright Directive [05.07.2018]
https://edri.org/press-release-eu-parliamentarians-support-open-democratic-debate-around-copyright-directive/
Action plan against the first obligatory EU internet filter [28.06.2018]
https://edri.org/strategy-against-the-first-obligatory-eu-internet-filter/
Moving Parliament's copyright discussions into the public domain [27.06.2018]
https://edri.org/moving-parliaments-copyright-discussions-into-the-public-domain-2-0/