Bavarians protest against vastly extended police powers
A large anti-surveillance rally took place in Munich on 10 May 2018. 30 000 protesters showed their dismay about the Bavarian plans to reform the law on the tasks of the state's police. Even the organisers were surprised by the scale of the demonstration – they had expected fewer than 10 000 people.
This is the second change to the Police Tasks Act (PAG) in two years. In 2017, the legal threshold for strict police measures was lowered, requiring no more than an "imminent threat" for "preventive" measures such as electronic tags or an extended police custody that could in theory last indefinitely (as it can be extended by judicial decree, but without an actual court case, for three months at a time). The 2018 reform adds measures such as "preventive" DNA analysis extending to external features such as hair and skin colour or geographic origin, communications surveillance without evidence of a crime, use of undercover agents, state trojans for communications surveillance and remote evidence gathering on digital devices, and "intelligent" video surveillance. In effect, the Bavarian police will increasingly act like a secret service, in spite of a constitutional requirement in Germany for a strict separation between such tasks, introduced as an important lesson from its Nazi past and in particular from the excesses of the Gestapo ("Secret State Police") of that time. According to the alliance against the Police Tasks Act, police powers have never been so vastly extended since 1945.
Unfortunately, the Bavarian parliament does not seem to be swayed by the protests – the reform to the Police Tasks Act was set to be voted through late on 15 May. Complaints to the Constitutional Court are being prepared. While Bavaria generally has certain political idiosyncrasies, this change is not an exception in the broader German political systems. In April, EDRi member Digitalcourage gave a Big Brother Award to the CDU and Green parties in Hesse for expanding the powers of both the state's domestic intelligence agency and the police. In general, Digitalcourage is seeing a trend of drastic surveillance powers being introduced through police laws at the Federal State level, making it harder to for human rights organisations to campaign against such measures on a wider scale.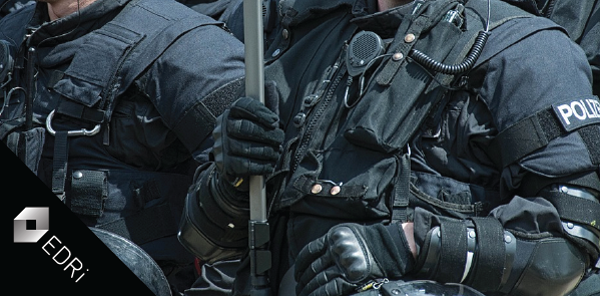 Nein zum neuen Bayerischen Polizeiaufgabengesetz — Kein Angriff auf unsere Freiheits- und Bürger*innenrechte! (only in German)
https://www.nopagby.de/aufruf/
Bayerisches Polizeigesetz: Billige Tricks der CSU entlarvt (only in German, 23.04.2018)
https://netzpolitik.org/2018/bayerisches-polizeigesetz-billige-tricks-der-csu-entlarvt/
Das härteste Polizeigesetz seit 1945 soll heute in Bayern beschlossen werden (only in German, 15.05.2018)
https://netzpolitik.org/2018/das-haerteste-polizeigesetz-seit-1945-soll-heute-in-bayern-beschlossen-werden/
München: 40.000 protestieren gegen neues Polizeigesetz (11.05.2018)
https://netzpolitik.org/2018/40-000-protestieren-gegen-das-bayerisches-polizeigesetz-in-muenchen/
WARUM ES SICH ABSOLUT GELOHNT HAT GEGEN DAS POLIZEIGESETZ ZU DEMONSTRIEREN (only in German, 11.05.2018)
http://kattascha.de/warum-es-sich-absolut-gelohnt-hat-gegen-das-polizeigesetz-zu-demonstrieren/
München: Demo #noPAG – NEIN! Zum Polizeiaufgabengesetz (only in German, 14.05.2018)
https://digitalcourage.de/blog/2018/muenchen-demo-nopag
The Big Brother Award 2018 in the "Politics" Category goes to the parliamentary groups of the Christian Democrats (CDU) and the Greens in the parliament of the Federal State of Hesse
https://bigbrotherawards.de/en/2018/politics-cdu-greens-hesse-parliament
(Contribution by Sebastian Lisken, EDRi member Digitalcourage, Germany)