COVID-19 & Digital Rights: Document Pool
Find in this EDRi doc pool all relevant articles and documents around the COVID-19 crisis and digital rights.
The Coronavirus (COVID-19) pandemic poses a global public health challenge of unprecedented proportions. In order to tackle it, countries around the world need to engage in coordinated, evidence-based responses grounded in solidarity, support and respect for human rights. This means that measures cannot lead to disproportionate and unnecessary actions. It is also vital that measures are not extended once we are no longer in a state of emergency. Otherwise, the actions taken under exceptional circumstances today can have significant repercussions on human rights both today and tomorrow.
In this document pool we will be listing relevant articles and documents related to the intersection of the COVID-19 crisis and digital rights. This will allow you to follow the developments of surveillance measures, content moderation, tracking and privacy-threatening actions in Europe as they relate to the coronavirus pandemic, as well as offer the set of perspectives and recommendations put forth by a host of digital rights watchdog organisations across Europe and the world. The document pool is updated regularly to ensure the delivery of the most up-to-date information.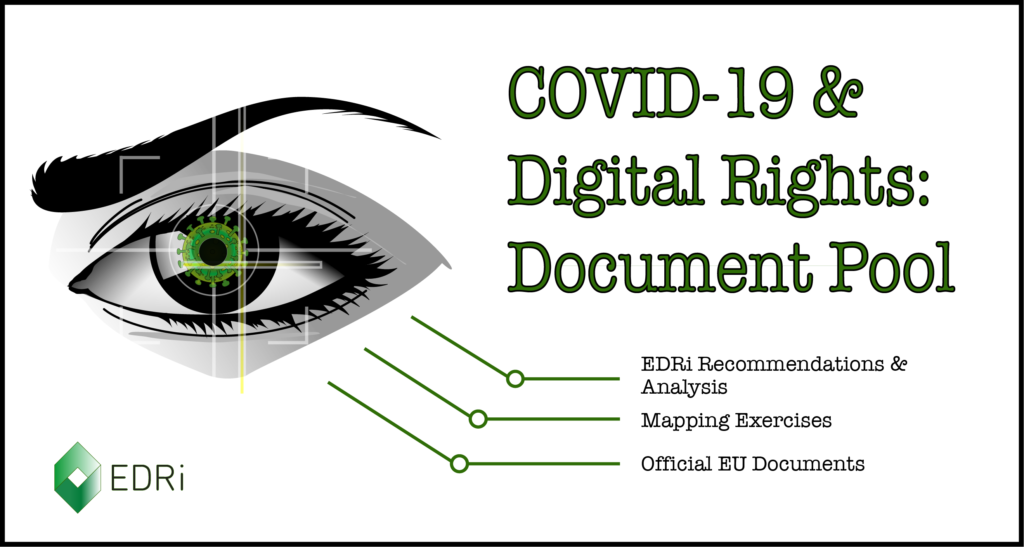 ---
1. EDRi's Analysis and Recommendations
Official EDRi statement on COVID-19 and Digital Rights
EDRi Members' Responses and Recommendations on COVID-19
Analysing Tracking & Tracing Apps
---
2. EDRi's Articles, blog posts and press release
EDRi Reporting
#COVIDTech – An EDRi Blog Series
---
3. Mapping Exercises
EDRi Members Mapping
Other Mapping Excercises
---
4. Official EU Documents
---
5. Other Useful Resources
With huge thanks to the individuals and organisations across the EDRi network who have shared resources for this document pool.