Czech BBA nominates the worst privacy intruders for the 14th time
The 14th Big Brother Awards (BBA) in the Czech Republic will take place on 14 February 2019. Awards for the biggest privacy intruders in 2018 will be announced by EDRi member Iuridicum Remedium (IuRe). The Big Brother Awards, based on a concept created by EDRi member Privacy International, are intended to draw public attention to privacy issues and alarming trends in data privacy.

A jury comprising of experts on new technologies, lawyers, human rights defenders, as well as journalists will choose the winners out of nominations sent in by the general public. The Czech Big Brother Awards are granted in four categories:
the award for the biggest privacy intruder in the long-term perspective
the award for the biggest business privacy intruder
the award for biggest administrative privacy intruder
the award for Big Brother's Quote (for the most appalling quote on a privacy-related topic)
Among the this year's nominees are:
Facebook for large-scale data leaks
Google for continuous tracking the users' locations without their consent
the People's Democratic Republic of China for using algorithms and big data to select people for re-education
companies for using chip payments methods followed by collecting clients' data at music festivals
initiatives requiring the introduction of CCTV in schools
In addition to the Awards for the privacy intruders, there is also a positive award, named after Edward Snowden, that goes to people or projects that stand for the privacy issues.
The 2017 Awards were given to Ministry of Industry and Trade (for data retention), to Equa bank (for forcing its clients to agree to provide the so-called TelcoScore), and to Member of the Parliament Jiří Běhounek (for his proposal for an amendment to the Act on Health Services that introduced an unrestricted access to electronic healthcare documentation). The positive Edward Snowden Award went to Open Whisper Systems (for developing the open source Signal application for end-to-end encrypted mobile communication).
The winners of the 2018 Awards will be revealed during the press conference on the morning of 14 February at the Cross Club Café Prague and announced in the Czech BBA Awards website.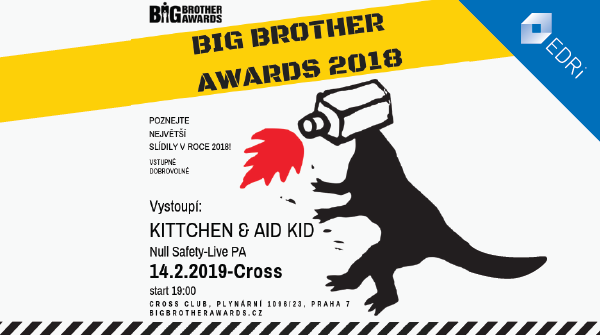 Iuridicum Remedium (IuRe)
http://www.iure.org/
Czech Big Brother Awards
https://bigbrotherawards.cz
Czech BBA for Ministry of Industry and Trade for data retention (07.03.2018)
https://edri.org/czech-bba-for-ministry-of-industry-and-trade-for-data-retention/
Czech Big Brother Awards shine light on privacy invasions (11.03.2015)
https://edri.org/czech-bb-awards/
The drones to monitor hikers in nature, too smart chips in keychains for children and vacuum cleaner. Check out the nominees for a sniffer of a year (only in Czech, 12.02.2019)
https://zpravy.aktualne.cz/ekonomika/chytry-naramek-vysavac-i-klicenka-projdete-si-kandidaty-na-c/r~f7af64782e9e11e98854ac1f6b220ee8/
(Contribution by EDRi member Iuridicum Remedium, Czech Republic)