Dutch mass surveillance law receives two BBA nominations
Until 9 November 2017 people in the Netherlands could nominate individuals, organisations and companies for a Big Brother Award. The three most "popular" nominees are now in the running to become the biggest privacy offender of the year. Two of the three nominees, Christian Democratic Appeal (CDA) parliamentary party leader Sybrand Buma and the Cabinet, owe their nominations to the 2017 dragnet surveillance law.

The dragnet surveillance law just can't get a break. In 2015, the then Minister of the Interior Ronald Plasterk received an Award for "the most far-reaching surveillance law for the secret services the Netherlands has ever seen" and for being "deaf to criticism". The new Intelligence and Security Services Act was passed earlier this year, but citizens continue to protest. This summer students collected over 350 000 signatures to ensure that a referendum would be organised on this subject. Thanks to them, every Dutch citizen will be able to cast their vote in a (non-binding) referendum about the controversial law on 21 March 2018.
Citizens are also using the Big Brother Awards to draw attention to the law. People feel the Cabinet deserves the award for "pushing through the dragnet law", which "shows a complete disregard for the privacy of millions of innocent citizens". Sybrand Buma owes his nomination to the fact that he refuses to listen to the people: in an interview he proclaimed he would ignore the outcome of the referendum. The law is going to come into effect, he said, no matter what.
The Big Brother Awards are based on a concept created by EDRi member Privacy International. The goal is to draw attention to violations of privacy. The Dutch Big Brother Awards are organised by EDRi member Bits of Freedom and will take place on 11 December at the city theatre in Amsterdam. The third nominee nominated by the public is the Dutch Association of Mental Health and Addiction Care. The Tax and Customs Administration, data dealer Focum, and Translink, the company behind the public transport chip card, are in the running for the other prize, the "Expert Award".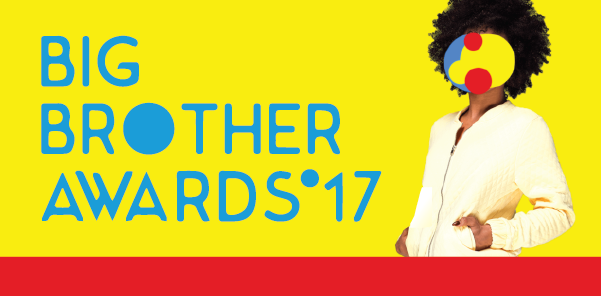 Dutch Big Brother Awards
https://bigbrotherawards.nl
Dutch Senate votes in favour of dragnet surveillance powers (26.07.2017)
https://edri.org/dutch-senate-votes-in-favour-of-dragnet-surveillance-powers/
Minister of Interior and National Police Force win Dutch BBA 2015 (04.11.2015)
https://edri.org/minister-of-interior-and-national-police-force-win-dutch-bba-2015/
The Dutch continue to fight new mass surveillance law (15.11.2017)
https://edri.org/the-dutch-continue-to-fight-new-mass-surveillance-law/
(Contribution by Evelyn Austin, EDRi member Bits of Freedom, the Netherlands)