EDRi welcomes its Open Web Fellow
Starting from September 2016, the new Ford-Mozilla Fellow Siddharth (Sid) Rao will spend ten months with the EDRi office in Brussels, working in cooperation with us to safeguard the internet as a global public resource.

The Open Web Fellows programme, launched in 2015, is an international programme designed to link developers, engineers, technologists and programmers with civil society organisations around the world. For this second year of the programme, EDRi is proud to be the first European organisation to become a host for the Ford-Mozilla Web Fellowship.
Sid is a Free and Open Source Software (FOSS) enthusiast and a privacy fanatic who specialises in the security analysis of communication protocols. He is also passionate about internet services and infrastructure in developing nations. Sid co-founded the social venture ThirdEye, which builds affordable e-readers for visually-challenged people. He is a past Erasmus Mundus fellow and holds a double master's degrees from Aalto University, Finland (Information and Network Security) and University of Tartu, Estonia (Cryptography). You can follow him on Twitter: @sidnext2none.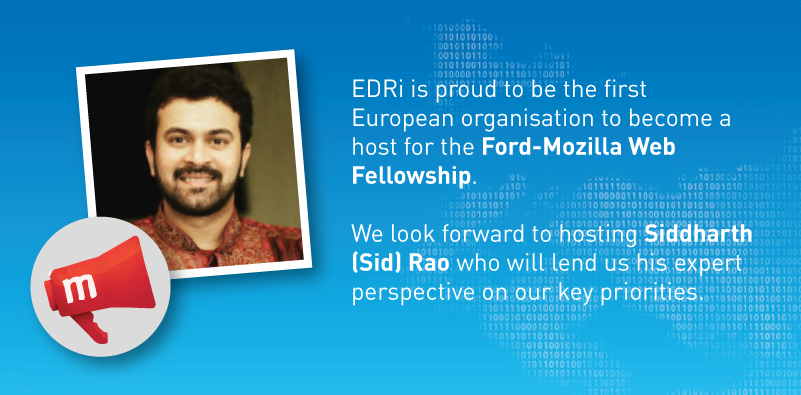 We look forward to hosting Sid who will lend us his expert perspective on our key priorities: data protection, surveillance, copyright and network neutrality. We are excited to share our advocacy experience and to add technical expertise to our team.
Announcing the Second Cohort of Ford-Mozilla Open Web Fellows (01.08.2016)
https://blog.mozilla.org/blog/2016/08/01/announcing-the-second-cohort-of-ford-mozilla-open-web-fellows/
EDRi: Mozilla's Open Web Fellowship 2016: Join EDRi's team! (22.01.2016)
https://edri.org/edri-mozilla-open-web-fellowship-2016/