EDRi's Kirsten Fiedler wins Privacy Award
On 22 January, Kirsten Fiedler, current Senior Policy and Campaigns Manager and former Managing Director of European Digital Rights, received the distinguished Felipe Rodriguez Award in celebration of her remarkable contribution to our right to privacy in the digital age.
Why should we defend digital rights and freedoms when there are really pressing and often life-threatening issues out there to fight for? The reason is that the internet and digital communications are seeping into every part of our lives, so our rights online are the basis for everything else we do.
said Fiedler.
I'd like to accept this award on behalf of the entire EDRi team and network. Our strength is in collective, collaborative actions.
Fiedler's relentless efforts have been crucial to transforming the EDRi Brussels Office from a one-person entity into the current professional organisation with eight staff members. In addition to this, she played an instrumental role in EDRi's campaigns against ACTA and privatised law enforcement, and has been the engine to the EDRi Brussels office's growth during the past years.
The Felipe Rodriguez Award is part of the Dutch Big Brother Awards, organised by the EDRi member Bits of Freedom. Previous winners include Kashmir Hill, Open Whisper Systems, Max Schrems, and Edward Snowden. The award ceremony took place on 22 January 2019 in Amsterdam.
Read and watch the full speech here.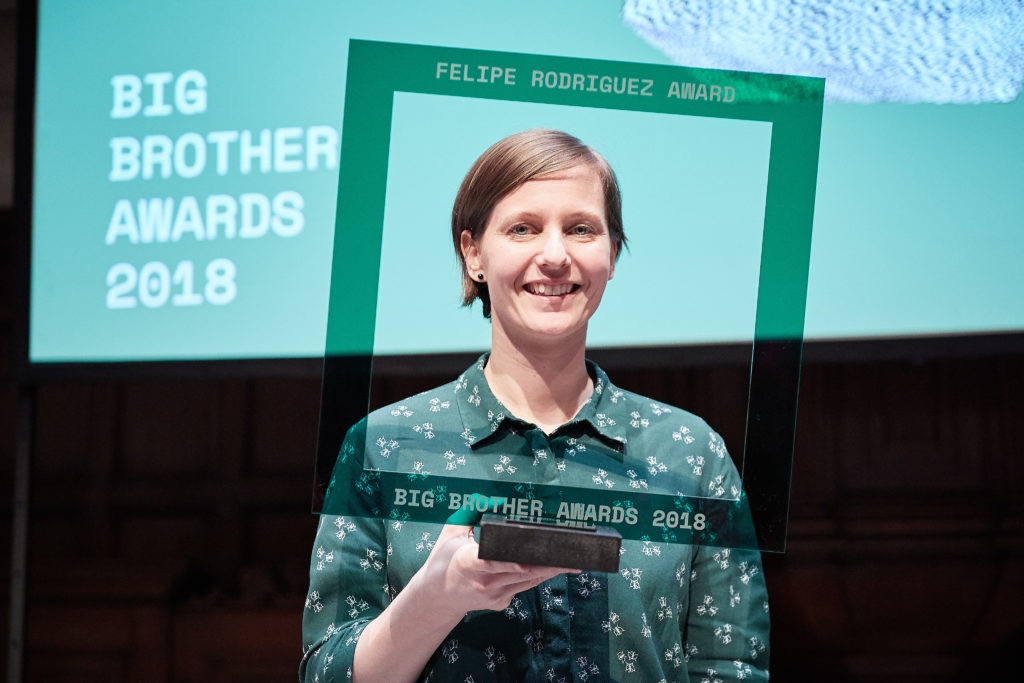 Bits of Freedom announces winner of privacy award (09.01.2019)
https://edri.org/bits-of-freedom-announces-winner-of-privacy-award/
"Our digital rights are the basis for everything we do." (23.06.2019)
https://www.bitsoffreedom.nl/2019/06/23/our-digital-rights-are-the-basis-for-everything-we-do/